Is it worth the price? That's the question you'll have to answer before and after you dine at Cru Uncorked in Moreland Hills.
Since its April opening, the modern French restaurant from retired Eaton Corp. chairman and CEO Sandy Cutler, his wife and their son, Bill, has been fighting against a narrative of less-than-stellar service and sky-high prices.
It's tough to deny the 9,500-square-foot French chateau restaurant delivers one of the heftiest bills at meal's end: $55 filet mignon, $50 short ribs and $25 burger will do that to you. With lofty prices come even higher expectations for impeccable service — something Cru itself has strived for and touted.
As all freshman restaurants experience growing pains, Cru has worked on training its wait staff and begun promoting its Bistro Night Tuesdays with lighter entrees for under $30.
But is it enough?
You'll find plenty of naysayers — us on the occasional bad day — saying that fine dining can't survive in Cleveland. When each morning dawns and a new fast-casual spot opens, the idea of elegance, precision and technique are seemingly thrown out the window with your to-go order. How can that $48 duck breast compete with a $4 taco?
But there's also an old school crowd — us on the sporadic optimistic day — that longs for a place where you're treated like a VIP even if your bank account doesn't quite agree. Where when you decide to splurge on a $20 foie gras appetizer, each richly decadent bite reinforces the need for sophisticated, chef-driven and expertly executed choices.
For 56-year-old executive chef John Stropki, there's a definite need for something like Cru, where dishes are made with high-quality ingredients and require laborious, time-consuming sauce work.
"We're taking classical dishes and giving it somewhat of a modern twist," says Stropki, who previously worked as the executive chef at Eaton Corp. for eight years. "It is something that other people aren't giving you in the city right now. We are taking the time and the patience to make a dish the way it used to be made."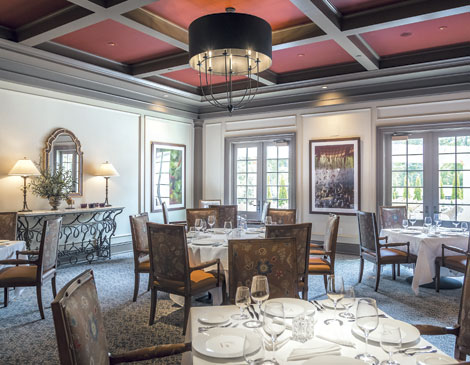 With each of the four dining rooms decorated in dark wood, heavy draping, ironwork and muted colors, the decor is meant to feel like you've escaped to a French countryside. But it comes off as generic and hotel-like.
The menu, in contrast, is art in motion.
Full of bright colors and creatively arranged, entrees arrive in unison — a server for each plate.
When executed properly, it's a symphony of sophistication.
Our server was attentive, knowledgeable and relaxed — traits we appreciate and look for — but others may want silent waiters who disappear into the background while seamlessly catering to their needs.
While working at the French Connection in the mid-1980s, Stropki learned from his mentor, Turkish chef Necip Eturk, about the importance of being a well-rounded chef, how to incorporate garnishes and how to construct a balanced menu.
"He took me under his wing," Stropki says. "That's where I really learned the most — the foundation of my cooking and really elevated it."
From the wild mushroom veloute ($15), a rich, earthy soup with truffle oil to the little gem salad ($14), a collection of baby romaine, frisee, vanilla poached pear, candied pecans and Roquefort cheese dressed in a Banyuls wine vinaigrette, each component has its place and purpose.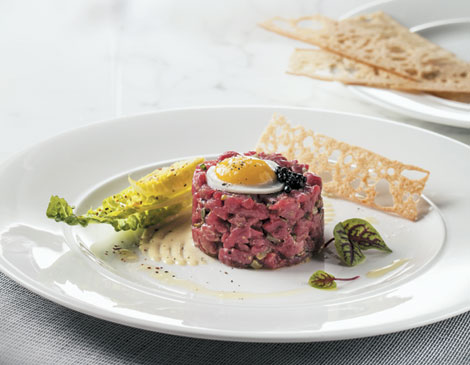 The beef tartare appetizer ($15) arrives so pristine and pretty, you may not want to break the quail egg nestled on top. But do it, and get a bite of the tartare, seasoned with lemons, capers and shallots and a creamy Parmesan fondue spread underneath. A sprinkling of truffle pearls puts it over the edge.
Escargot ($18) can be an acquired taste. But in the hands of Stropki, the dish won over even first-time tasters. Braised escargot, glazed in a Bordelaise sauce, are neatly positioned in a row on roasted bone marrow topped with garlic escargot butter.
While the appetizer looks like ants on a log — the celery and peanut butter childhood snack — the flavors are anything but juvenile. Lemon parsley with pickled shallots helps cut through the richness.
A delightful discovery, the foie gras gateau ($20) is a standout for its playful presentation as well as the delicate balance between sweet and salty. A miniature cake made with a base layer of pain d'epices — a gingerbread-like cake — and a butter layer of duck fat, it's complemented with pieces of cranberry, apricot, pear and pistachios.
"I was going to take it off," says Stropki. "But the majority of the people wanted to see that preparation in some shape or form, so it's still on the menu."
The tightly curated list of entrees — 12 total — ranges from a $25 burger that we couldn't justify ordering to $55 filet mignon that may sound a little extravagant. And it is. But the 7- to 8-ounce certified Black Angus steak from Blue Ribbon Meats was the most tender filet we've ever had.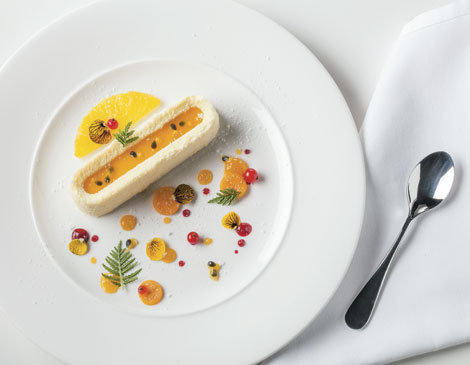 The same can be said for the beef short ribs ($50), prepared bourguignon style. A two-day marinade with red wine port and bacon, then four to six hours of braising at low temperatures results in a flavorful and heartwarming, stick-to-your-ribs meal that rivals Fahrenheit's popular take on the comforting dish.
A quick, one-hour cure of brown sugar, salt, lavender and four spice helps give the lavender cured duck breast ($48) a very faint floral taste that elevates the usually gamey or fatty meat.
"If you're cooking the breast separate from the whole duck," he says, "and you render down the fat, it's not fatty."
Using ingredients you'd traditionally find in a pot roast, Stropki puts a spin on the roasted monkfish ($38) with lardo, thyme, sunchoke puree, seasonal vegetables and a chicken jus.
"I remember my father always making pot roast," he says. "I just loved the vegetables and the meaty broth and all that."
It's Stropki's knack for creating those kinds of memorable morsels that may help change the story for Cru — relatable, delicious, yet inventive cuisine that will excite diners.
But he recognizes what he's up against.
"There's a perception out there we're the most expensive restaurant in town, and we're not," says Stropki. "I think we're up there with some of the restaurants, but I don't think we're getting a fair shake on the perception that we're so overpriced."
Maybe, but if only it was a tad more affordable, a greater number of local foodies would appreciate the kind of cooking happening inside Cru's palatial estate.
When You Go:
34300 Chagrin Blvd., Moreland Hills, 440-903-1171, cruuncorked.com
Tue-Thu 5-8:30 p.m., Fri & Sat 5-9 p.m.
Try This: John Stropki is also a pastry chef and thoroughly enjoys making desserts. Warm up with the passion fruit parfait ($12), a decadent mousse-like cake with tropical flavors of coconut, mango and pineapple. Good to Know: Opt for a cheese course before or after your meal. Choose from six or seven varieties such as the stinky Epoisses de Bourgogne from Burgundy, France.