Sure, we live for tacos, burgers and grilled cheese sandwiches — and those local restaurants that let us hang out in our CLE Clothing Co. T-shirt while sipping on a can of Platform Beer Co. Palesner. But every once in a while, we want to class it up with a fancy meal of oysters, lobster or filet mignon.
That's where Hospitality Restaurants hooks us with its latest foray into the Northeast Ohio dining scene. Perched atop a hill right off Interstate 77 near Route 18 in Copley, Kingfish unabashedly dives into an East Coast-inspired menu of surf and turf gems.
Since opening in October, the fine-dining restaurant has been competing against a sea of establishments up and down the Fairlawn commercial district. While residents have options such as Outback Steakhouse, Olive Garden, Cracker Barrel and Red Lobster and local favorites such as Bomba Tacos & Rum, Melt Bar & Grilled and Swenson's Drive-In, Kingfish has made a splash with fresh seafood that's flown in daily and either caught or grown in the United States.
"There are really no restaurants in that area that specialize exclusively in seafood," says executive chef Marc Standen, who also serves as Hospitality Restaurants corporate chef. "It's exciting to try new clientele out, try some new dishes and a new approach."
Although the restaurant group is known for popular spots such as downtown Cleveland's Blue Point Grille, Rocky River's Salmon Dave's Pacific Grille and Independence's Delmonico's Steakhouse, the Slavic Village native's influence shows up most on Kingfish's menu with modern approaches on addictive small plates and balanced entrees.
It's all presented swimmingly alongside a sleek dining room and bar with subtle nautical touches that evoke a weekend in the Hamptons — not Put-in-Bay. Sport coats, heels and a little zhooshing up make it feel special and intimate.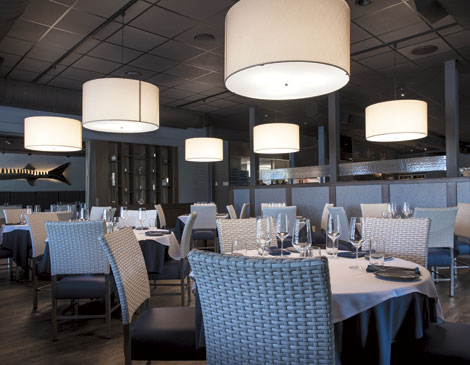 For Standen, creating a dish you'll remember starts with a simple philosophy.
"We try to see the range of possibilities of things," he says. "I always take a more Asian philosophy to the dishes themselves — looking for balance, sweet, salty, spicy, sour and bitter. I try to hit your whole palate."
He doesn't try to get too creative or fancy, instead focusing and showing concern for ingredients that work well together. The Florida grouper ($34) shows off Standen's methodology with roasted broccoli that provides bitterness, a smoked pepper sauce made with piquillo peppers that's sweet and spicy and a pecan rice pilaf sauteed in soffritto for texture.
Even when something might seem askew such as the grilled bigeye tuna ($29.50) with ginger candied yams, smoked shiitake mushrooms, spinach and chili peanut sauce, give it a try. "It almost sounds like a mismatch of stuff," he confesses, "but they all work really well together. It's familiar but a little exotic at the same time."
As the restaurant's No. 1 seller, the New Bedford scallops ($34) plunges into unfamiliar waters, but ones we're happy to explore. Brussels sprouts are sauteed in bacon fat, which offers a touch of smokiness. The accompanying sweet potatoes are elevated thanks to roasted hazelnuts and a bit of maple syrup. A leek soubise, a cream sauce with wilted versions of the onionlike vegetable pureed into it, brings the entire dish together.
With a mission of using seafood from or grown in the U.S., options are limited and seasonal and can make planning a menu a challenge for others. But Standen champions American farms, growers and fisheries such as North Carolina's Carolina Classics Catfish, which grows catfish for Kingfish.
"It's amazing, the flavor you get out of it," he says. "Wild catfish tends to have a slightly muddy flavor because the fish lives on the bottom and burrows underneath the water, but this stuff is very clean tasting."
The Carolina catfish entree ($22.50) embraces its Southern roots with a cornmeal dusting made with cornmeal from South Carolina's Geechie Boy Mill and red rice mixed with Atlantic white shrimp from the Florida coast. It's all served with broccolini and a Dijon brown butter sauce. "It's almost like an American version of paella," he says.
While many fishing vessels take monthslong trips and have to flash-freeze catches, Standen prefers to use day boat operators when possible. The daily journeys out to sea result in fish that is never frozen and wields a much better taste.
Taste the freshness in the herb-crusted day boat cod ($24.50), a versatile, mild fish paired with a bright and bold sweet corn and butter bean succotash that's punctuated with tomatoes and Klondike Rose potatoes. "It kind of reminds you of summer," he says.
It isn't all just a sea of ocean options at Kingfish, though. You'll find a smoked half chicken ($22.50), a 14-ounce New York strip steak ($43) and mixed grill options such as Surf & Turf ($49), which pairs a 7-ounce filet mignon with a petite lobster tail.
But sail past those and steer your taste buds toward the maple-glazed Duroc pork chop ($26). Using the heirloom variety, Standen plays up the richness of the pork with sweet and sour flavors thanks to a maple glaze and cider-braised red cabbage. Pair each bite with a dollop of the decadent spoon bread that's like a cornbread souffle and a dash of the mustard sauce.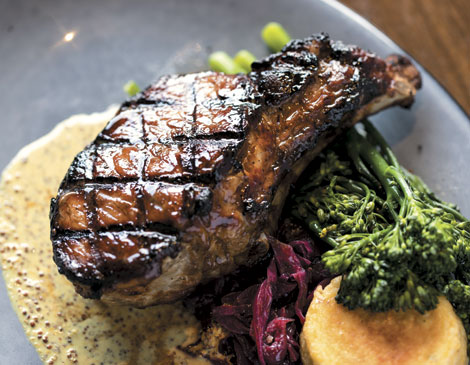 A buoy of a great restaurant can usually be found in those beginning bites and nibbles — the first impression a chef makes on diners — and we'd easily anchor ourselves at this part of the meal for hours.
The barbecued carrots ($9) may appear like a throwaway dish, but the care and expertise Standen uses will make a believer out of even the harshest critic. He generously sprinkles about five types of heirloom carrots with a dry-rub spice mix and then smokes them for about an hour and a half at a low temperature.
When ordered, the root vegetables get tossed in olive oil, peppered with more spices and then grilled. "The dry rub has a little bit of brown sugar in it, so it caramelizes and gets a little bit crispy too," he says.
So hearty it could be a main course on its own, the Gulf shrimp and grits ($12.50) are a very traditional take on the Southern specialty — and stand up against any other versions we've had. Plump shrimp, caught off the Gulf of Mexico, are sauteed with chorizo developing deep layers of rich flavors. It gets even more complex when blended with a luscious shrimp gravy created from shrimp shells, water, carrots, peppers, celery and cream. Creamy grits bring it all together.
And of course, there's the hallmark of Hospitality Restaurants — the lobster bisque ($9.50). The fan favorite continues to shines at Kingfish, feeling all at once fresh, luxurious and familiar. The recipe remains the same across the group's portfolio: Maine lobster, creme fraiche, celery, onions, leeks, garlic, paprika, sherry and cream.
"A lot of people would be angry if we didn't have it at our new seafood restaurant," Standen says. "There's not much of a secret to it. It's kind of basic for a soup — it might just be the proportions of things we use."
With a track record of successful restaurants in Northeast Ohio, the Hospitality Restaurants doesn't really need to fish around for compliments or even try to make waves in the dining scene. Kingfish may buck the trend of Cleveland's current casual love affair, but Standen has proven there's a case for the finer things in life — and we're willing to splurge every now and again.
"It's an opportunity to present to people what's out there other than a simple hanger steak or a piece of chicken," he says.
Try This: Thoughtful desserts abound here with choices such as a chocolate fudge brownie ($9) that oozes with gooey chocolate in the center and hazelnuts, brandied black cherries and salted caramel ice cream on top. Good to Know: Happy hour gets even happier here with robust options Monday through Friday from 4 to 6 p.m. and all day Sunday. We're digging the $1.50 boutique oysters with a rotating selection such as Kusshis from Washington and Belons from Maine.
When You Go: Kingfish, 115 Montrose West Ave., Copley, 330-777-2005, kingfishakron.com, Mon-Thu 4-10 p.m., Fri & Sat 4-11 p.m., Sun 1-8 p.m.