Small plates can be a tough sell. They so often get lumped in with tapas, even when they bear little resemblance to the simple and savory Spanish dishes that introduced many of us to the concept of trading in an entree in favor of smaller bites.
Chef Jill Vedaa understands the challenge, and since midsummer, she's been turning out creative and flavorful small plates at Salt, the Lakewood restaurant she opened with her business partner and sommelier, Jessica Parkison.
Vedaa, a two-decade veteran of Cleveland's dining scene, has worked in the kitchens at Lola, Flying Fig, Black Pig and the now-shuttered Rockefeller's, but this is her first go as a chef and owner. The idea of creating thoughtfully composed small plates had been on her mind since she visited State Bird Provisions in San Francisco.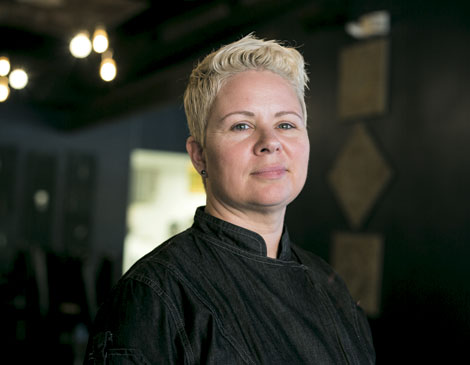 "They're doing these composed dishes that make sense, that have texture, that come together really well, and they're small," says Vedaa, who pitched the concept to Parkison during one of their initial meetings. "Jessica was totally on board with it, and we just went from there."
Located in three adjoining storefronts along Detroit Avenue in Lakewood, not far from the Beck Center for the Arts, Salt exudes a cozy vibe and room for about 75 diners. In a city known for its bars and casual-food spots, Salt is something of an anomaly, but Vedaa says she and Parkison have always believed the composed small plates concept could find an audience here.
"Both Jessica and I grew up here," she says. "We knew that because of the large amount of residents and the community that is Lakewood … it would be an excellent place to do something like this."
Salt's emphasis on thoughtfully crafted cocktails and interesting wines are also part of the draw. The restaurant's 10 cocktails are all named in honor of women from history, as well as Vedaa's mother and Parkison's two grandmothers.
Rather than just slapping a name on a drink, Vedaa and Parkison research what drink each of their honored women enjoyed themselves or tied the cocktail to the particular region of the country from which they hailed.
For example, the Hillary ($11), named for Hillary Clinton, was created after Vedaa and Parkison learned she likes to drink vodka cranberry cocktails. It mixes Watershed vodka, pomegranate juice, vermouth and blood orange bitters. One of the standout drinks on the current menu, Gigi ($13), was named after Parkison's grandmother, who loved Old-Fashioneds. It features OYO Michelone bourbon, vermouth rouge, Luxardo maraschino cherry liqueur and locally made Full Measure aromatic bitters.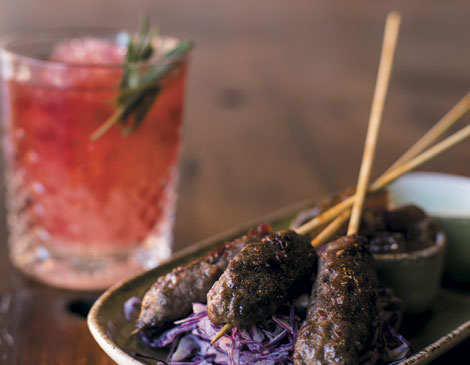 It's clear there is care put into both the design and execution of each drink, with Vedaa drawing heavy inspiration from Tremont's Spotted Owl where Will Hollingsworth has lifted the cocktail to an art form.
"The way he thinks about cocktails and the way he develops them was an inspiration to me," she says. "We did a bartender training with him a couple weeks ago just to light the flame underneath our bartenders, to give them some insight as to where these ingredients come from, the history of them."
Vedaa's aim is to keep everything as fresh as possible, which means she will change the food and drink menus frequently to make dining at Salt a new experience from one season to the next.
Customer favorites will remain, but Vedaa sees coming up with new and creative dishes as a requirement.
"I think people get complacent and bored not only serving the same food but eating the same food," she says.
Salt's current menu spans 18 dishes divided equally among vegetables, fish and meat. Those looking for a full meal should plan to order three to four items, but the food comes up quickly, so it's easy to make choices and then order more later.
The servers and bartenders we encountered were friendly, knowledgeable and more than willing to take the time to suggest favorites and answer questions. The result was a low-pressure, social and fun dining experience.
One of the standout menu items and among the most popular with diners so far is the duck leg confit ($12) with roasted sweet potatoes and ricotta dumplings.
"My concept behind the duck confit was chicken and dumplings, basically," Vedaa says. "I thought it would be a nice, hearty into-winter idea. Duck confit — if you do it right, if you cook it long enough — is one of the best things, I think, to eat."
The chicken liver pate ($9) with toasted rye and sweet pickles is another winner. Prepared traditionally with chicken livers, peppercorn, bay leaves, onion, garlic and liberal amounts of butter, the rich and creamy pate will keep you reaching for the Blackbird Baking Co. rye.
As one of the heartiest options on the menu, the short ribs ($11) with root vegetable hash, candied jalapeno and herb salad also packs one of the biggest flavor punches.
Diners who are accustomed to a short rib that is fall-apart-tender throughout, will notice that Vedaa's take arrives at the table with a crispy outside.
"That's more of a flavor bomb than anything else," she says of the dish that is cured for two days and then braised in red wine and other ingredients for four hours. "We try to get it nice and seared on the outside so it's kind of crispy, but when you cut into it, it melts in your mouth, and then you have this pop of flavor that I thought would be fun."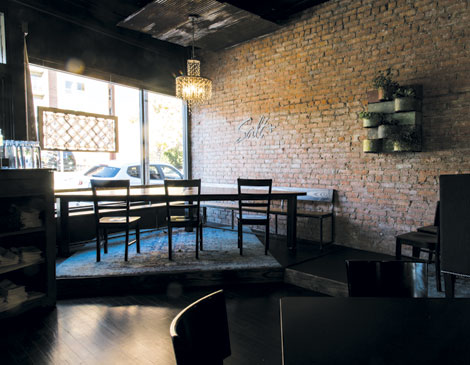 The priciest dish on the menu is the fish section's scallops ($13) with a carrot puree and jalapeno mustard cream. The two scallops were cooked well even if the other components of the dish were a bit subtler than hoped. The calamari ($10) with coriander coconut glaze and cilantro arrive lightly fried and should satisfy any squid fan.
Vegetarians will be happy to know that Salt's vegetables section boasts the largest number of options, with eight dishes available. We loved the chickpea fritters ($7) with sweet chili glaze. Although other chefs are using garbanzo beans, Vedaa's fritters reveal a wonderfully gooey center.
"I wanted something a little more rustic. I didn't just want these poof balls," Vedaa explains. "I wanted it to be crunchy on the outside and soft in the middle."
The foraged mushroom tapenade ($11) with salsa verde, local goat cheese and sour dough was another nice surprise. The maitake mushrooms Vedaa was using in the dish at the time of our visit deliver a great mild flavor complemented by the other ingredients.
"I wanted to add a citrus note without adding citrus," says Vedaa. "I always think of goat cheese as having that tanginess and lemon zest."
She thinks this way throughout the menu, layering flavors and textures together in new and surprising ways. That care is exemplified in the roasted beets ($9) with Stilton blue cheese, toasted quinoa, mustard frill and citrus vinaigrette. The citrus brightens the bed of bitter greens, while the toasted quinoa sprinkled atop offers a nutty pop to the dish.
"All of my food is designed to have that perfect bite every time," Vedaa says. "I don't want people to push anything to the side. I want them to eat everything together."
Try This: Although it would be easy to overlook, don't miss the lamb kebabs ($8) with tzatziki, mango chutney and cabbage, which deliver a punch of Moroccan flavors. Good to Know: Salt serves brunch on Sunday, offering a handful of full-size and several small plates. Of the full-size plates, the cinnamon roll French toast ($8) with sweet cream cheese and maple syrup and the polenta ($7) with chorizo gravy are the two most popular items.

When You Go: 17625 Detroit Ave., Lakewood, 216-221-4866, saltcleveland.com, Mon, Wed, Thu 5-11 p.m., Fri & Sat 5-11:30 p.m., Sun 10:30 a.m.-2:30 p.m.