With a mediocre history, a dark, outdated interior and a location in an office park, there were many reasons why 24600 Detroit Road shouldn't work as a restaurant.
In its previous life as Viva Barcelona and Viva Fernando, the more than 7,000-square-foot Westlake spot was part of a trio of restaurants — along with Saucy Bistro and M. Bistro and Bar — known as Divorce Row or the Viagra Triangle, where suburbanites looking for a second chance at love would frequent. Since closing in 2015 after a stint as Hungarian restaurant Ambrosia, the space had sat vacant.
But Westlake residents Luca and Lola Sema, owners of downtown's Luca Italian Cuisine, saw promise in the West Side location. The dark wood interior could be changed, the sizeable patio would draw a crowd and the kitchen, while it needed work, was spacious. They could and would make it work.
In April 2017, the couple announced plans to open Luca West, an offshoot of their popular Superior Viaduct restaurant.
A six-month renovation, inspired by Lola's vision to create a Tuscan farmhouse feel, ushered in bright white walls with reclaimed barn wood ceiling beams. Rustic barn doors, new lighting, a cozy brick fireplace, provocative artwork by French painter Yarek Godfrey and imported Italian sculptures adds to the refined interior.
It's now a clean, modern inviting space that feels intimate, light-as-air and warm.
"Lola and I worked extra hard when designing Luca West to make sure everything flowed well," says Luca.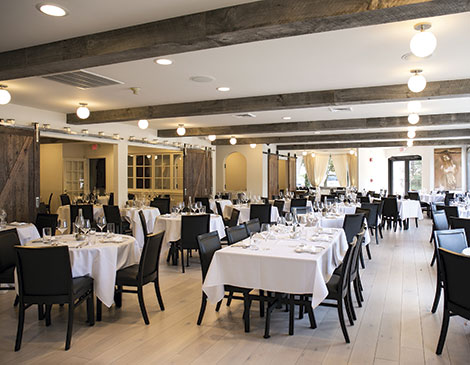 While the dining room and bar area are a nod to Lola's sensibility, the updated kitchen outfitted with new ovens and coolers allow Luca, who makes his own bread, sauces and most of his own pasta, to be creative and execute his take on modern Italian cuisine.
The menu at Luca West doesn't stray too far from Luca Italian Cuisine's fresh seafood, handmade pasta and elegant appetizers with clean, simple flavors — but the subtle changes make a big difference.
"There are some items, like the sacchetti, that are on both menus," Luca says, "but I tweak others a little bit."
Take the tortellini di vitello ($26). Downtown, the veal-stuffed tortellini is served with prosciutto, asparagus and a cream sauce. The same tortellini at Luca West arrives with prosciutto, sweet peas, a heavy cream sauce and Parmigiano Reggiano.
It's not a major shift, but just enough between the toothsome, earthy spears of asparagus and the slightly sweet, bright green spheres to raise expectations. The rich, flavorful dish balances salty and sweet.
Many of the dishes shine at Luca West, making it hard to choose. But the knowledgeable staff guides you with suggestions — even our young server, who had only been on the job for five days, exhibited expertise on the differences between pastas and sauces.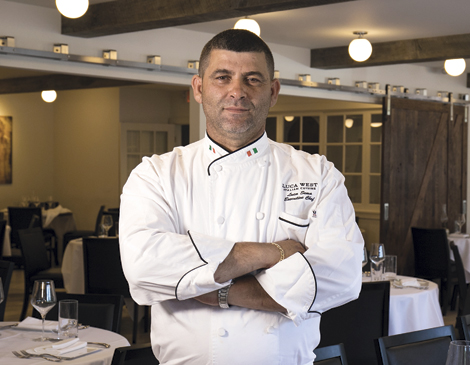 You can't go wrong with the calamari al aglio roso ($12) to begin your meal. A massive bowl of this classic antipasti arrives with just a light saute of tender North Atlantic squid — no breading, no deep-frying here — swimming in a delicious broth made of white wine, capers, red garlic and heirloom tomatoes.
We'd be more than happy to eat the tuna appetizer ($15) every single day. With its simplistic approach — just raw tuna sliced to order topped with spiced honey and orange wedges — it showcases Luca's ability to marry just a few ingredients for maximum impact.
"This is a good example of a dish where it is important to have the finest ingredients — no matter the cost," he says. "The honey and orange play well with the richness of the tuna."
For those looking for heartier apps, don't overlook the melanzane ($12), roasted eggplant layered with mascarpone, ricotta and tomato sauce, or the popular sacchetti ($16).
Fans of Luca have been raving about these white truffle and ricotta stuffed purses of pasta since he first opened his downtown location five years ago. Topped with white truffle and aged fig balsamic, it's the dish that has become a Luca signature.
"It's a beautiful dish, the pasta is beautiful," he says. "I really love it."
Luca puts out some of the most beautiful pasta plates around — from taste to presentation. It's evident that he takes the time, thought and preparation to ensure each bite is full of not only flavor, but also texture. If he isn't making the pasta by hand himself, he works with Joseph's Gourmet Pasta in Boston to customize options.
The pesto ($18) features pappardelle coated in a nutty pesto made fresh each morning and topped with rosemary-roasted walnuts. While the flat noodles soak up the bright and herby sauce, our only complaint is that the dish could use a touch of salt.
Those same noodles are employed in the ragu ($30), which pairs slow-roasted wild boar with carrots, celery and tomatoes. The traditionally rustic dish is elevated to something elegant but still hearty and filling.
Guests can also find a notable lineup of meat-driven entrees such as the Milanese ($32), breaded pork chops with watercress and peppercorn fontina cheese or the bistecca alla Florentina ($50), a hefty porterhouse steak marinated in Italian seasonings and served with red garlic and sage.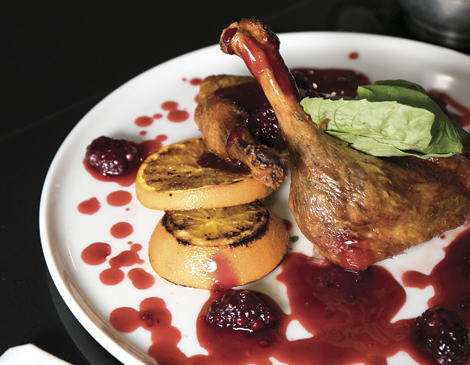 The anatra ($34), a grilled duck breast, impresses with its show-stopping presentation. Cooked just right, the tender game meat is partnered with citrusy flavors such as oranges, asparagus stalks and grilled blackberry. But what brings it all together is the blackberry reduction made with Grand Marnier.
For a dish that's a visual stunner and equally remarkable bite after bite, order the scaloppini ($28), a menu item that's exclusive to Luca West.
Plump sauteed scallops cradle squid ink linguini that's tossed in saffron cream sauce. Vibrant colors of black and yellow tease the taste buds. Once you finally dig in, you're rewarded with a luxurious intermingling of briny and floral notes.
The theatrics don't stop there. The branzino ($30), grilled whole and presented as such tableside, is fileted with speed and expertise by either the general manager or your server. The whole fish, transformed into a magical meal before your eyes, gets a Champagne butter and sage sauce and is served with vegetables.
"It adds a little European flair to our service," says Luca.
While it may be challenging to draw traffic away from nearby Crocker Park, Luca West has the kind of thoughtfulness, planning and small design touches (imported lemon and peach trees make you feel like you've been transported to an Italian villa) that just might break the spell of 24600 Detroit Road.
"It's a beautiful place," Luca says. "It's good for the whole community. It's completely different than other places [in Westlake]. The atmosphere is different in here."
Try This: While the 200-bottle wine list is worth uncorking, we're also fans of the Aranca Rosa ($40), one of four sharable cocktails. Made with blood orange juice, blood orange liqueur, ginger jam, fresh ginger and prosecco, it's effervescent and pairs well with any of the antipasti.
Good to Know: Another draw to this suburban outpost is its happy hour Monday through Friday 4:30 to 6:30 p.m. and Sunday 5 to 9 p.m. Snack on $7 caprese, Bolognese, cavatelli and more.
When You Go: 24600 Detroit Road, Westlake, 216-201-9600, lucawest.com
Mon-Thu 5-10 p.m., Fri & Sat 5-11 p.m., Sun 5-9 p.m.