Mabel's BBQ almost didn't happen. Back in 2014, when Michael Symon heard that Terry Tarantino was selling his East Fourth Street restaurant
La Strada, Symon wanted to purchase the vacant space right next to Lola Bistro. He originally thought it would be a great place to open another one of his popular burger joints, B Spot.
But Liz, his wife of 19 years, convinced him to rethink the move.
"She told me, 'I don't want to do a B Spot,' " he recalls. "And I said, 'Maybe you should've told me that before I bought the space.' "
She reminded him that he's been talking about doing a barbecue place for the last 10 years. "It's like my favorite thing to cook," he says. "So we did Mabel's."
But Symon didn't just set out to do any old barbecue restaurant. As a self-proclaimed aficionado of meat — his cookbook Carnivore and Food Network show Burgers, Brew & 'Que should be proof enough — he studied, tasted and experimented with styles and variations all in an attempt to create a flavor and style distinctive to Cleveland and Northeast Ohio.
Harkening back to Cleveland's strong Eastern European heritage, Symon took inspiration from Poland, Germany and other Eastern European countries where smokehouses were full of kielbasa, pork loins, ribs and other various meats. It's a practice he still sees around Cleveland today.
"Think about when you walk into the West Side Market," he says. "What's the first thing you smell? You smell kielbasa, all those smoked meats."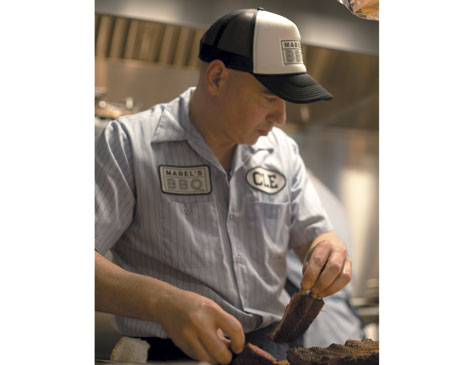 Three custom-built wood-burning smokers are the workhorses of Mabel's. Fueled by apple and cherry wood, the three machines slowly cook brisket, turkey breast, lamb ribs and pork spare ribs in the back of the restaurant. When partnered with Symon's barbecue sauce, a thin tangy version made with Bertman Ballpark Mustard, vinegar and local maple syrup, you start to get a taste of his culinary vision.
"It's not barbecue with the thick, red sauce," he describes. "It's not spicy or hot. When you think of it that way you're like, Oh, shit! We're not doing pulled pork, we're doing smoked pork belly — that's Cleveland."
Ordering off the family-style menu is also part of the experience — if you can snag a table. Since Symon debuted Mabel's in April, the popularity of the restaurant has led to wait times as long as three hours.
The almost two-year renovation of the two-story restaurant has rejuvenated the spot with a hip, laid-back vibe complete with long wooden communal tables, exposed brick and a bright red neon sign enticing diners to "Eat more meat."
And that you will. With everything served a la carte and on a large single metal tray per party, it's easy to get carried away and overwhelmed by the options. But a knowledgeable and patient staff walks you through the menu, offering suggestions, explaining the cooking process and recommending the right amount to order for your party size.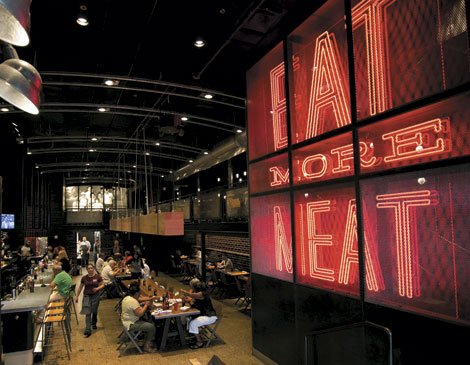 Meats such as brisket, pork belly, turkey breast and kielbasa come out by the half-pound (you should plan for a half-pound per person).
You can't leave without trying the brisket ($13) — the standout of the meats. While it can be ordered lean or fatty, don't shy away from the latter. The result is a much more tender, juicy piece of meat that melts in your mouth. The lean, while OK, is a little too dry and chewy for our tastes.
Whether you add Symon's sauce is up to you — though we're partial to letting the brisket shine on its own. The fatty brisket is so good that we've been known to ask for an extra helping, which the staff quickly obliges.
Handcrafted by 62-year-old West Side Market gem J&J Czuchraj Meats, we dare to say the kielbasa ($10) tastes even better than what our Polish grandmothers would prepare for lavish Sunday dinners. With a blend of spices and a snappy casing, the half-pound links pop with a hint of hickory.
Pork belly ($14) is a tricky one to get right. But when it's slow-cooked as Symon's play on it is here, the troublesome layer of fat many people dislike turns into a crispy crust with a succulent interior.
The selection of ribs is also stellar and shouldn't be overlooked. If you're feeling really ambitious and hungry, go for the giant beef rib ($38) if any are still available. The kitchen only makes about 10 a day and tends to run out by 6 p.m. Served at dinner only, the massive single rib is rubbed with pastrami spice and cooked for 12 to 18 hours.
For those with Fred Flintstone visions in their heads, we hate to disappoint, but the hearty meat is so fall-off-the-bone tender that there's no need to pick up the rib and gnaw at it with your teeth.
But you can get a little messy with a half-slab of pork spare ribs ($15) or lamb ribs ($16). Coated with a simple dry rub, each rack comes with a thick, spicy layer that's almost caramelized from its time in the smoker. You'll need to pick these bad boys up with both hands to enjoy.
If you prefer your meats on a sandwich, there are those too. Choose from four options such as the Big Pig ($13) loaded with chopped pork belly, house-made zesty coleslaw and crispy house-made cracklins on a crusty roll. But be forewarned: These aren't dainty sandwiches. The behemoths tower with ingredients and toppings, making them a welcomed frenzied feast.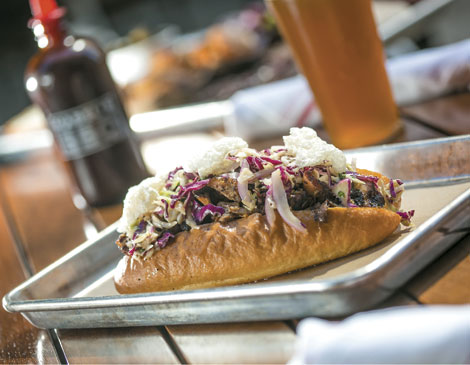 Symon also offers some pig parts as an appetizer of sorts. Crispy tails ($7) or ears ($7), both served with hot sauce, may freak out tentative diners. Slow cooked for so long that bones and muscles break down, the pieces are then fried and reduced to a sticky delicacy. While it's not for everyone, it's worth a one-time try.
Man can't survive on meat alone (or can he?). Therefore, Symon has devised a list of sides that, while atypical to traditional barbecue, are totally Cleveland.
The spaetzle ($6) with spicy cabbage feels homey and familiar while the baked beans ($6) veer from your standard picnic fare with a mix of jalapenos, chunks of brisket and Great Lakes Brewing Co.'s Dortmunder Gold.
While we thought we'd fall for the smoked beets ($6) with horseradish, scallions and a mustard-sherry vinaigrette, the earthiness of the vegetables was overwhelmed by too much smokiness.
But the potatoes ($6) delivered with a simple but addictive preparation. A buttery, yet crispy shell complements a soft starchy inside.
Cool things off with either the broccoli salad ($6) tossed with peanuts, dried cherries and a sour cream-based dressing or the cucumber salad ($6), a dill-heavy take with sour cream and large slices of the crisp veggie.
For those with a sweet tooth, there are three desserts all in pudding form ($6 each): banana, chocolate or Key lime. Each could be better, but we're just splitting hairs here.
Since the opening of Mabel's, Cleveland has seen at least two other barbecue spots join the food scene — Lakewood's Proper Pig Smokehouse and Woodstock BBQ — with more chefs expected to continue the trend.
While those other new spots haven't adopted Symon's Cleveland-style barbecue, he's hoping it will catch on. Years down the road, Cleveland could be a barbecue destination just like Texas, St. Louis and Kansas City.
"I hope this is something people rip off," Symon says, "so we have our own little city with its own style."
Try This: The Cracklin' ($7) will make you rethink that gas station pork rind purchase. Scoop the house-made pork chips, which are dusted with salt and vinegar, in Lawson's chip dip for the ultimate salty snack. Good to Know: In addition to Symon's own sauce, he includes bottles of Secret Aardvark Habanero Hot Sauce on the tables — his favorite hot sauce — for those who want a little more kick with their meal.

When You Go: 2050 E. Fourth St., Cleveland, 216-417-8823, mabelsbbq.com; Mon-Thu 11:30 a.m.-11 p.m., Fri & Sat 11:30 a.m.-midnight