After opening Nuevo Modern Mexican & Tequila Bar in Akron three years ago, chef and owner Zack Hirt knew he had a successful concept on his hands. After all, he and his wife, Lisa, had spent three years readying for its launch — reading cookbooks, eating out and scrutinizing every detail of every place they dined. They recruited potential staff, inviting them to their home to braise meats and tinker with Latin recipes.
"I'd get these people together at my house, buy whatever ingredients I wanted to play with, and we'd all just cook," Hirt recalls. "We'd make four versions of that, six versions of something else."
The Hirts had begun creating Nuevo in their minds while Zack was five years into an eight-year stint working in the kitchen at Crave in Akron. He had honed his culinary skills on the job in the kitchens of restaurants all over town, including the Mustard Seed Market & Cafe, Amber Pub and Bistro on Main. He knew what he didn't want — a stagnant cooking job where he couldn't shake things up. With Nuevo a runaway hit in Akron, he expected to eventually expand.
As opportunities are prone to do, they don't usually come when you're fully ready for them. And during Nuevo's second summer, the Hirts got an email from Richard Pace's Cumberland Real Estate Development, the company behind North Coast Harbor. As part of his development project, Pace wanted to partner with the Hirts on a second Nuevo on the shores of Lake Erie.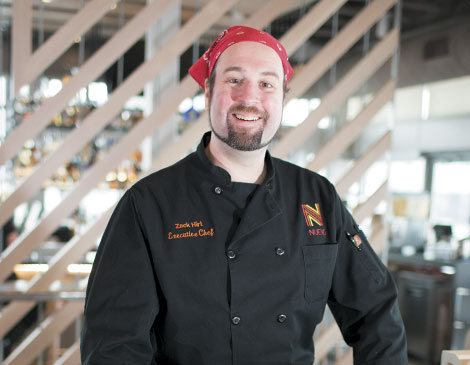 Hirt chuckles even now at the memory of that message. He thought it was a joke or at least too good to be true. "Working at Crave, I saw a few opportunities slip through their fingers," Hirt says. He didn't want to follow the same pattern. "Opening a restaurant is always a risk, but between what was already going on and the resources behind us, we thought this was a great opportunity."
Opening over the summer, the newly built Cleveland outpost sits like a beacon on a long-neglected peninsula. The 9,000-square-foot, two-story building off Voinovich Bicentennial Park is all right angles and picture windows — a hard-to-miss behemoth made of glass, wood and steel. There's a fresh energy about this place, like cubism meets Mayan ruins with angular graphics carved into blond wood dividers and sketched in white and shades of gray on the walls and tile floor.
Nuevo's menu walks the thin line between crowd-pleasing and creative with recognizable dishes (tacos, burritos, chips and salsa) reinterpreted through a more worldly lens.
That comes from how Hirt finds inspiration, starting with Mexico, South America and the Caribbean. From there the menu pinballs around to places such as Spain (paella, $22) and the Middle East (lamb kofta tacos, $14). In Hirt's view, it's all fair game.
"The history of Mexican food isn't just south of the border," he says, adding these various cultures influenced Hispanic cooking. "We want to draw those connections."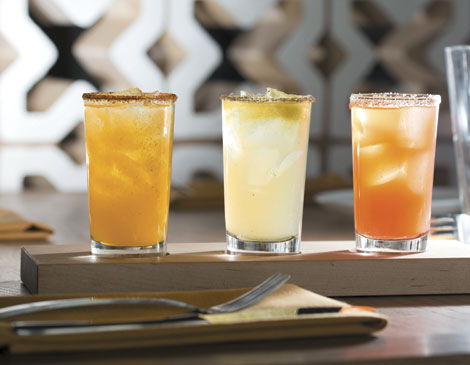 It's an involved menu with six sections: the self-explanatory guacamoles/salsas, soups and salads, appetizers and entrees, and two similar headers — the classics (tacos) and taqueria (burritos and quesadillas).
Salty, house-made chips dipped in standard, but still solid, guacamole and salsa samplers ($15 and $10) are a good place to start, especially if chasing with tequila. Hirt's appreciation for tequila is clear from the admirable 100 bottle selection that checks all the boxes of a strong offering — a result of hosting tequila-pairing dinners at his home.
A general rule of thumb: If the meat is braised, order it. Begin with the arepas ($12) starter — Ohio beef cheek braised like barbacoa until tender and carefully stacked on two-bite arepas that burst with the sweetness of fresh-ground corn. This combination with a little acid from mango and pineapple make for a very round dish.
The same can be said for the albondigas ($12) appetizer. Deeply satisfying, the house-ground meatballs are made with flank steak and sizzled in oil until developing a thin, crisp coat. They're served on a bed of bright orange polenta that pops with peppery heat.
Not every starter is worth an order. Plantain fritters ($7) were dull and overcooked, and the ceviche ($12) suffocated what little red snapper it came with in tart citrus, overpowering the dish instead of helping it pop.
If you're in the mood to build your own taco, move on to the carnitas ($18) from the classics section. It's a mound of pulled pork shoulder that hums with flavor, reverberating from every second of the five hours it spent stewing with smoked paprika and chilies, onions, orange soda, avocado leaves, mango and Thirsty Dog Brewing Co.'s Pero Nuevo.
The only disappointment is the sides — basic Spanish brown rice and a choice of pinto or black beans — which tended to either be underseasoned or oversalted.
There are other standouts here — espresso adobo carne asada ($18) and clever michelada shrimp tacos that capture the flavor of clamato juice, Tabasco and beer without being overpowering.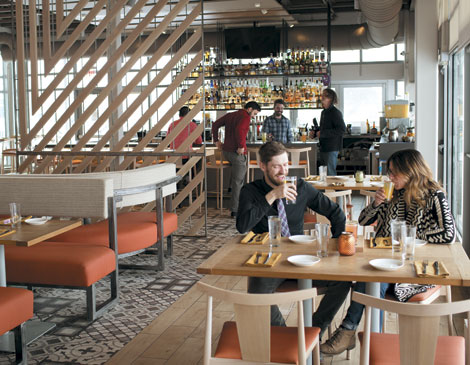 At times, the Nuevo team takes too many liberties, such as with the al pastor tacos ($14), featured in pork, chicken, tofu and fish versions. We tried the latter for something new, expecting white fish turned bright red from the heat of achiote. But what we got was lightly seasoned mahimahi topped with pineapple jicama slaw — a whisper when it should have been a shout.
The entrees, while pricier, are worth the upgrade. This is where the creativity of the kitchen team pays off.
Hirt is particularly proud of the chocolomo ($26), and he should be. Getting a venison shank this tender is no easy feat. Hirt rubs the meat with cocoa nibs and then braises it for hours with roasted vegetables and chicken liver — a nod to an ancient Mayan stew made from the offal of slain animals. With barely spicy polenta rojo and caramelized roasted rainbow carrots, and an earthy liver jus, this dish eats like the kind of stew that staves off a deep winter chill.
Hirt promised more seafood options at his lakeside outpost, which resulted in the pargo ($30), a pan-roasted red snapper with skin as crispy as a kettle chip but delicate as a flower on the inside. The version we tried came atop a smooth orange-brown puree of nutty roasted squash with soft masa crepes stuffed with crab and zucchini cream. Dollops of tart cream gave the dish a touch of sour. The percha ($29) was equally as fun to eat. Hanger steak cooked to a nice medium rare and dotted in green chorizo gravy.
If you're unsure what to order, ask the waitstaff. They're conversational and quick with personal recommendations, straying from simply recommending what's popular.
Talking to Hirt about Mexican culinary traditions, it's easy to see why his staff is so clued in. The chef spouts the food's history as casually as if he's commenting on the weather. He talks of Mayan stews and the ways lemongrass has long been used in the Caribbean. And did you know al pastor is a dish that comes from the Moors?
After years of immersing himself into Latin cuisine, he knows more about Mexican food than he ever expected — and diners reap the benefits of his thirst for knowledge.
"Part of what drives me is learning," he says. "That's what keeps me excited about what we'll create next."

Try This: Clever cocktails, such as the Anejo Manhattan ($14), riff on classics by replacing the base spirit with tequila. Designed to be a clear version of a Manhattan, it swaps rye for barrel-aged Tres Agaves Anejo tequila. It has the dry bittersweetness of the classic, but it's richer and smokier. Good to Know: By late spring, Hirt plans to serve a Nuevo-branded tequila, with more private labels to come by the end of 2017.


When You Go: Nuevo Modern Mexican & Tequila Bar
1000 E. Ninth St., Cleveland, 216-737-1000, nuevomodmex.com, Mon-Thu 11 a.m.-10 p.m., Fri 11 a.m.-11 p.m., Sat noon-11 p.m., Sun 10 a.m.-7 p.m.