Marc Garofoli beams as he makes the six-hour drive back from Lawrenceburg, Kentucky. "That was really cool," he says. "It's an unbelievable honor."
During a quick trip to Wild Turkey with his wife, Gretchen, the owners of Oak & Embers Tavern sampled eight bourbons with master distiller Eddie Russell — eventually picking one to have bottled, stamped with the Oak & Embers logo, and shipped back to Northeast Ohio in February.
"It's very caramelly with a smooth finish," says Garofoli of the 114-proof, 9-year-old bourbon. "Even Eddie liked it — there's no better bourbon guy."
And Garofoli should know. He and Gretchen have spent time on Kentucky's Bourbon Trail, researching options for their two barbecue and Southern comfort food restaurants: Oak & Embers Tavern's flagship location in Chesterland and the new Hudson spot, which opened in August.
They've amassed close to 80 varieties. The spirit is also central to their approach to barbecue, which incorporates a case of bourbon per 30 gallons of sauce.
"We're big bourbon people," he says with a laugh.
After beginning his career in restaurants when he was just 15, Garofoli eventually found a niche in barbecue as a partner of McCarthy's Downtown in Cleveland.
"We had three little smokers in the back," he says. "People would come to us because of our pulled pork and things like that."
Trips with his wife to South Carolina further fueled his passion as he picked up tips for ribs and brisket.
"We met with as many people as would talk to us at various barbecue joints and pit masters in South Carolina," he recalls, "and try to hone in our barbecue ways."
As he started toying with the idea of opening a spot dedicated to just barbecue, Gretchen agreed. She'd focus on the bourbon and beer, and he would be in charge of the barbecue.


Only four months after opening their first location in 2014, however, a basement fire forced them to close. For the next 30 days, they rented a mobile kitchen and served guests in the dining room. They eventually relocated to another restaurant in Chesterland.
"We gutted it and made it our own," he says. "Everyone worked like 18 hour days to get her open — literally for two weeks straight. If you weren't cooking in the kitchen, you were down the street, carrying wood or paints or whatever you had to do."
After three years of steady business and an appearance on Michael Symon's Burgers, Brew & 'Que in 2015, the couple decided to expand Oak & Embers Tavern.
What they had hoped would be a four-month renovation of the former Marcelita's spot on Darrow Road in Hudson turned into a 15-month project.
Anyone familiar with the Mexican restaurant will be blown away by the transformation. Gone are the drop ceilings, stucco walls and outdated booths. A modern, sleek take on a barn, the expansive 8,600-square-foot space with wood-planked ceilings and bourbon barrel details throughout is packed full of diners most nights.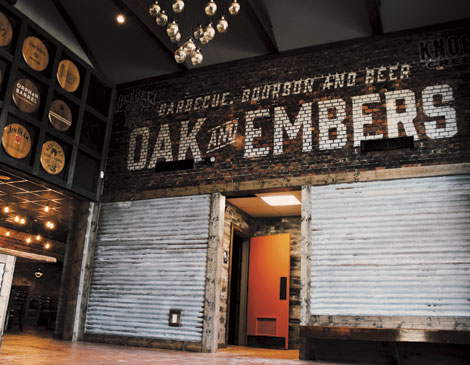 Sure, there's more than just barbecue here, including soups, salads and flatbreads. But on your first visit, we suggest indulging in Garofoli's dedication in action — he cooks about 2,000 pounds of barbecue a day between both spots.
Order meats such as pulled pork, beef brisket and smoked sausage links individually or choose two meats ($22) or three meats ($25) with both options coming with your choice of two sides and cornbread.
The brisket is juicy and fork-tender thanks to a 14-hour, 225-degree trip in Garofoli's Southern Pride smoker over local hickory wood. It's rubbed in a 13-spice blend that's so balanced yet complicated it leaves you guessing some of them — maybe that's cayenne pepper and garlic?
"We have about seven or eight secret ingredients that I could tell you, but I'd have to have you sign a 13-page waiver," Garofoli jokes.
The tangy sauce is almost as mysterious. In addition to that case of bourbon, it contains onions, brown sugar, tomatoes and, of course, secret spices. "It takes about five, six hours to make it from start to finish," he says. "We do it every day."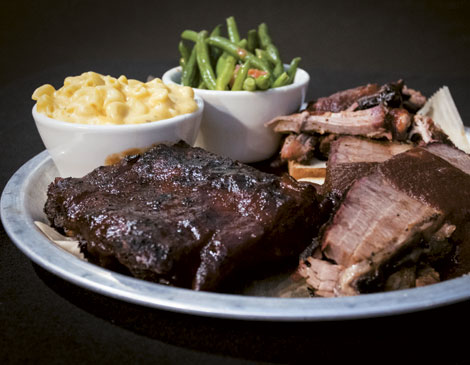 That kind of devotion to good food extends to other parts of the menu. Gretchen works closely with executive chef Jose Reyes to create Southern-inspired dishes such as the slow-smoked chorizo meatloaf ($15) — a recipe Gretchen started making at home for her family years ago.
"At my daughter's fifth birthday party, she asked us if we'd make the meatloaf for her and her friends. And I was like, 'Honey, I don't think your 5-year-old friends are going to want meatloaf. Why don't we just order a pizza?' " Garofoli says.
But it was a hit with the kiddos and has been just as successful at the restaurant with its spicy mix of chorizo and ground beef. Layered on top of cheddar smashed potatoes and topped with onion straws and bourbon barbecue sauce, it's like a much-needed hug after a long day.
Fun appetizers such as the bacon and bourbon jam deviled eggs ($12) — a little pricy for three halves, but still a tasty splurge — and the burnt ends ($10.50) served with plantain chips keep things playful and interesting.
Surprisingly there are quite a few fish options here, from a maple-bourbon glazed salmon ($18.50) with sauteed green beans to Southwest mussels ($11) loaded with chorizo, tomatoes, corn, onions and Great Northern beans in a white wine sauce.
"It's almost like a stew," Garofoli says. "It's not like you're getting a bag of steamed mussels. You're getting a heavy meal."
For something special, opt for the beef short rib ($26). The massive entree — all 33 ounces of it — is enough for a couple of meals. It starts in the cooler for a minimum of two days to let the rub tenderize and soak into the meat before it spends five hours in the smoker. It's served with a smoky cola demi-glaze that takes three days to make.
"Somebody'd be a fool not trying the beef short rib," he says.
So try this labor of love — and then try another one. The menu is dotted with the couple's passionate love letters to barbecue and Southern cuisine.
"I've always been a barbecue person my whole life," Garofoli says. "This is in our blood. This is what we do. We love barbecue."
Try This: If you don't like straight bourbon, many of Oak & Embers' cocktails feature the spirit. We like the Suffering Bastard ($10) with Knob Creek bourbon, Tanqueray gin, bitters and ginger ale for its smooth, clean finish. Good to Know: Make reservations. Garofoli has even had to turn friends and family away when they thought they could snag a table on a busy night.

When You Go: 7774 Darrow Road, Hudson, 234-602-1056, oakandembers.com
Mon-Thu & Sun 11 a.m.-10 p.m.; Fri & Sat 11 a.m.-11 p.m.