For an ordinary Wednesday evening, this place is popping. Groups of young professionals linger at the bar laughing as Fleetwood Mac and Coldplay stream from above. In the adjacent dining room, an extended family with a rambunctious toddler celebrates a birthday with balloons and candles.
All around them, hungry diners stand in line, looking up at menus, grabbing open seats and deciding what they're going to eat.
It seems Ohio City Galley has become a welcome place for Clevelanders whatever the occasion, day of the week or craving.
Since opening in Ohio City in October, the food hall from Galley Group co-founders Ben Mantica and Tyler Benson has transformed not only the 8,000-square-foot former Massimo da Milano Italian restaurant into a food hub filled with rising culinary talents, but changed the way we gather for a meal.
Instead of compromising with your dinner companions on one particular cuisine, Ohio City Galley allows you to explore among four different concepts. You can mix-and-match your meal. You can share with each other. You can all eat at the same place. It's up to you.
It's like Top Chef meets mall food court — without the Claire's and Auntie Anne's.
Created as a way to give up-and-coming chefs a way to workshop their menu and restaurant concepts, Ohio City Galley is the third food hall of its kind from the Galley Group. Unlike other food halls across the country — think Los Angeles' Grand Central Market or Washington, D.C.'s, Union Market — the idea here is to be more of a food incubator rather than a landlord.
"For us, it's not just about charging up space or leasing kitchens," says Mantica. "It's very much trying to position ourselves as a launch pad to get these businesses started."
Instead of a standard lease, the Galley Group offers the four current restaurants — Poca, Tinman, Sauce the City and the Rice Shop — space for a year with a revenue sharing agreement. Mantica and Benson can also help with menu development and provide contacts for accountants, lawyers and real estate professionals.
Selected from 50 applicants, the four chefs — Anthony Zappola, Michael Schoen, Michael Nowak and Victor Searcy Jr. — each have their own distinct ideas and menus.
That's the key to making Ohio City Galley work.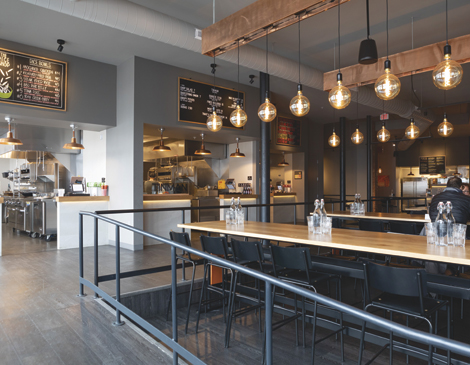 Cleveland native Zappola's the Rice Shop is an iteration of the Las Vegas spot he closed in 2016. With a lineup of six Asian rice bowls, each one is full of depth and flavor such as the Kentucky fried fish ($15), a combination of white rice, double-breaded cod, cabbage slaw, jalapenos and hot sauce aioli.
"It's like, what would a traditional Southern chef cook if they were in an Asian market, as opposed to an Asian cook using American ingredients," says Zappola, who returned home in 2017 and opened the University Heights deli Lox, Stock & Brisket in 2018.
The steak fried rice ($15) started out as a brunch item, but after guests kept inquiring about it during dinner hours, Zappola modified it by removing the egg and adding in mushrooms and bok choy. Mixed with chunks of tenderloin tips and topped with yum yum sauce, it's a filling, addictive bowl that's an easier-to-eat version of what you'd get at your local hibachi restaurant.
"I was going to Benihana's, I was going to Otani's in Mayfield Heights 25 years ago," Zappola says. "I love that stuff."
For chef Victor Searcy Jr., he's created a unique spice blend for Sauce the City after researching our region's cultural makeup to launch the Cleveland version of hot chicken. Using Hungarian, African-American and Italian influences, along with Czechoslovakian, the six-spice dry rub is featured on his chicken sandwiches, tenders and wings.
"If you go to other hot chicken restaurants around the country, it's more about the spice," Searcy says. "Ours is more about the flavor."
About a five out of 10 on the spice level, the hot chicken ($14.95) is moist and tender thanks to a top-secret brine. A deep-fry leaves the breading crispy and golden brown. The accompanying fire-roasted street corn can be ordered three ways: original, candied or spicy chipotle.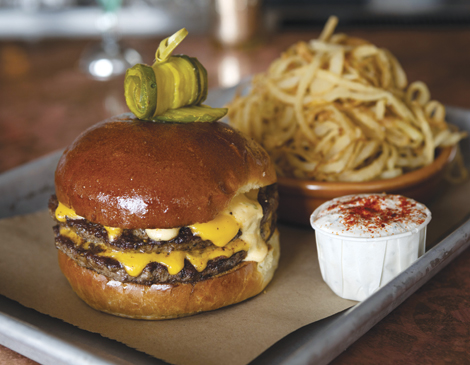 A fun take on the standard corn-on-the cob, each option tastes good in theory — whether it's the sweet cream cheese, panko and Chinese cinnamon on the candied cob or the mayo, cotija cheese and paprika-based seasoning on the spicy chipotle — but the corn itself felt tough and lackluster.
Brothers Michael and Tom Schoen cook the kind of food you probably grew up eating — but with a twist — at Tinman.
"It's basically born in Cleveland and rooted in nostalgia," says Michael Schoen, who's worked previously as the executive chef at Sol in Willoughby and downtown Cleveland's Rebol. "It is comfort food, blue-collar Americana diner, diner-esque kind of fare."
You've probably seen images of the Tinman burger ($13.50) in your Instagram feed, with its layers of melted cheese and two all-beef patties. Inspired by the cult-favorite at Stevenson's Bar & Grill in Cleveland, the Schoen brothers created their ode with two four-ounce Ohio beef patties, Great Lakes American cheese and a special sauce (a zesty mayo made with minced house-made pickles and onions), all on a toasted brioche bun.
Another familiar dish, the fried bologna ($13) comes from memories of their father making dinner.
"When my dad was in charge and feeding us, it was fried bologna sandwiches where the cheese was always burnt," says Schoen. "That's just something that we loved and we want people to enjoy."
The duo places the fried bologna between two slices of rustic Italian bread, then dunks the sandwich in custard before pan-frying it. It comes with a sweet-and-spicy pickle and mustard-mayo on the side.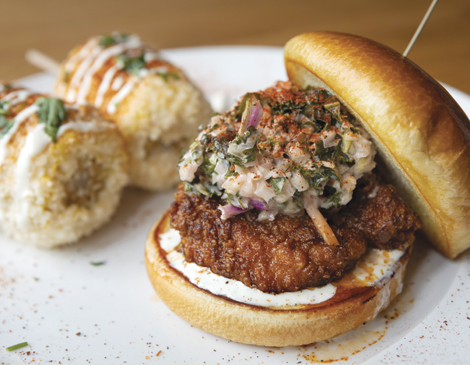 Last is Michael Nowak, an already established chef with the Black Pig, a French-Italian spot in Ohio City, who has been mulling over opening a Mexican restaurant for the last couple of years. After visiting Oaxaca a few times, working on recipes at home and developing a concept, he was ready to launch Poca, a casual Mexican eatery using made-from-scratch ingredients.
"The menu is split into two sides," Nowak says. "That casual street food side and then a little bit more of the composed plate side inspired by our trips."
While the guacamole ($9) is stellar here, the tostados that accompany it are worth the price alone. Made out of masa, water and salt, the paper-thin wafers start out on a heated press and then are transferred to an oven.
The braised pork shoulder ($15) is layered with white beans, which are thickened with tortilla masa and finished with epazote, a Mexican herb. A green mole, made with poblano, jalapenos, broccoli, spinach, onions and spices, brightens the entire dish.
The mission of Ohio City Galley is to help budding talent grow. All four chefs are interested in opening their own brick-and-mortar spots after their year is up. If Ohio City Galley can succeed in being a vehicle for the next class of Michael Symons and Jonathon Sawyers — and exposing Clevelanders to them early on — then food halls like this will become a vital pipeline of talent.
"I wonder what it's going to be like in five years, when another shop is in there doing something cooler than what I'm doing," says Zappola. "In two years from now, I can't wait to go there and tell people, 'Hey I was the first one in here and this is what we did. Here's what it did for us,' and to see what the next generation of people can do."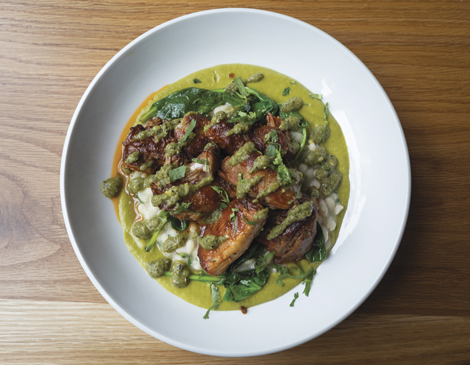 Try This: Instead of traditional french fries at Tinman, you'll find crispy potatoes ($7), a hybrid between hash browns and jo-jos. Cooked slow and low in oil, baby Yukon potatoes are smashed and deep-fried to order and served with an aioli, hot sauce and scallions.

Good To Know: The bar features beer, wine and a handful of cocktails such as the Moses Cleveland ($11), a bourbon-forward drink with herbed plum syrup, citrus and soda.

When You Go:
Ohio City Galley, 1400 W. 25th St., Cleveland, 216-525-9933, ohiocitygalley.org
Mon-Thu 11 a.m.-9 p.m. (bar open until 10 p.m.), Fri and Sat 11 a.m.-11 p.m. (bar open until midnight), Sun 11 a.m.-9 p.m. (bar open until 9 p.m.)