There's something to be said about feeding the masses — not every meal can be at one of Michael Symon's, Jonathon Sawyer's or Rocco Whalen's restaurants.
In a chef-driven town, we're accustomed to eating well and eating out often. So we frequently lean on more affordable, more accessible spots such as Aladdin's, Dave's Cosmic Subs and the Winking Lizard to feed our cravings in between those more special feasts.
Sure, the wings are a no-brainer while watching that Sunday Browns game, the sub hits the spot as we shuffle the kids to their soccer practice and that hummus platter is easy to share as we catch up with our besties.
But while we love these spots and frequent them often, they're not where we turn for the innovative ideas that put Cleveland on foodies' radar.
Maybe that's OK. There's a consistency and a familiarity that diners come to expect from these places whether you're dining in Lakewood, Cleveland Heights or Brunswick. Sometimes in our hectic, crazy lives, we just want to know we can get a solid burger and beer without much fuss. It doesn't always have to be foie gras and frites.
Bret Adams, owner of local restaurant group Chef Art Pour, tries to strike a balance between offering a chef-inspired menu and providing a welcoming atmosphere for his customers.
"The passion's taking care of the guests," he says. "We don't use the C-word, because we want to treat them like guests in our own home."
Since opening his first Burntwood Tavern in 2010, he's expanded to nine locations in Northeast Ohio, as well as an outpost in Naples, Florida. Each location has a rustic, homey feel that pairs well with its contemporary American menu of sandwiches and entrees. It's an easy spot to find something that everyone will like — your picky 13-year-old, calorie-counting wife or meat-and-potatoes father-in-law.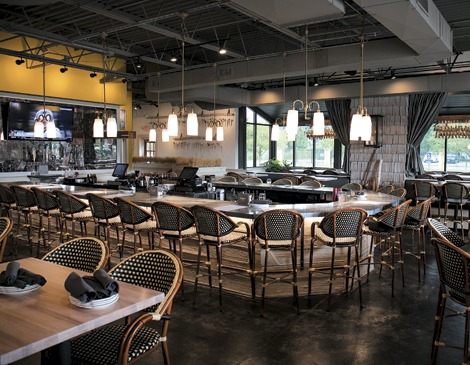 With his newest endeavor, Rose Italian Kitchen, which opened in April, Adams is trying to replicate that idea of taking familiar cuisine and spinning it into a concept that will resonate with Clevelanders.
"We look at Rose as a modern Italian farmhouse," he says. "There's bocce ball courts on the patio. The portions are larger."
It isn't Adams' first attempt at revamping the SOM Center Road space in Solon. After Applebee's closed in 2015, Chef Art Pour purchased the space and launched Mexican restaurant Paco Taco's. But after about a year, Adams decided to shutter the space.
"We should've slowed down and really put more attention into the concept," he says of the Mexican street food spot. "We made some mistakes there. You want to talk about a humbling experience? That was definitely one."
After holding on to the location for a little over a year, the Chef Art Pour team renovated the space into a bright, rustic, whitewashed Italian kitchen with polished concrete floors, a rose gold-mirrored wall and a glitzy chandelier. A clear change from ghosts of restaurants past, the inviting space leads one to believe they're about to receive a warm welcome from the staff.
But that's not always the case at Rose Italian Kitchen.
On a busy Friday night, the hostess struggled to manage reservations and a line of walk-ins. Once seated, our experience only slightly improved when a distracted server failed to put in our drink orders promptly and left us waiting to order our meals. To be fair, he did give us a complimentary glass of rosé wine for his mea culpa.
But it was hard to enjoy our meal without overhearing the table behind us, clearly upset with their own experience, arguing with the manager over service and prices.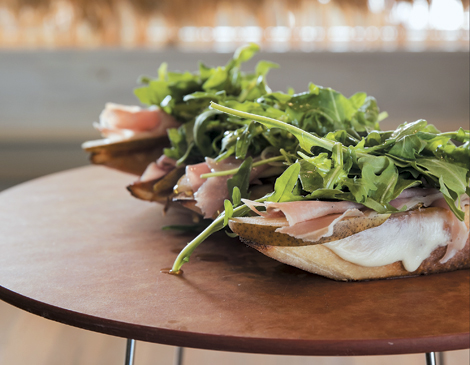 As for the food, you'll find classic Italian cuisine such as bruschetta, pizzas and pastas. Most of the dishes are straightforward, while some have a slight twist to them.
"The food is primal," says Adams. "If you look at a menu in Italy from 20 years ago, 30 years ago, it's the same base food. There's lasagna and red sauce and calamari. Those items are timeless. We just wanted to take those classic dishes and make them great."
A classic appetizer, the calamari ($12) starts with calamari steaks instead of rings or tentacles. Sliced thin, marinated in buttermilk and breaded, the fried strips are tender and have a slight hint of garlic. Served with a zesty lemon aioli, it was surprisingly our favorite starter.
For something with a little more bite, opt for the stuffed peppers ($11). Two long red peppers are filled with a mixture of beef and sausage and topped with ricotta. It's a bold, spicy bite that may be off-putting to some, but they're just hot enough that many will find them enjoyable.
A trio of bruschettas grace the menu. Served on house-made sourdough, the combinations include the trendy prosciutto and pear ($11) with provolone, caramelized onion and arugula and the more simplistic margherita ($10) topped with fresh mozzarella, heirloom tomatoes and basil.
"At first, our fork in the road was, Do we want to have bruschettas or do we want to have flatbreads?" Adams says. "We chose bruschetta because it allows the chef to be a little more creative."
When it comes to pasta, the arrabiata ($16) is close to Adams' heart. The penne pasta dish filled with shrimp, sausage, onions and mushrooms in a spicy tomato sauce is a recipe that has been with him for his 20-plus year career in the restaurant business.
"It was printed on a DOS program," he says. "It's had six or eight moves and sauce spilled on it."
The most creative dish on the menu, the salmon piccata ($20) offers a glimmer of hope for what we can expect out of Rose's kitchen. Nestled on a bed of arugula, a well-portioned piece of salmon comes arranged with a fried Parmesan-encrusted tomato and caper berries. The result is a light, refreshing spin on a classic that we'd love to see more of.
But as Adams plans to open a second Rose Italian Kitchen in Cuyahoga Falls by the end of the year and talks of expanding the concept into other cities (even a few in Florida), we wonder how much of that sense of imagination gets boiled down to make it executable across multiple locations.
After all, it's much easier when Michael Symon doesn't have to worry about the quality of his beef cheek pierogies at several Lola Bistros.
Rose Italian Kitchen is straddling that line of being a chef-driven restaurant (without a clear executive chef) and a landing spot for people looking for comforting Italian favorites that they can order with ease — wherever they are. If it's creating a memorable meal for the masses and Adams' team can deliver on that, he may have found his next Burntwood Tavern.
"We're still evolving in everything from the menu to how we serve large parties," he says. "But we think we'll have our legs underneath us by the time we open a second one."

Try This: In a nod to Adams' son's favorite dish, the carbonara ($15) features fettuccine covered in a rich Alfredo sauce with peas, pancetta and sliced chicken. Good to Know: Fans of brunch can find options here on Saturday and Sunday such as French toast ($10) stuffed with mascarpone and chocolate chips, or a frittata ($11) with prosciutto, artichokes and spinach.
When You Go: Rose Italian Kitchen
6140 SOM Center Road, Solon, 440-600-7900, roseitaliankitchen.com
Sun 10 a.m.-10 p.m., Mon-Wed 11 a.m.-11 p.m., Thu & Fri 11 a.m.-midnight, Sat 10 a.m.-midnight