For a city that only had a few respectable barbecue restaurants just a few years ago, Clevelanders have quickly become aficionados in the world of smoked meats, spice rubs, sauces and styles. Or at least we like to think so.
With quality spots such as Mabel's BBQ, Proper Pig Smokehouse, Oak and Embers Tavern and Bubba's Q to choose from, it's easy to become an armchair critic. It's too spicy. The meat is too fatty. That sauce is too tangy. Is this really Texas-style barbecue?
An influx of options means diners can be picky, choosy, demand quality and ultimately decide where they want to spend their dollars.
But at the same time, there needs to be an appreciation for the art of barbecue and the variations that come along with it. Smoking meat is a time-intensive process with nuances and techniques that transform the taste and texture from restaurant to restaurant.
Take Zachary Ladner, the 32-year-old executive chef of Smokin' Q's BBQ and Beer House. The Texas native fuses Tex-Mex with traditional Central Texas barbecue for the Mayfield Village spot's distinct approach.
You'll find him using a pickling liquid from jalapenos on his brisket as it slow cooks or making corn-flour hybrid tortillas for the el jefe style barbecue that pairs meats with salsa, guacamole and a tamale.
But even with a fun, approachable menu, Ladner has taken some heat after opening last June for his spicy barbecue recipe — as well as the unavoidable comparison to other barbecue spots in town.
"People came in and there were issues or it wasn't what they were expecting," he says. "But we tried to grow from that, and I feel like we have."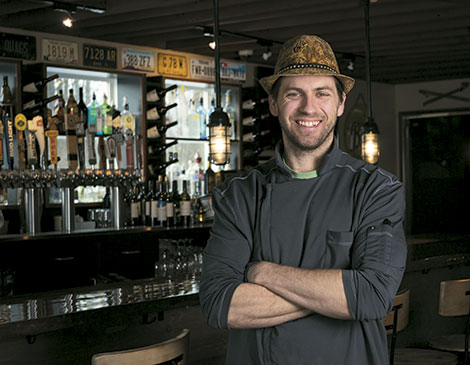 There have been improvements, including Ladner toning down the spice level for his customers. And while Smokin' Q's BBQ and Beer House might not have the best barbecue in town, there's enough on the menu to garner a visit.
Barbecue — brisket, pulled pork, house-made sausages, baby back ribs and chicken — remains the star here with Ladner using it in appetizers, sandwiches and tacos.
With eight years of experience at the fine-dining Giovanni's Ristorante in Beachwood, where he still serves as its executive chef, Ladner is able to glide back and forth between the two establishments owned by Carl Quagliata.
"I love sitting there and hovering 6 inches over a plate and making everything look perfect," Ladner says. "But I love Tex-Mex and barbecue, because that reminds me of growing up."
Smokin' Q's also lets his playful, quirky and what he dubs "nerdy" side come out with cleverly named dishes such as the Lake Giveth ($11), a taco filled with Lake Erie perch coated in a "Krispy" mixture of ground Frosted Flakes and Rice Krispies with house-made bread crumbs and black sesame seeds.
His knack for mashing up ingredients shines in the quesomole ($12) — a tribute to his days at the University of Texas at Austin, where he studied theoretical math.
Ladner often found comfort in a dish from Austin's Kerbey Lane Cafe that combined queso and guacamole. "When you're a college kid and you're out at a diner at 2 o'clock in the morning, it is the greatest thing in the entire world," he says.
His version sports a guacamole center surrounded by tangy queso made with fajita peppers, onions and Middlefield cheddar. Opt for the $3 upgrade to top it with chopped brisket.
The Sporcaccione ($10) — a riff on a traditional pulled pork sandwich — comes topped with sliced house-made jalapeno sausage, pulled pork, pickles and slaw on a house-made bun. The name is a wink at his mother-in-law, who uses the Italian word for "dirty little pig" as a term of endearment for Ladner.
"I really like that you have two different textures," he says. "You have this soft, shreddable pulled pork and our house sausage that's a little bit spicy and has a nice sort of snap to it."


At $10 and $11, the tacos may seem like a splurge for those accustomed to eating $3 or $4 versions. But don't overlook this part of the menu. Tacos are a passion project for Ladner — he does make his own tortillas after all and offers a popular Taco Tuesday.
"It's my favorite food in the whole world," he gushes. "I would eat tacos for every meal of the day if I could. So having them was definitely a must."
Each order comes with two substantial tacos — more than enough to fill you up. A new addition, the PB&J ($11) delights with smoked pork belly marinated in a combination of barbecue sauce and vinegar. It's deep-fried per order and delivered to your table with jalapeno jam, slaw, guacamole, pico and cotija cheese on top.
For a little taste of home, try the Polish taco ($11) — an homage to the Polish Boy. Loaded with house-made sausage, coleslaw, guacamole and french fries, the combo gets drenched in the house barbecue sauce. It gets a little messy, but in the good, lick-your-fingers-clean kind of way.
If you like your barbecue straight up, skip all the tacos and sandwiches and go whole hog by ordering a traditional half-pound of a meat of your choice. There are also combination platters that allow diners to try up to four options.
All meats are smoked with a mix of 50 percent oak, 25 percent ash and 25 percent hickory from a local supplier on a Southern Pride smoker.
"I wanted some hickory in there because it does give that really strong, nice smoky flavor profile," he says.
The brisket ($12 per half pound) is a good place to start. True to Central Texas ways, the meat is served on a tray with no sauce, allowing the meat to stand on its own. But, that also means there's no place to hide.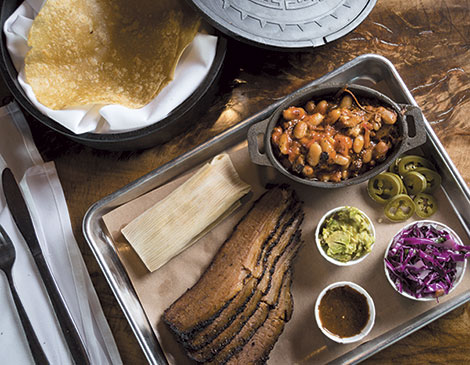 While slightly on the fatty side, it was tender and juicy. Its downfall? It lacked the flavor and depth that we've encountered at other local barbecue spots. But a little dab of Ladner's HOYC (Hair On Your Chest) mango habanero hot sauce — one of three house-made sauces — amped things up.
It's hard to compare apples to apples — or brisket to brisket — with so many places trying to differentiate themselves. With diners sending smoke signals to their friends on where to go, it's not enough to just be a standard, run-of-the-mill barbecue restaurant these days.
Because Ladner pushes himself to be inventive, there will be stumbles and falls. (Maybe tinkering with spice levels to cater to customers took too much Texas out of Smokin' Q's.) But there's enough going right here that it can carve out a spot next to the competition, especially since he's got an easy-going, authentic take on the trend.
"I want people to feel like they're having fun, that they're having great food," he says. "I want them to feel like any problems in their own personal lives are just gone for just a moment while they enjoy themselves here."
When You Go: Smokin' Q's BBQ and Beer House
718 SOM Center Road, Mayfield Village, 440-646-0429, smokinqbbq.com
Mon-Sat 11:30 a.m.-10 p.m.
Try This: Alyssa Ladner, the general manager and Zach's wife, is a former pastry chef. Get a taste of her handiwork with the decadent chocolate fudge brownie topped with Country Parlour coconut ice cream. Good to Know: While it touts beer in its name, the beer list isn't as extensive as you'd expect. With just 16 brews on tap, you'll find local options such as Masthead Brewing Co. and Great Lakes Brewing Co. Be sure to try a Texas fave Shiner Bock.