You can take the boy out of the South, but you can't take the South out of the boy. William Burke, the 6-foot-3, flannel-and-trucker-hat-wearing executive chef at the Smith, politely answers questions with a "Yes, ma'am," and slips in a "Y'all" while talking about his affinity for biscuits, barbecue, the Georgia Tech Yellow Jackets and Asheville's Highland Brewing Co.
"I have to constantly remind myself of where I'm from to remind myself of where I'm going," says the 39-year-old. "It's deeply philosophical, and after three or four beers, you'd understand it."
Luckily for those living in Burton — the small village about 45 minutes east of downtown Cleveland — the Dalton, Georgia, native's current stop is in their backyard, where he's introducing local diners to traditional barbecue and Southern cuisine.
But food wasn't Burke's first love. "I wanted to be a writer with a big "W" and support myself by being able to write," says Burke, who graduated with English and philosophy degrees from Dalton State College. "We can tell now, some 20 years later or so, that was a miserable failure."
So he fell back on cooking, a job he picked up in college and enjoyed. He'd spend three 13-hour days cooking and the other four days writing. Eventually his dream shifted from crafting literary prose to creating culinary stories on a plate.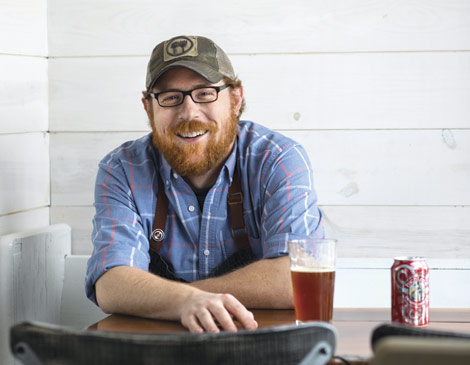 "I started being more serious about cooking, so I delved into a lot of the stuff that I've always been fascinated with," he says. "I remember going to my grandmother's house and opening the door and something was always cooking. There was coffee, cornbread or biscuits."
After working in Asheville, North Carolina, for seven years, he and then-fiancee, Joy, made the decision to move to Northeast Ohio.
"Living in Asheville was great. It's was a tourist town. Six months out of the year you were busy, but the other six you were struggling," he says. "We chose Cleveland because for what I do as a food guy, it's really good."
He landed a gig at Walden, the luxury inn and spa in Aurora, where he worked for three years before coming on board last year as the executive chef of the Smith, which debuted in October.
"While we do a lot of barbecue, smoking and more traditional stuff, we are trying to push the envelope of what's considered Southern," says Burke. "A lot of people don't have access to really proper Southern food here."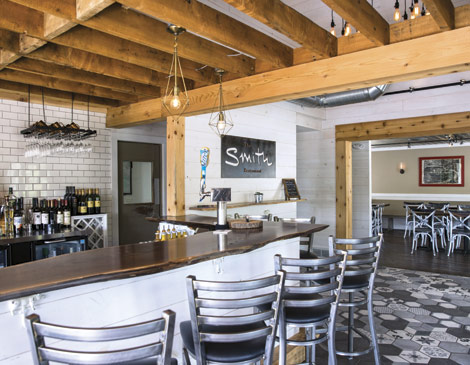 The tiny spot off the Burton Square feels like it belongs in an episode of Fixer Upper with shiplap walls, reclaimed wood tables and an Edison lightbulb chandelier. It's homey and comfortable — making it a welcoming place for Burke's Southern hospitality to shine.
Much of that good-natured spirit of the Smith is thanks to the in-house smoker, which Burke uses with hickory wood to develop deep smoky flavors from the popular beef brisket to the smoked butter that's served with the house-made biscuits.
For a fun spin on the Smith's beef brisket, which at times can err on the dry side, order the Burton-on-Weck sandwich ($12). It pairs slabs of brisket with an Orlando Baking Co. bun that the kitchen tops with salt and caraway. A side of smoked au jus — made by smoking beef bones for eight hours — accompanies it for dipping.
A Southern restaurant wouldn't be complete without fried chicken ($17). Burke starts with a rub of salt, sugar, black peppercorn, mustard seed, sumac, celery seed and allspice and confits his version for 24 hours. He then places the chicken in smoked oil and smokes it for more than three hours. Finally, he dredges each piece in buttermilk, bay leaves, peppercorn and breadcrumbs before dropping it in a fryer for five minutes. Topped with a white pepper gravy and pickled red onions, it makes you wish you had grown up eating this dish every Sunday.
"That's just the fat kid inside of me, loving fried chicken," he says.
When you order the St. Louis-style ribs (half-rack $18), Carolina-style pulled pork ($13.50) or one of the other meats, tough decisions come into play.
First, you'll have to choose from one of the nine sides such as potato salad, mac 'n' cheese or coleslaw.
Don't overlook the collard greens. Served in a little Mason jar, it's a thing of beauty. Inspired by his grandmother's recipe, the vinegar-laced greens get a bump in flavor thanks to house-made molasses bacon and a house-made watermelon hot sauce. "It's sweet and yet it's also got that hit to it," he says.
Once your entree arrives, you'll be educated about the sauces on the table: a sweet Kansas City-style option made with Geauga County maple syrup ("I've got a 5-gallon bucket in the back just chillin'," Burke says.); an Eastern Carolina-style one that's made with apple cider and white vinegars and spices ("It's designed to cut fat," he says.); and a house version modeled off South Carolina sauces made with fermented mustard, honey mustard, maple syrup, bourbon, beer and apple cider vinegar ("It's not the most popular, but you know, chef loves it," he laughs.).
Experiment and try them all. Mix them together — you really can't go wrong. It's part of the fun eating this style of barbecue that doesn't come pre-slathered in sauce.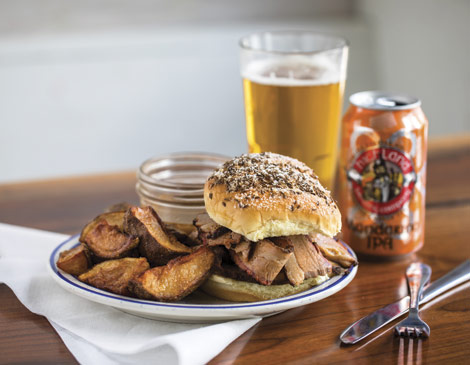 This summer, expect to see more fruits and vegetables — squash, corn, tomatoes and Vidalia onions — on the menu. Burke is all about canning and preserving whatever he can for those harsh winter months too.
"Lord knows I'm probably going to try to buy the entire city out of Vidalias this year," he says. "We're going to salt cure those. We're going to caramelize and freeze them. We're going to do everything we can to keep those glorious little onions into the winter."
While the Smith may seem like it's heavy on smoked meats and old-fashioned barbecue, Burke wants to break out of that tired stereotype and antiquated way of thinking.
He's toying with trying to make the Smith the first self-sustaining restaurant in Ohio (his goal in the next three or four years is to cut total waste to less than 10 percent). He wants to keep focusing on the fresh produce he's surrounded by and build stronger relationships with farmers.
He's using his past to drive him forward.
"We're playing around with bringing Southern food into a light that a lot of people have never seen in us," he says, "because we're not all about fat and lard."
Try this: Treat yourself and order the fried bacon ($7) — your arteries won't mind. Thick-sliced bacon, covered in seasoned breadcrumbs, is deep-fried and served with a tangy bourbon mustard sauce and pickled produce such as watermelon rinds.
Good to know: William Burke and his wife are the masterminds behind Revival Social Dinner, a series of dining events that bring area chefs together to raise money for local causes such as hunger awareness, LGBTQ rights and homelessness. "Revival started out of a need to express my rage in the calmest possible way," he says.

When You Go
The Smith 14608 W. Park St., Burton, 440-273-8039, thesmithohio.com
Wed & Thu 11 a.m.-9 p.m., Fri & Sat 11 a.m.-10 p.m., Sun 8 a.m.-8 p.m.