Anthony Scolaro knows he's not a crowd-drawing, heavy-hitting chef like Zack Bruell, Rocco Whalen or Dante Boccuzzi — his competition in Tremont.
When the 33-year-old chef decided to open his second restaurant, Trio, in the Cleveland neighborhood last June, he wanted a way to distinguish the spot from the rest of the elite pack.
His game plan? Small plates.
"When this opportunity came up for us, it was kind of like, OK, let's do something different. Let's bring some fresh air in and hopefully give customers something that they haven't had in a while or just something different than the same old Tremont grub hub stops," he says.
So sure, small plates aren't groundbreaking. Much like other small plates restaurants such as Lakewood's Salt, where chef and co-owner Jill Vedaa deftly crafts shareable dishes around simple ingredients, Scolaro uses tapas as a way to infuse thoughtfulness — and at times ambition — into his lineup of smaller offerings.
While Trio tries to fill a niche in Tremont, it's been a learning curve for the chef, who also owns 111 Bistro, a progressive American restaurant in Medina.
At his first restaurant, Scolaro had to walk the line between expected and experimental — pushing traditionalists to try kimchi balls or even his revamped chicken Parm with burrata.
Here, he's still finding his footing. Trio's opening day menu featured a balanced number of modern American small plates and entrees. But after getting feedback from customers, Scolaro launched a second menu in September that heavily focuses on those shareable dishes — 15 small plates and just four entrees.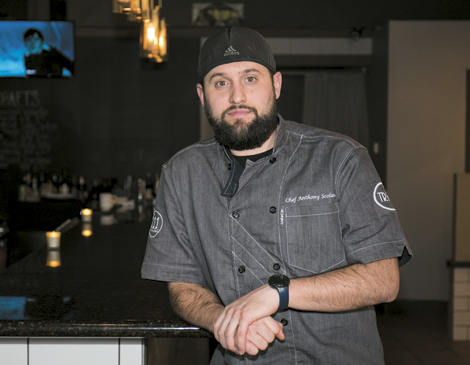 "It's just a matter of getting people in the mindset that they don't have to be locked in to one dish," says Scolaro. "They can try a couple things and spend the same amount of money that they would have on an entree."
Holdovers from the opening day menu include the carbonara ($10), a black garlic pasta dish with bottarga yolk (salted, cured fish roe) and the carrots ($8) topped with a sunflower romesco, tarragon gremolata and curry yogurt.
The gnudi ($10), conceived by Scolaro and sous chef Joshua Vance, starts with a mixture of pecorino pepato, a hard Italian cheese studded with black peppercorns, and house-made ricotta. The chefs roll them into little balls and let them sit in a bed of semolina for a couple days.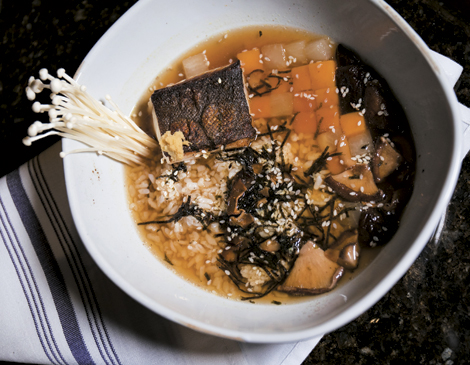 "They soak up that semolina, which creates a pasta shell on the outside," Scolaro says. "Then when you cook it, it's kind of this little pop of ricotta when you bite into it."
The pasta comes with a house-made butternut squash puree, apple cider gastrique and meatballs. The familiar fall flavors — the addition of fried sage helps — makes this a delightfully comforting dish.
An unexpected winner is the beans dish ($9), a take on cassoulet. Scolaro makes the beans — cranberry, flageolet and marrow — the stars of the show.
Each bean is prepared separately to ensure it's properly cooked. Each batch is cooked with house-made bacon, bay leaves, shallots and garlic. Scolaro then brings all the beans together on a bed of leek soubise, a French onion-based sauce.
"[Beans] are one of those things that I think people forget about how rich and hearty and warming a dish they can be," he says. "I didn't think it was going to be as good as it was, and when we did it, it was like we've got to tell everybody, 'Get this dish.' "
Scolaro was searching for the right kind of fish that would work with his house-made dashi. The black cod ($15) ended up fitting right in because its richness worked well with the Asian flavors. A ramen bowl arrives layered with sushi rice, daikon, shiitake mushrooms, squash and an earthy dashi. But it's the house-made furikake, a Japanese rice seasoning of dried seaweed, fried shiitake mushrooms and sesame seeds that makes this dish shine.
"It's like Italians put Parmesan on their pasta," he says. "They put that on rice."
While small in number, the entrees still pack a punch. In fact, the limited number of full-sized options increases the pressure.
"When you're only offering three or four big plates, they all better be solid," he says. "You don't have room to have one that's not great."
If you order the wagyu entree ($38), you automatically know you're going to get a decadent dish. It's wagyu — one of the most prized cuts of Japanese beef — after all. While our medium steak was silky and buttery, it's what came with our beef that made this dish a standout.
Tricked-out tater tots, the potatoes paillasson are substantial square nuggets infused with rendered beef fat from the waygu. Anchored by drops of celery root puree and topped with Brussels sprouts, each one holds its own on a busy, but purposeful plate. A dollop of melted leeks with bacon and caramelized leeks offers a helping hand in raising this dish from a basic meat-and-potatoes to an expertly executed plate.
But the pork belly chop ($32) misses the same level of accomplishment. An intriguing idea, the loin chop includes a long rib bone with its belly still attached. It's a pretty massive dish that seems to scream in the face of Trio's small, but mighty identity.
While the goal was to create a pork entree with a nice caramelized exterior and fatty interior, this one falls short.
Instead we were overwhelmed by its size, lack of flavor and toughness. The saving grace of the dish is the corn pudding, a creamy, hearty addition that saved the whole experience from a complete fail.
The dish recently came off Trio's menu, with Scolaro citing poor sales and the high price of the cut of pork. Those who did order it loved it, he says.
"It was one of those trial-and-error dishes, and we kept trying to push it out there," he says. "It might come back in the future. It was kind of a fun thing to play with."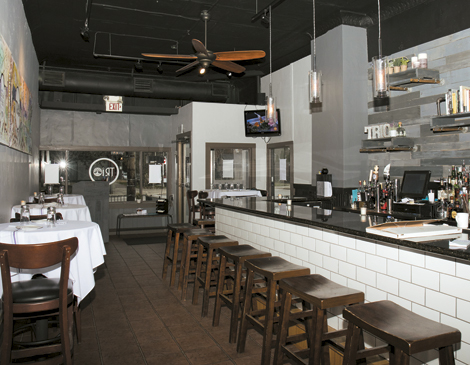 The future is something that Scolaro is constantly thinking about. For his next menu, which he expects to launch this month, he's toying with scrapping all the entrees and forging ahead with an all-small-plates concept. Popular options like the wagyu entree can be reworked as a smaller, more affordable meal. It will also give him room to experiment with seasonality and ingredients.
How he fits into the Tremont dining scene and the larger Cleveland food narrative is yet to be seen. Scolaro has found success in Medina — striking that culinary yin yang of classic meets innovation. He's made a name of himself down south. But here in Cleveland, the challenge, he says, is greater.
"The area is known for food. You have the old guard here," he says. "Everybody knows Rocco, everybody knows Dante. They're household names pretty much. Nobody's going home and talking about my name at the dinner table."
Try This:
Filled with a hearty meat sauce, the agnolotti al ragu ($10) is an inside-out take on classic Bolognese. Cut into each piece of pasta and watch the red sauce spill out.

Good to Know:
There's a small, but noteworthy cocktail menu. Try the 14th & Auburn ($10), an easy-drinking mix of Bulleit bourbon, red wine and orange simple syrup.
When You Go: Trio, 2661 W. 14th St., Cleveland, 216-952-7035, triotremont.com, Mon-Thu 4-10 p.m., Fri & Sat 4-11 p.m.