If you stay at a Ritz-Carlton, you're likely to be one happy guest. That's what a recent national report claims, ranking the luxury hotel chain highest in its class.
Sure, the swanky accommodations, modern-day technologies and stellar service help. But at the Cleveland outpost, it doesn't hurt to have a restaurant such as Turn Bar & Kitchen amping up the local flavors and making visitors feel connected to the bustling city outside the hotel's doors.
Opened last October on the sixth floor after an 18-month renovation, the 92-seat restaurant replaced the former Lobby Lounge space with a fresh, industrial design — a nod to Cleveland's manufacturing past.
While there are glistening lights and plush couches to make lounging with a drink or enjoying a meal a Kardashian-level affair, look a little closer. A steam whistle — like the ones used in the city's steel mills — blows at 6 p.m. every day to signal happy hour. A blend of seven salts adorns each table, a tip of the shaker to the mines under our great body of water to the north.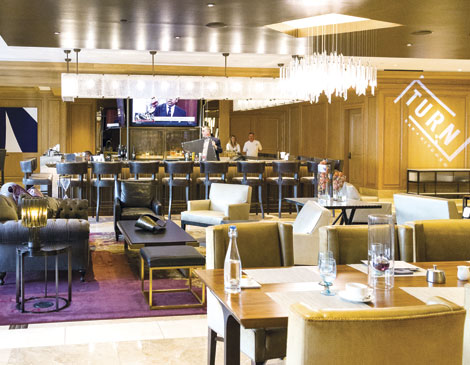 There's even glimpses of AsiaTown, Ohio City, Little Italy and Tremont on Turn's hardworking menu. Each one comes with their own story, lovingly crafted and brought to life by executive chef Richard Soren Arnoldi, a 23-year veteran of Ritz-Carlton hotels.
"Everywhere you turn in Cleveland, there's something new to taste," says the 48-year-old Philadelphia native.
Growing up in a family of fellow chefs — including his grandfather, father and four brothers — Arnoldi learned from an early age the importance of food as more than just nourishment.
"That's what drives me — to make people happy and give them different experiences along with the food," he says. "I know they're hungry, but what other senses can I touch? What other emotions can I touch that will intrigue people about the cuisine?"
Since landing in Cleveland nine years ago after working at five other Ritz-Carlton locations, Arnoldi immersed himself in the city, learning about its residents, neighborhoods and the food that brings them all together. Over time, he's developed a fondness and deep understanding for the city that's reflected in Turn's menu today.
"We have different heritages on different sides of the city. It's Jewish cuisine, Mediterranean cuisine, the Slavic cuisine, Germanic cuisines," he says.
He seems to have struck a chord with locals, which interestingly make up 75 percent of the restaurant's clientele. With breakfast, lunch and dinner items that pay tribute to Cleveland, Turn has become an ideal spot for a power breakfast or lunch and a place to host clients and friends after-hours.
The prices, while what you'd normally expect from a luxury hotel, can overwhelm our Midwestern sensibilities and wallets — a $19 seared rare ahi tuna nicoise salad, $28 crab BLT and $50 Ohio rib-eye to name a few. While worth the splurge, there's more affordable menu options to be found.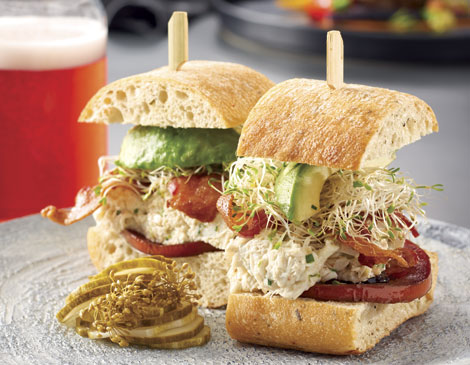 Even morning eats such as eggs get the CLE-treatment at Turn. Arnoldi takes goulash ($19), a Hungarian stew, and serves it with farmer's cheese, creme fraiche, poached eggs and langos (fried Hungarian yeast bread).
"When I put it on the menu I was like, OK, even if it doesn't sell, we can tell a story about it," he recalls. "It's still a recognizable breakfast item, but it's interesting. It's got its own story, and it's very much Cleveland."
On the lunch and dinner menu, even simple starters such as the pretzel provolone sticks ($10) — essentially a salty, crunchy coating around gooey cheese — get just the slightest nudge of city pride with Bertman Original Ball Park mustard to dip them in.
The classic Polish meatballs ($11), a 50-50 blend of pork and seasoned beef, are rolled in cracker crumbs before taking a quick spin in the deep fryer. Right before they make their way to the table, they're sauteed in a wild mushroom sauce made with diced shallots, garlic and sour cream. Reminiscent of beef stroganoff, it's earthy and creamy, but in an easy snackable form thanks to toothpicks.
Not everything on the menu has roots in the city. Some dishes have burrowed their way into the fabric of Arnoldi's chef DNA. The drunken chicken liver ($12), a dish he's perfected from his grandfather and father, may not be for all palates.
After soaking chicken livers in heavy cream for 24 hours, Arnoldi purees the organs with shallots, garlic and cream to make a mousse before adding a healthy dose of cognac. It's topped with a layer of bacon fat to prevent oxidation and a sprinkle of Turn's signature salt. Spread the mousse on the accompanying langos with a little house-made plum jelly to balance out the rich, fatty spread.
"It's really a heritage recipe for me. It was one of the first things my grandfather taught me how to make," he says. "I have my old hand-written recipe books from when I was a kid and that's one of the first things in there."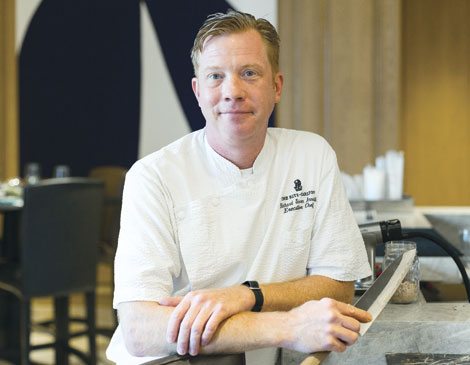 For the AsiaTown Tom Yum Goong soup ($10), Arnoldi didn't have a recipe on hand. Inspired by general manager Yael Ron, who grew up in Thailand and was impressed by Cleveland's authentic cuisine, Arnoldi set out to create his own version of the hot and sour soup.
A mixture of bamboo shoots, local wild mushrooms, bell peppers, tomatoes, galangal root, fresh ginger, lime juice, fish sauce and coconut broth sits for 24 hours to develop bold, deep flavors. Plump, tender shrimp are added before serving with fresh sliced Thai chiles, cilantro and half a lime.
"I made six versions of it until I really nailed down what I was looking for," he says. "I've had many people who have traveled to Thailand and say, 'Oh my God, it's better than eating in Bangkok.' "
While Arnoldi loves to pay his respect to the city through his dishes, he isn't afraid to reinvent them either. Take the Not So Much "Polish Boy" ($15). Your traditional kielbasa, french fry, coleslaw and barbecue creation gets an upgrade with chicken habanero sausage, sweet potato fries, a red cabbage slaw and a house-made sweet barbecue sauce.
At first blush, the peppercorn ahi tuna ($32) doesn't seem to have that local angle like other dishes. But Arnoldi knows how to spin a tale — and create a winning dish.
"Tuna is popular, but how is it going to tell a story about Ohio?" he says. "We're such a steaky town, such a beefy town."
Using that as his anecdote, he prepares it as he would a steak by accompanying it with a salad of slivered local apples, a parsnip puree on top and a red bell pepper ketchup underneath. It's delightfully tasty — an airy, flavorful entree we'd order again.
As a first introduction to Cleveland or a reason to fall in love with the city all over again, Turn is redefining how we think about hotel restaurants. They can be glamorous, star-studded (we ran into Cavs forward Channing Frye) and an indulgence. But in the hands of chefs such as Arnoldi, they can also be a place to tell stories and feel a connection to your hometown — one bite at a time.
"I want to be able to enliven their senses," he says, "and have experiences and be able to tell stories afterward about things they didn't know about their own city."
When You Go: Turn Bar & Kitchen, 1515 W. Third St., Cleveland, 216-623-1300, ritzcarlton.com, Daily 7 a.m.-10 p.m.
Try This: The Northeast Ohio Cassata Cake ($9) isn't what you'd expect. Served in a Mason jar, layers of chocolate-dipped ladyfingers, sliced strawberries, custard and whipped cream comes with a warm, bruleed crust. Don't Miss: Or do? An odd addition to Turn's industrial, Cleveland vibe, a live DJ spins tunes Friday and Saturday nights starting at 8 p.m. Avoid if you don't enjoy eating in a nightclub.