Matthew Spinner considers himself an anthropologist. As a chef, he does more than just work in a kitchen — the Cleveland native tells the story of societies past and present through food.
With experience in numerous Cleveland kitchens, San Francisco's Park Tavern and Thirsty Bear, and Chicago's Next and Sink Swim, he gained an appreciation for various types of cuisine.
"I love the history of it," he says. "I love to be able to get to know people that I've never met before, in a place that I've never been, but really be able to put myself inside of that culture through something that is so universal."
He moved back to Cleveland in 2015 to work as the executive chef of Press Wine Bar. But when the Tremont restaurant closed earlier this year, he received an offer from Ushabu general manager Michael Flaherty to join the Japanese hot pot spot.
Since opening in October 2016, the tiny Tremont eatery had focused on shabu-shabu, the Japanese practice of cooking thinly sliced meat in a hot pot of bubbling broth, and a selection of small plates.
"I found it kind of hard to get my hands around Japanese cuisine with the menu as it stood," says Spinner, who started as executive chef on Valentine's Day.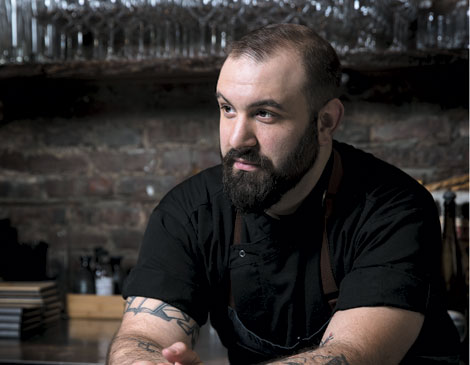 Flipping through his own culinary history, the 31-year-old pulled inspiration from his time at Next, the James Beard Award-winning restaurant from chef Grant Achatz that changes it identity and prix fixe menu every four months. The Chicago spot has reinvented itself as a Chinese restaurant, French bistro, steakhouse and Korean barbecue joint.
"It's constant progress, constant learning, which is why it's called Next," says Spinner. "You get through the first five services and then your immediate thought is, OK, next."
So while the hot pot menu remained fairly untouched, Spinner put his own spin on Achatz's philosophy by becoming focused on regional Japanese cuisine for the small plates menu. Not only would he pick a certain city, but he would zero in on a year as well.
"As I do the research, put the menu together, go through the anthropology of the region, go through the potential migration patterns of the region — the ins and the outs of it all — I'm learning," he says. "That way we can translate that learning to our guests in a coherent, approachable menu."
The first menu, which debuted in March, explored Osaka in 1957. During that time, the birthplace of shabu-shabu became sister cites with San Francisco — signifying a new attitude toward the West after World War II. Spinner created modern versions of traditional street foods such as takoyaki, an appetizer of crispy octopus fritters, and tamago, a delicate omelet filled with snow crab.
For the second menu, he delved into Okinawa in 1984. After the island's United States occupancy and post-occupancy from 1945 to 1972, this period attracted Spinner because he wanted to tell the story of an occupation and how that affects the cuisine in the region. Plus, he says, The Karate Kid was released that year, and Mr. Miyagi is Okinawan.
"I'd be lying if I said that wasn't at least part of the reason," Spinner says. "It's kind of an inside joke here that only a few people get."
To prepare for the July launch, Spinner reached out to farmers markets in Okinawa, talked to diners who lived on the island and read lots and lots of books.
"It's almost like a mix of a cooking class, a history class and a world literature class, all together to get you to where you need to be in order to roll out a menu," he says.
Each of the 14 dishes comes with a well-researched story behind them.
Take the takoraisu ($28), a play on taco rice. During the '60s, ingredients such as salsa, sour cream and black olives were easy to ship to U.S. naval bases, says Spinner. Soldiers and their families would use those items to make tacos. A local chef used the popularity of the Tex-Mex dish to his advantage by inventing taco rice, which is now known as one of Okinawa's most beloved dishes.
Spinner puts his own twist on it by creating paella out of medium-grain Japanese rice, Ohio waygu beef that's marinated in cumin, mirin and tamari — Japanese soy sauce. He tops it with house-made creme fraiche, house fermented salsa, shredded lettuce and queso fresco.
"It's super simple like a burrito bowl," he says, "but just the story behind it is so much more than what you would think you were getting at face value."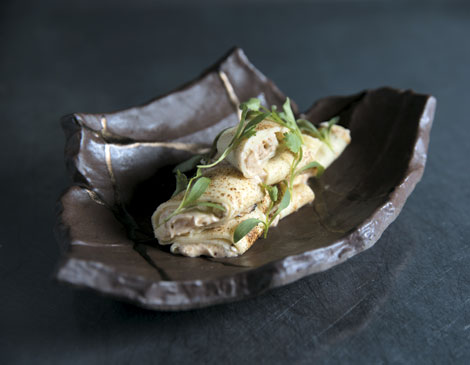 The popo ($9), a wheat crepe filled with braised pork shoulder that's traditionally served on holidays, still feels special on an ordinary Tuesday. The heavy meaty filling is replaced by a light-as-air pork fat buttercream frosting that's whipped with red miso, fresh ginger, black sugar, white sugar and salt.
Bitter melon, a popular vegetable in Okinawa, is the basis for Spinner's goya champuru ($20), a take on a classic Okinawan stir-fry. He adds bean sprouts, shredded carrots, daikon, shredded napa cabbage, a mushroom-based sauce and tofuyo — a fermented tofu that Spinner soaks in Awamori, a Okinawan liquor made from barley, sweet potatoes or rice.
The soki udon ($24), smoked Ohio spare ribs with a ginger glaze, are served with a cold udon salad, daikon, carrots, passion fruit and coconut. Spinner cautions that the spare ribs aren't a traditional American smoked spare rib. He only smokes them for two hours, just so they're tender enough to where guests can pick them up with chopsticks.
"It's very traditional to eat everything with chopsticks, rather than pick them up and eat them like barbecue," he says. "So fall off the bone is not what we're shooting for."
Diners shouldn't overlook the hot pot part of the menu. The fun, interactive way to share a meal is filled with its own history. Originally brought over from China, its name comes from the sound the meat makes as it cooks.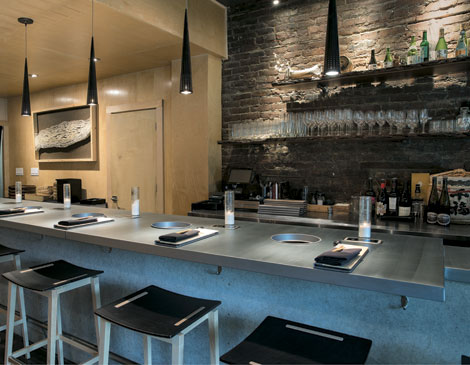 Each seat, even at the bar, has a hot pot burner built into the table. Start by choosing from three different broths — ginger chicken, kombu dashi or miso togarashi — and a list of proteins such as A5 Satsuma wagyu rib cap ($55) and smoked Ohio pork belly ($25). Shaved paper-thin, each piece will cook in the hot pot in about five to 10 seconds.
Each hot pot also comes with a bowl of seasonal vegetables such as sweet potatoes, mushrooms and carrots to cook alongside. A bowl of rice and three sauces are there for you to mix and match as you cook, eat and repeat.
"What's most appealing is the kind of opportunity to partake in your own meal in a way that you don't get anywhere else," Spinner says.
That interaction with others keeps Spinner motivated to be a culinary explorer and historian, creating these flavorful time capsules of his own along the way. He's busy reading, researching and planning the next menu, which he expects to unveil in late October.
"Whether it's three Michelin stars or whether it's your corner bar chicken wings, you're eating, and you're eating that for a reason," he says. "That means something to you, and it's more personal to me than any kind of other craft or art in the world, because in a very literal way it has to go inside of you. You have to trust that person enough, you have to trust yourself enough, in order to derive nourishment, in order to get sustenance from it."
When You Go: Ushabu, 2173 Professor Ave., Cleveland, 216-713-1741, ushabu.com, Tue-Thu 5-10:30 p.m., Fri & Sat 5-11:30 p.m., Sun 5-9:30 p.m.
Try This: Forgo the wine and order sake. For beginners, try the Kikusui Chrysanthemum Water ($27). It drinks like a pinot grigio — a little dry with a touch of sweetness at the end. Good to Know: Space is limited in this 25-seat restaurant, so be sure to make reservations, especially on the weekends.