California rolls, Philadelphia rolls, orange slices and apple juice boxes gently creak around the corner, moving past each customer's table. I lift a plate with a Pink Lady roll, noticing its striking pastel pink soybean paper, remove its clear plastic cover and set the next dish next to our ever-growing pile of empty plates.
Be careful: It's easy to want to grab everything right away at Watami. But don't get anxious. After all, what goes around comes around at this sushi bar.
The restaurant is Ohio's first sushi bar to incorporate a conveyor belt system. According to its Facebook page, it opened in October. Watami is housed in an unassuming building shared with a Dunkin Donuts in Parma. But once inside, customers enjoy a one-of-a-kind interactive dining experience.
The concept of a revolving sushi bar originated decades ago in Japan, centering on a simple schtick: delivering plates of sushi and other bites to customers on a clever conveyor belt track, winding its way between tables.
How does that concept translate to this Parma spot? We visited Watami to find out.
How Does it Work?
The conveyor belt carries dishes on top of it, an onslaught of multicolored plastic plates (plate colors correspond to prices, ranging from $2.50 to $3.75). Traditional sushi rolls, specialty rolls, side salads, yogurt drinks and pieces of cake can all be grabbed directly from the line. Other orders — like miso soup and some specialty rolls — can be ordered by taking labeled placards off the belt and signaling servers to bring those items from the kitchen.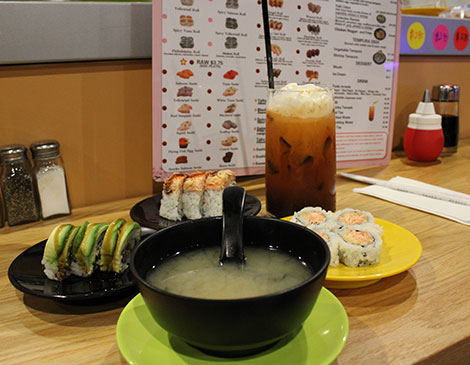 How's the Food?
Hit-or-miss. Let's be real — if you wanted top-tier sushi, a conveyor belt system (where dishes move for an indeterminate amount of time until they're taken to eat) isn't the freshest possible option.
That being said, it's a whole lot of fun. Highlights included the perfectly sweetened sesame balls ($2.50), the lightly crunchy Godzilla roll ($3.75) and that Pink Lady roll ($3.75), interestingly topped with mango salsa with a slightly spicy kick.
Less impressive were the Flying Fish Egg ($3.75), which offered little depth of flavor beyond a grimacing amount of salt, the rubbery seaweed salad ($2.50) and the artificial-tasting, syrupy sweet Thai tea ($3.95). Various dessert cakes were fine but unremarkable.
The beauty of the conveyor belt model is the opportunity to see and try new things. A few duds out of an order of 20+ plates isn't too bad.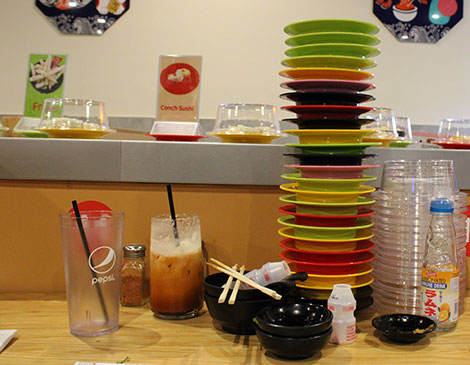 How Popular is it?
Be prepared for a wait, depending on the day. A server told us that, on weekends, customers have been driving in from hours away, only to have to wait for another hour to be seated once they arrive.
Beware crowds: More customers means fewer sushi options on the conveyor belt, particularly if you happen to get seated toward the end of the line.
On the Wednesday night we visited, the restaurant wasn't too busy, and we had loads of options. (Yet, interestingly enough, three parties were celebrating their birthdays while we were there. The staff paused its playlist of background tunes and put on the same cheesy "Happy Birthday" remix, bringing over a plate of ice cream to each table's birthday guest for a mini celebration.)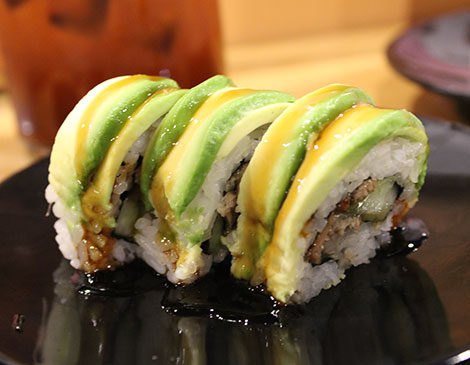 Should You Get Takeout?
You could, but why would you? Watami's wow factor is its dine-in experience. The sushi is solid enough, with some true highlights available to try. We recommend at least dining in once, to find your favorite sushi rolls before you resort to takeout.
Another big plus to dining in: If you order at least 15 plates at Watami, you receive a token for the restaurant's prize machine. Just before leaving, we put in our token and won a soccer ball fidget spinner: one last taste of fun at this entertaining spot.
Bite into the Cleveland dining scene by signing up for our free weekly CLE Food & Drink newsletter — your guide to food and drink throughout The Land. Arriving in your inbox every week, this coverage fills you in on everything from mocktails to shareable plates — and more. Click here to subscribe.