Marzuk "Ron" Chaudry is an avid video gamer who regularly manipulates his way through alternate realities, so being transported inside a virtual world was nothing new for him. But this time, the odds were against Chaudry making it out alive.
"While I was on the ventilator, I had very long, really vivid dreams," recalls Chaudry of his six-week hospital stay with COVID-19. "In one of them, I felt like I was actually inside a video game. I kept dying and coming back over and over, while riding a train."
And what a long, strange trip it was: Chaudry had first been admitted to Ashtabula County Medical Center in May with symptoms of COVID-19, then airlifted to Cleveland Clinic's main campus when his condition progressed to severe acute respiratory distress syndrome (ARDS). Chaudry then spent 3-4 weeks on a ventilator — during which he experienced a series of life-threatening medical events, including cardiac arrest and a critical drop in oxygen levels.
"Ron had a rough, complicated course, more so than the usual COVID patient," says Dr. Eduardo Mireles-Cabodevila, director of the Medical Intensive Care Unit at the Cleveland Clinic. "At one point, his heart stopped, and we had to bring him back. That doesn't happen often with COVID."
As a healthy 29-year-old who says he "rarely gets sick," Chaudry also didn't fit the typical profile of someone who would be immobilized by COVID-19 — after all, just 5% of Ohioans between ages 20-29 who contract COVID-19 are hospitalized. An Ashtabula resident and corrections officer at Lake Erie Correctional Institution, Chaudry had developed what he thought was a cold.
"I didn't think it was COVID. I was still going to work while I had symptoms," says Chaudry, whose symptoms included a dry throat and persistent cough, but no fever. "By the end of the week, I was doing laundry before work and couldn't catch my breath. My roommate encouraged me to drive myself to the hospital."
Chaudry doesn't remember making that drive, nor can he recall most of the 2 1/2 months that followed. His first introduction to what had transpired was when he woke up in the hospital oblivious to where he was or what his body had been through. "They had to put my hands in my restraints because I tried to pull my tubes out of my mouth," recalls Chaudry. "I guess I also tried to run away, but I had no strength. I couldn't walk. I couldn't speak."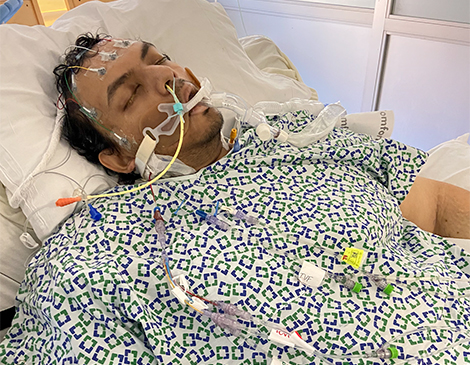 It was then that Chaudry began to put together the pieces of the puzzle. The medical interventions that had kept him alive. The vivid dream odysseys that occupied his brain through his time on the ventilator. The Cleveland Clinic staff who'd diligently kept his family in Toronto updated several times a day. The coworkers and friends who had stepped in as a surrogate family when his blood relatives couldn't be there due to national borders being closed.
And how close he'd actually come to dying.
"When I initially woke up, I thought, Wow, that was quick, but it had been six weeks," says Chaudry. "When my brothers told me what happened, I started tearing up because I didn't know until they told me that I had almost passed away."
Indeed, Mireles-Cabodevila says that Chaudry had neared death several times — most notably when blood and mucus clogged his endotracheal tube and cut off his oxygen flow, leading Chaudry to go into cardiac arrest. After an intense round of CPR, Chaudry was able to be revived, but things were touch-and-go as doctors waited for signs of neurological recovery.
"My best friend's mom came for an end-of-life visit," shares Chaudry. "She asked me to squeeze her finger. I guess I squeezed it, and there was a sign of life."
That same resolve kept Chaudry going after his eventual transfer from the ICU to the Cleveland Clinic Rehabilitation Hospital in Beachwood. Though Chaudry was initially slated to be there for four weeks, he was able to go home after just one week — though he still found it challenging to do simple things like take a shower or even just stand up. "I was having a hard time keeping my oxygen up, and I was very weak," admits Chaudry. "But once I got to the rehab center, I pushed myself to walk around the room. I was ready for next steps."
Chaudry continues to strive for normalcy, having set up a gym in his basement at home to regain his strength through moderate exercise. He also returned to work on Sept. 1, buoyed by a heightened bond with his coworkers. "When I came back to work, the warden told me everything he saw when he came to visit me," says Chaudry. "He said that there were IV bags connected to me from all over the room. He teared up when he saw me in that condition. He was trying to help my family set up a funeral."
Chaudry also remains connected to the Cleveland Clinic staff who saved his life, having become Facebook friends with many of them and gone back to visit since being discharged. He's grateful for the extra time and attention he received while he was unable to touch the outside world — something Mireles-Cabodevila says has become a key focus for the ICU team during COVID-19. "The relationship between caregivers and patients has always been important, but now it has become even more relevant," says Mireles-Cabodevila.
Now 30, Chaudry won't ever forget what he went through — the tracheostomy scar on his throat ensures that — but he is moving forward. Beyond the pandemic, he plans to visit several spots on his bucket list including Japan, Spain and Australia, and he now "looks at life differently." Chaudry hopes others will read his story and take the necessary steps to protect themselves and others.
"It's time people started believing that this virus is real," says Chaudry. "I'm walking, living proof."
Click here to search the full list of Cleveland's 962 top physicians in 69 specialties.
Click here to read more from our special report on how local hospitals are responding to the COVID-19 pandemic.