Table of Contents
---
Check back for new articles from the issue throughout the month.
To read the whole issue: Find on newsstands.
Or, never miss an issue – subscribe!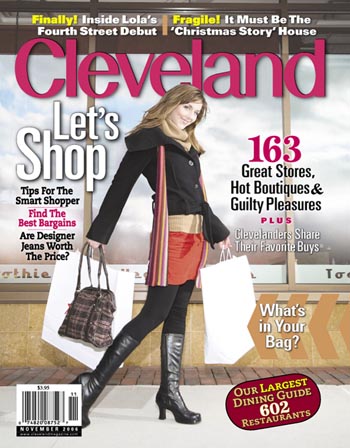 Food + Drink
Seduced by an opening more than a year in the making, Michael and Liz Symon's Lola has finally come of age — and Fourth Street has grown up as an entertainment hot spot.
Take a trip to discover South American wines.
In the CLE
Hank LoConti is the godfather of Cleveland rock 'n' roll. As his Agora club celebrates its 40th birthday, he plans on taking the famous music venue back to its roots.
Famed Life photographer Margaret Bourke-White's haunting shot of the Terminal Tower launched her legendary career — and captured the city at the greatest moment in its history.
Brian Jones' dream to turn a Tremont neighborhood home into a mecca for fans of "A Christmas Story" may be a fragile endeavor. But the San Diego resident is optimistic the new attraction - set to open Nov. 25 - will reap major rewards for both his comp
Style
You can learn a lot about a city through its shopping scene. Grab your credit cards. Your guidebook is in the bag.
Legacy Village. Crocker Park. First and Main in Hudson. If you can't find what you're looking for in Northeast Ohio, you simply aren't looking hard enough. We set out during late summer with a camera and decided to do some shopping of
Travel & Outdoors
One Las Vegas insider shows her hand — get your credit cards ready for a shopping trip on the Strip.
Health
Question: Recently, I saw a news feature on a new product called Juvederm. I thought that it was used to give a person fuller lips. If that's true, how does it differ from other products already on the market?
Classes and support help people caring for elderly relatives cope with their emotionally draining responsibilities
Local moving consultants help seniors pare down and move to new residences.
Active adult communities welcome seniors into tightly knit neighborhoods full of activity and new friends their own age
Education