Sportsmanship, teamwork and dedication are a few life skills Avon Lake students learn on the field and in the classroom. "We are an interscholastic athletic program, so we look at not just the athlete, but we want well-rounded students, and Avon Lake is tops educationally, so that is where it starts," says Brent Schremp, Avon Lake High School athletic director.
Learning how to win, lose and grow are opportunities students gain when they participate in sports, he adds. "Athletics provides an environment and avenue for those experiences," Schremp says, adding that a rich athletic history and track record for competing in state championships certainly sets the district apart. "That speaks to the community and the athletes — a variety that allows us to be successful in many different sports."
With 27 sports available, students are exposed to a wide range of athletic options, including lacrosse, tennis, swimming, diving, hockey, gymnastics, golf, bowling and soon girls wrestling. "Kids excel at different activities, and we have many different types of athletes, so we give students at Avon Lake the opportunity to choose and experience many different things," he says, noting that the district continues to add sports and now offers eSports to high school students.
As athletic director, one of the most rewarding aspects of Schremp's job is seeing the happiness on athletes' faces when they accomplish a goal or bring home a win. "A lot of hard work goes in to setting up and managing our athletic programs, and it's really something special," he says.
Passionate and Proud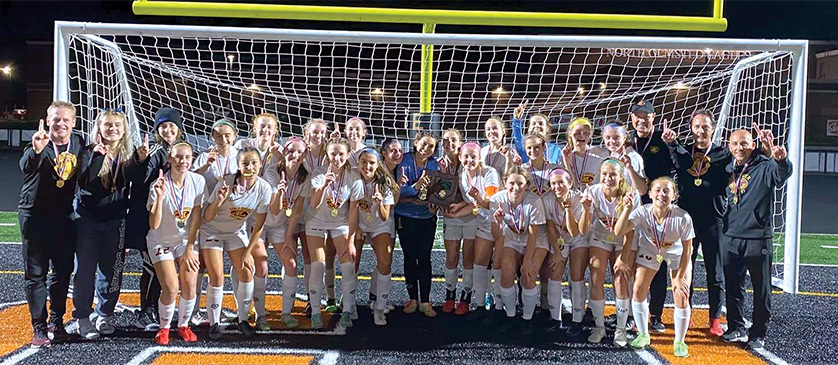 The community's passion for athletics is palpable, and this energy ignites players on the field. There were about 7,000 people in attendance at a recent Avon Lake High School football game and another 2,000 viewers online watching the game against Avon. "Every year, we have a great community that really buys into athletics, and we have been able to continue that tradition," says Matt Williams, head coach of the middle school football team.
Adding an online component during COVID allowed the football team to keep its season intact. "We had to regulate the fan base based on our stadium capacity, and when that happened, we found a way to livestream the games, and we continue to do that today," says Williams, a technology teacher. The online option brings more fans into the fold from across the country. For example, the Avon Lake vs. Avon game attracted viewers from 18 states and six countries who logged in to watch. "It shows you the value Avon Lake puts on athletics and the support they provide, which makes it a great place to be a coach," Williams says.
Avon Lake High School Shoreman Head Football Coach Matt Kostelnik graduated in 2004 and also played on the state championship team in 2003. "It's a passionate community, and they do a great job of keeping football at the forefront of our youth and continuing to grow the program," he says, adding that teaching and coaching has been "a great experience," and he is proud to carry on Coach Dave Dlugosz's tradition of success.
An Avon Lake native, Kostelnik says, "All the coaches and players that came before me built a great foundation, and my goal is always to keep maintaining — to honor those players who came before us and set that tempo for where Avon Lake Shoremen football should be."
Carrying on Tradition
"All of the coaches I had, whether it was track, basketball or football, truly cared and wanted you to grow," says Mike D'Andrea, a 2002 Avon Lake High School graduate and owner of T3 Performance, a premier athletic training organization dedicated to helping athletes of all kinds reach their full potential.
"I remember sitting in Coach Dlugosz's office and he would ask me about my academic and sports goals — 'How fast do you want to run the 40-yard dash?'" D'Andrea relates. "It was the perfect opportunity to foster that athletic growth."
With a foundation of fine-tuning performance and setting challenging goals, D'Andrea started T3 Performance with a mind to help athletes, regardless of their sport, get faster, stronger and reduce the likelihood of injury through proven training methodologies. The business started 14 years ago in a 10,000 square-foot facility and is now more than double the size and based in Avon.
"We have a 'why board' in our trainers' office — why are we in business?" D'Andrea relates. "And on that board, we have printed out texts and emails from athletes that send us communications about how much we helped impact their lives in a positive way, just like Dlugosz did for me back in the day."
Beyond physical training, T3 Performance has a mental performance coach on staff. "Our coaches are constantly getting trained on and talking about how we can communicate better with athletes to teach them to be more resilient and let them know what is most important," says D'Andrea.