The word is out: the Cleveland Browns have partnered with ILTHY, Cleveland's trendy art & apparel company, to produce every football fan's greatest dream. No, not winning the Super Bowl, we're talking bigger and … cozier?
Sports and fashion combine in this limited-edition apparel lineup launched on Oct. 15, offering Browns fans new and engaging branded items to wear on game day.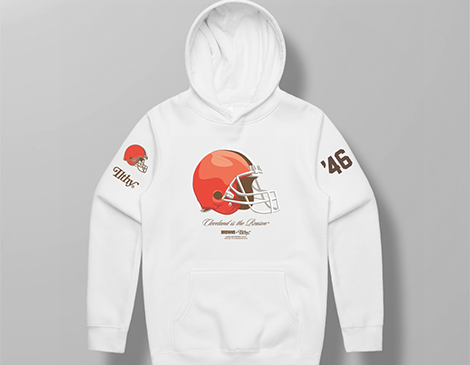 (Photo by ILTHY)
This partnership was made possible through the National Football League's local merchandise collaboration initiative, which is intended to diversify teams' product assortment through local brands.
READ MORE: ILTHY's Kumar Arora Dishes on Donut Skateboards and Future Collaborations
On Sunday, ILTHY officially dropped the clothing offerings: two decked-out T-shirt styles and a classic white hoodie.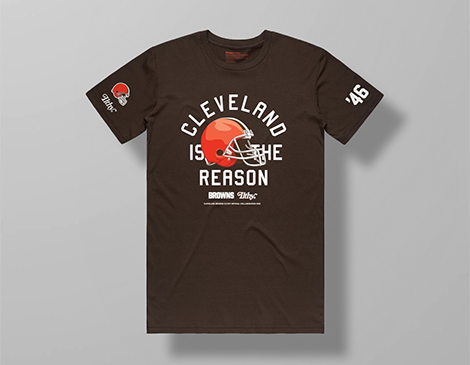 (Photo by ILTHY)
"We're so excited to partner with ILTHY, a leader in the Cleveland fashion and art space whose unique products were the perfect fit for our merchandise collaboration," says Brent Rossi, Haslam Sports Group Senior Vice President, Marketing & Media. "ILTHY has become instrumental to Cleveland's streetwear culture and we know Browns fans will be eager to sport these limited-edition unique products to represent their city and their team."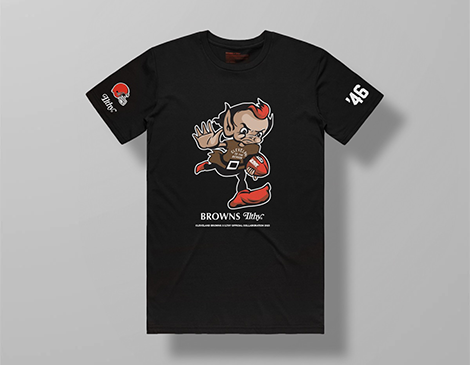 (Photo by ILTHY)
"This collaboration between the Browns and ILTHY embodies the vibrant spirit and passion of Cleveland. We're honored to merge our design sensibilities with the legacy of the Browns, creating something truly special for the fans," says CEO of ILTHY Kumar Arora.
The full apparel drop can be found at the Browns Pro Shop and will also be live via Fanatics at shop.clevelandbrowns.com. In addition, a second drop of apparel will be released later this season. Products will be in limited quantities.
Start your day the best way by signing up for our free daily newsletter. Arriving in your inbox every morning to keep you in the loop on the best guides, home and style tips, and news briefs for all things Cleveland. Click here to subscribe.