Taking 23 South Franklin Street in Chagrin Falls by storm, FIG Chagrin, the vintage and antiques shop offering rare curations from across the globe, opened Thursday under the helpful rays of the spring sun.
With doors propped open, balloons stationed at the front, and old-school classics playing through the speakers, FIG (an acronym for "found, inspired goods") presented an impressive opening act with a vast array of one-of-a-kind items, ranging from 18th-century columns from the Church of England that once graced the foyer of Ozzy and Sharon Osbourne's home to Fred Hugo oil paintings, crock jugs and locally sourced candles.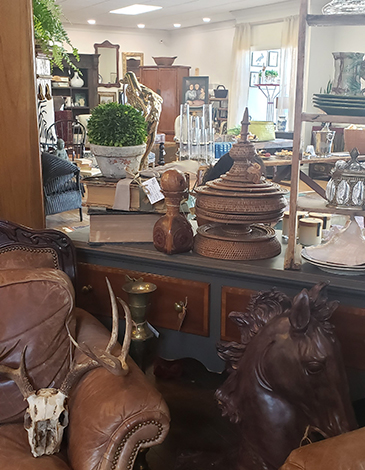 Previously occupied by Fussy Cleaners, this space itself is a source of awe. The 1920s-inspired brick building spans two floors — and every bit put to use.
The creation of this storefront marketplace sprang from the minds of Caroline Galloway, Dottie Lofquist and Donna Cody, three village women seasoned in the sport of uncovering and collecting eclectic finds.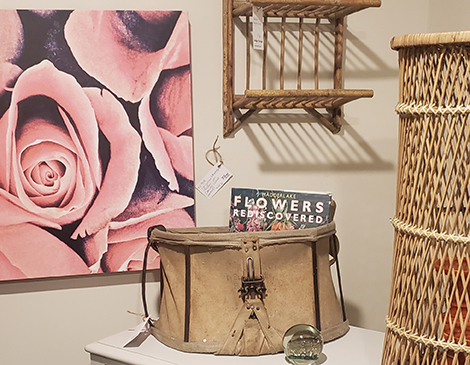 "We have been scavenging the world forever," says Caroline Galloway. "We go everywhere around the globe, and we have this passion for finding really unique pieces. So we came together a few months ago and said, 'Why are we doing this separately?'"
"If you look at any of these pieces, there's a story behind them. We have furniture from France, Belgium, Germany, India; stuff you can't find anywhere else. That's what makes us different. We are never going to be a mass furniture store. It's never going to be something that's not different than the rest."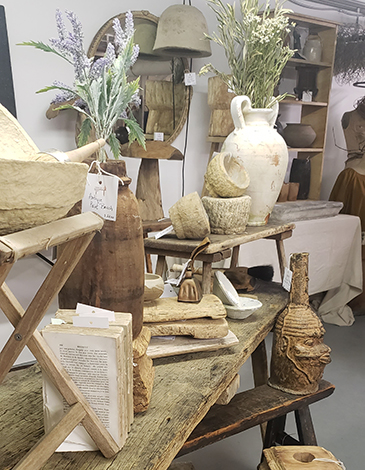 Regular hours for the brick-and-mortar are Wednesday and Thursday from 11 a.m. to 6 p.m. as well as Friday and Saturday from 11 a.m. to 5 p.m. Scheduled appointments can be discussed with the owners and will be confirmed, according to their availability.
In the future, FIG Chagrin plans to host live sales, special events and guest appearances.
Get ahead of the weekend by signing up for our free weekly "In the CLE" newsletter — your guide to fun throughout The Land. Arriving in your inbox every Wednesday, this weekend to-do list fills you in on everything from concerts to museum exhibits — and more. Click here to subscribe.