The digital sphere is constantly changing, but Alysse Dalessandro Santiago is having no problem catching up. The 33-year-old content creator founded her blog, Ready To Stare, in 2012, covering fashion tips, size inclusivity and LGBTQ issues. Since then, she's grown her following on Instagram, walked in New York Fashion Week three years in a row, participated in a national Pride campaign with Absolut Vodka and even had her own wedding photos featured in a David's Bridal commercial.

Her electrifying personality pops off the screen through an array of colorful outfits and she doesn't shy away from advocating for what she cares about, especially size inclusivity among the fashion industry's biggest brands.

"We're talking about a large amount of people who are just not having their needs met by the fashion industry," she says. "We are in a society that tells us that larger bodies aren't valued or beautiful or worthy of the same things as what our society deems more beautiful and worthy."

Despite having adapted some of her content to Instagram, IGTV, YouTube and TikTok, Dalessandro Santiago is still a blogger at heart. Her advice for any aspiring digital creators or influencers is to keep your slice of the internet to yourself and be authentic about it. For her, this means having a mix of in-depth personal essays or providing certain resources or advice that fits her audience.

"At this point, people aren't really going to a blog to find out about one single outfit. You're going to a blog to really be informed. They want to meet lists, where to do this, where to buy this, those are my most popular posts," she says. "And then the other posts that are close to my heart are the ones like my coming out story that people still write me messages about."

Whatever her medium, Dalessandro Santiago's style often tells as much of a story as her words do, so we asked her about how she defines her personal style, the different phases she's had and some of her favorite pieces.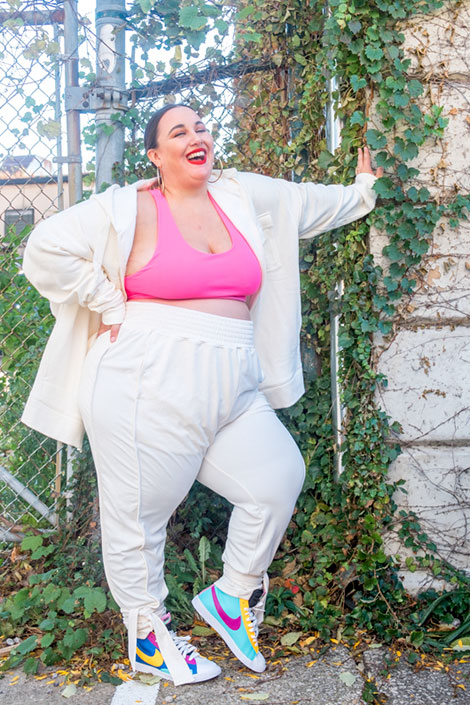 Maximalista The word Dalessandro Santiago would use describe her style may traditionally have a negative connotation, but she gladly reclaims the term "gaudy" to describe her constantly changing, eternally colorful style. "I grew up with gaudy," she says. "With big hair, big earrings, red lipstick, I grew up that way and so I always just thought that is beautiful." Attesting part of it to being inspired by her Italian upbringing, Dalessandro Santiago remembers even when she was younger gravitating towards a maximalist style which helped her express herself better, such as a neon orange turtleneck with camouflage pants she recalls wearing in the seventh grade.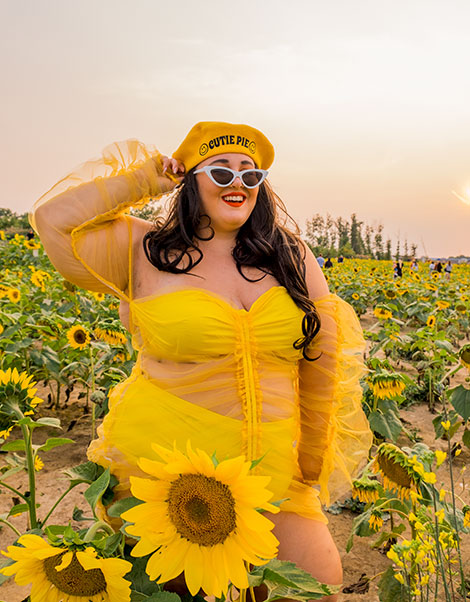 Style Cycle
Although her style has always imitated all shades of the rainbow, Dalessandro Santiago has cycled through a variety of different trends and inspirations that guide her signature looks. Right now, she's taking notes from the queen of dressing boldly herself, Dolly Parton. "I've got my pink fringe mask and I have more cowboy hats than I've ever owned in my life," she says. "But it's still loud, it's still a little over-the-top." While she may be in a Western mood currently, she points out that she's had many phases, such as when she gravitated towards '80s-inspired sweaters and funky sequins in college, which she proudly penned as her "Golden Girl" chapter.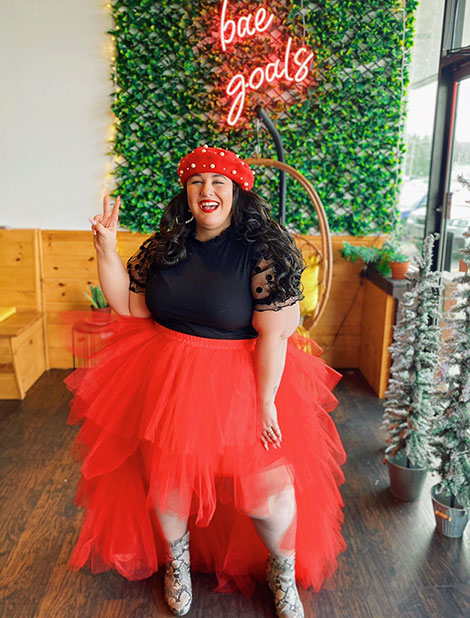 Just Because
Dalessandro Santiago advises not to wait for an occasion to dress up, especially now. Plus, with Dalessandro Santiago's Instagram serving as a virtual lookbook of her life, she can find any reason to wear even her most daring pieces, whether it's a shiny ballgown for a photoshoot at a hotel on a trip to Yellowstone National Park or a big, puffy tulle skirt in front of Cocky's Bagels in North Olmsted. "I think a lot of people think of fashion as utilitarian; I'm gonna buy this, or because I need it or if I don't need this, I don't need to buy it," she says. "Well, sometimes you do need to get and keep that as a treasured piece."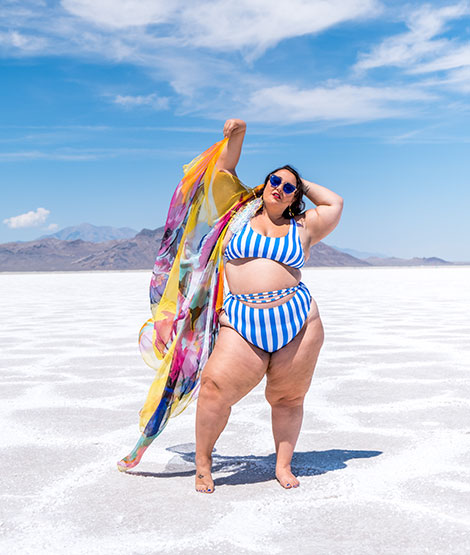 Closet Experiments
Being a plus-size person herself, Dalessandro Santiago shares that, along with advocating for more representation of larger bodies in the fashion industry, she also wants to encourage others to not be afraid to try out new styles. With the help of incorporating vintage finds and thrifted pieces, she says the best way you can express yourself through style is to not hold back. "I always tell people to get more experimental with their style. Don't let your size determine what you put on your body," she says. "Because at the end of the day, they're not wearing it, you are."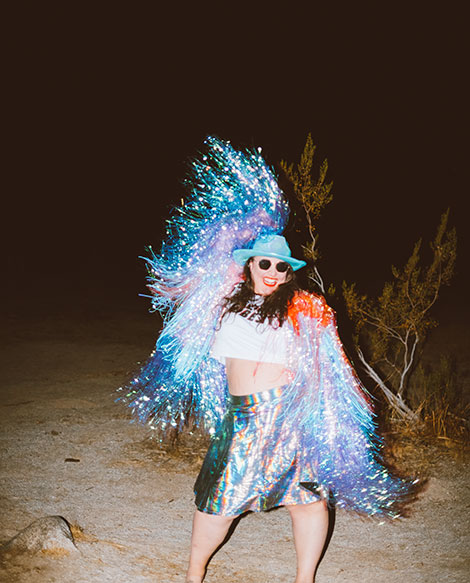 Star Quality
Picking a favorite piece may be a challenge, but Dalessandro Santiago had to go with a shiny, tinsel-covered statement jacket that she got from the independent design house, Bottle Blonde Studio. The jacket, which literally resembles a Christmas tree decoration, fits perfectly with Dalessandro Santiago's larger-than-life style and her deep love for the holiday season. "I've been pining after this tinsel jacket in my size forever," she says. "So to finally be able to get one in my size was so huge for me."

Round Town
While the vintage plus-size boutique recently closed its Lakewood location, Dalessandro Santiago's favorite local spot for a while was Re/Dress, which offered plus-size reused pieces that fit her wardrobe perfectly. She also paid a visit to Oceanne Jewelry in Gordon Square which is now a new favorite on her list. "I went there recently and I got some cute sweatshirts and T-shirts, and they said, where they go to a 3X, they're working on going higher."