Charity D'Amato sits against a gallery wall of abstract paintings in her mid-century home in Shaker Heights on a powder pink ottoman while wearing a pair of mustard dress pants, a leopard print blouse, cherry pink cardigan and gold jewelry. Much like her home, many of her colors reflect the shades of a candy store or perpetual party room. She fits in perfectly.

Her creative vision extends to her fruitful career. As the head designer and owner of Studio Chartreuse, D'Amato has been in the graphic design game for almost 20 years — a dream job ever since she was a little girl. After working in a separate agency for many years, she decided to start her own business.

"We work with a lot of entrepreneurs, startups and a lot of organizations," D'Amato says. "We've been really lucky that we've kind of found our little niche for high-end design.

With clients across Cleveland, including everyone from the Cleveland Museum of Art to the recently opened Floressa Cafe in Clark-Fulton, she deals with both large and small clients, but always with a focus on bringing out the best in each one. Similarly to her career, her style hasn't changed much either. With art and design on the mind, her wardrobe serves as an important part of her everyday life.
"Being a designer, I feel like I love everything design — like house design, clothes design, food design, I appreciate the art in all of those kinds of things," she says. "And so I think I really use my clothes as a creative expression of my personality."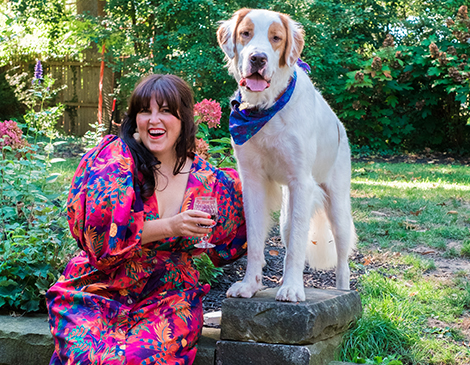 Not-So-Baby Steps
Clear as day, D'Amato remembers even from a young age wanting to go all-in with every outfit. No occasion has ever been too small. After her family moved from the East Coast to West Virginia, she remembers, as a sixth grader, choosing a rather unlikely option for a first day of school outfit. "We went to a Catholic school from first through sixth grade and then we moved, and I was going to get to go to a public school. And I was super excited because I could wear whatever I wanted," she recalls. "The first day of seventh grade, I showed up in a sailor outfit, like a costume pretty much, I had a little white hat and everything."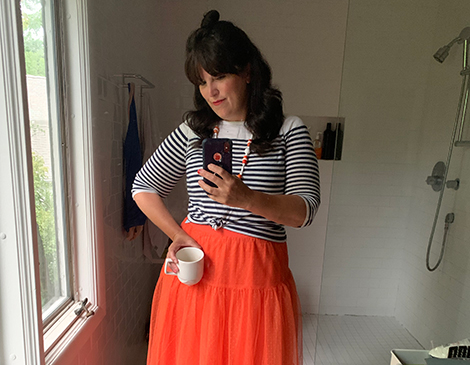 Home Fashion
While many of us were happy to lounge in our everyday sweats and even pajamas throughout the shift towards remote work, D'Amato had an opposite reaction when her business switched to only a couple days a week in the office — she still sported vibrant sweaters, jewel-toned blouses and floral dresses. "I don't own a lot of 'house clothes'," says D'Amato. "I feel most myself when I am pulled together in my style. During the pandemic I tried to buy a few sweatsuits and ended up donating them after a few wears. They didn't feel good to me."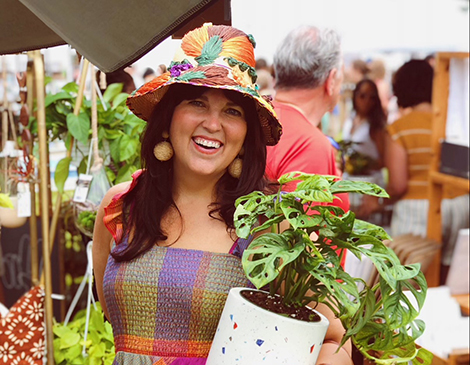 Hats Off
Partly inspired by the '90s TV show Blossom, one of D'Amato's favorite accessories is a trusty statement hat, something she even remembers DIY-ing herself when she was younger. "I always liked crazy accessories," says D'Amato. "I would go to the thrift stores and I would also go to Gabriel Brothers and they used to have these big bins of jewelry you could just pour through and every piece was like a quarter. And I loved hot glueing everything, I was always bedazzling my clothes."

As far as current accessories, one of her recent winter finds is a bright chartreuse green beret, an accessory that matches her company's name and her love for quirky headwear. Along with a rainbow variety of other berets in her closet, she also goes for a bold sun hat in the summer and even a silk head turban when the occasion arises.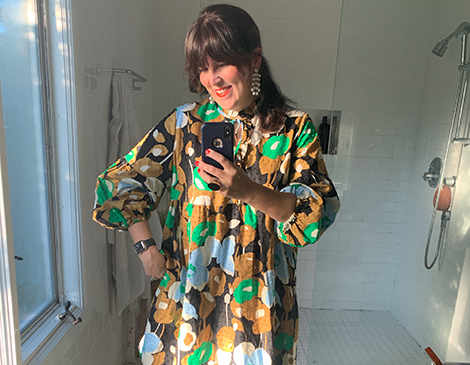 Local Favorites
Along with her abundance of vintage purses, thrifted jewelry and other secondhand items hanging in her colorful walking closet, D'Amato also finds her style in many local brands. One of her go-to bags is a brown leather handbag from local purse maker, Blair Ritchey. You can also find D'Amato browsing antiques and clothing through the aisles at Sweet Lorain, as well as sporting a cozy and chic sweatshirt from Oceanne.