Giavonna Evans gets dressed every morning with intention, which aligns with her overall philosophy about life. The yoga instructor, mindfulness expert and self-care coach, left her 9-to-5 job three years ago to pursue her real calling in life: helping others find their full potential through mind and body practices.

"I help people who are looking to transform their lives and lead lives that are purposeful and progressive, as opposed to just kind of settling in their lives," Evans says.

Evans, who has found power through yoga in her own practice, had no problem finding a place to share her skills and wisdom. She currently works as an instructor for GrooveRyde, Cultivate Yoga, as well as a mindfulness and meditation teacher at East Cleveland City Schools. Along with that, she's started her own business where she meets with clients one-on-one to teach them about how to live a more mindful life.

"Mindfulness is a state of being," she says. "So it really has to do with your level of awareness, the level that you experience life, because a lot of times in life, we just kind of autopilot. We let our brain do whatever he wants to do."
Along with teaching how to feel mindful through meditation practices, Evans' sessions also teach confidence and how to calm your mind, which go hand-in-hand with being one with yourself. She does this through a series of different therapy-based coaching sessions, which help address issues such as setting boundaries, practicing deep self-love and self-care, dealing with anxiety through meditation and others.

"A lot of times we get into these ways of existing where we are more so focused on pleasing people, and keeping everyone else happy that we forget about what truly makes us feel good," she says.

Evans' style matches her philosophy about life: one that is balanced, but still has surprises along the way.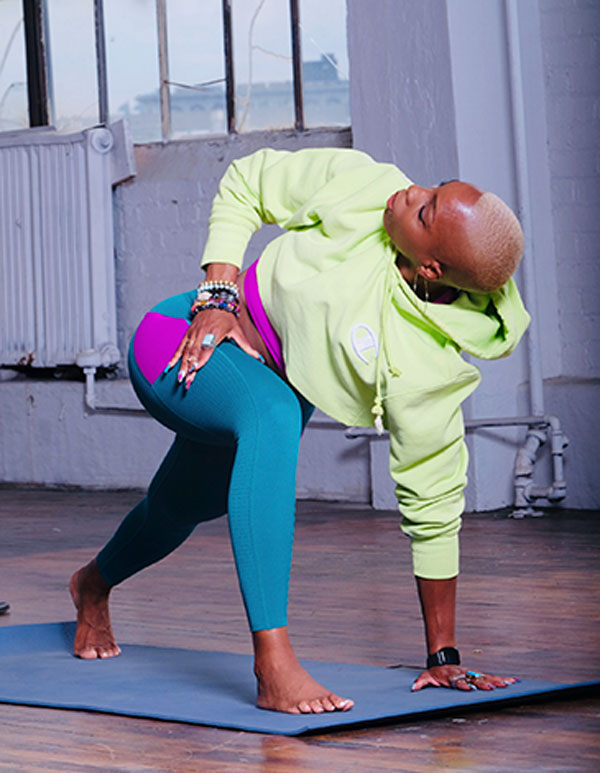 Comfy and Classic
Evans describes her style with three C's: chic, comfortable and classic. For her this means gravitating towards long-lasting fabrics, stretchy activewear and soft textures that can take her from the yoga studio into a night out if she wants to. With each purchase she asks: Can I wear it for 10 years? Can I go in my closet and pull out this thing and it still be relevant and chic? Is this not just a trend but also impactful? At the same time, that doesn't mean she doesn't view getting dressed as an important part of her expression. "It's not just a piece of clothing I threw on, it's art," she says. "I like to create with my clothes."

Big Switch
When she changed careers, Evans' life was going through more than one transformation. She went from button-downs and suits for her office job to more relaxed silhouettes and stretchy materials to fit her new life at the yoga studio, but all the while incorporating bold colors such as a neon-green hoodie paired with indigo Fabletics leggings. "I had to change my entire wardrobe when I entered the realm of fitness anyway," she says. "So I was like How do I make my activewear fashionable? I started to really switch gears and incorporate sort of an athleisure, where it was like fancy, but I'm kicking these heels off, and we're going to yoga after it."

Jacket Of All Trades
While Evans admits to having lost count of how many jackets she's accumulated over the years, one piece remains to be a staple that will survive through all of her inevitable closet clean-outs. Her trusty Alexander Wang leather jacket in black is a piece that she's always reaching for, whether it's throwing it over a workout outfit or over a cozy hoodie, the piece has proven to be worth the investment. "I remember thinking, I'm not spending that kind of money on a jacket," she says. "And then that bad boy went on sale and it was 70% [off] and that never happens, so it was destiny."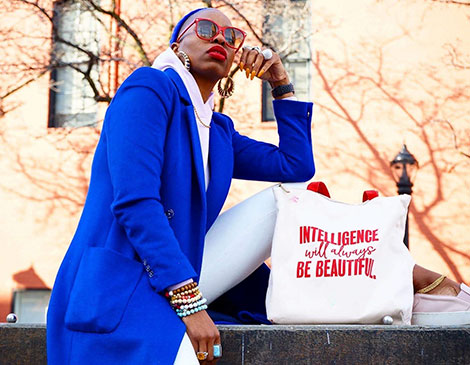 Every Shade
Evans doesn't follow just one color palette, but her style remains organized and chic, regardless. She does this by having a wardrobe of black options during the winter months in her closet from her go-to Champion leggings and cropped sweatshirt, everyday turtlenecks or even a long fur coat. At the same time, you can find her rocking gutsy color combinations such as fuchsia paired with neon yellow, along with bold reds, neon-greens and a piercing blue shade that is reflected in multiple jackets in her closet, as well as a matching beanie. "One of my favorite colors is blue, I love it," she says. "This blue Michael Kors jacket I bought, it's an ankle length coat and it's just this really bright blue that I love to wear."

Storied Jewels
While Evans' wardrobe has a contemporary flair, her jewelry has a much longer history. For special occasions she wears hand-me-down vintage jewelry from her aunt that's originally from the '50s, while for everyday use you can always see her wearing beaded bracelets and rings with special stones in them.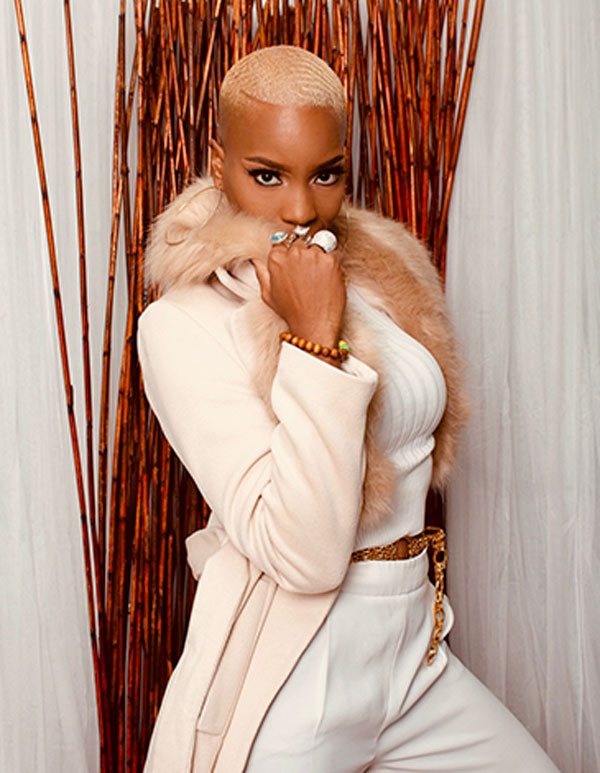 Local Love
Evans' favorite local shop, Whiskey Grade, which is located in the Van Aken District, has a variety of different wholesale items as well as custom T-shirts. "I've got skirts from them, really dope jackets, a lot of jackets I've had for years," Evans says. In addition, she's also been ordering custom clothes such as a lacey turtleneck or cropped blue jacket through a local designer called for when she wants something extra unique and one-of-a-kind.