RA Washington is always working on something. Whether it's co-founding Guide to Kulchur, a since-closed bookstore focusing on diverse voices back in 2013, publishing different works of writing and poetry throughout the years or making music as a member of hip-hop group Mourning [A] Blk Star, his gears are always moving with something new.
After the pandemic brought Mourning [A] Blk Star's tour plans to a halt, Washington and the group's trumpeter, Theresa May, started making plans to produce a virtual, five-episode docuseries set across five historic venues in Cleveland. The episodes, which started Nov. 11 and go live every Wednesday through Dec. 9, will feature performances of the group's released and unreleased music through a unique online experience.
"We thought this would be a good opportunity for us to play and see if we can find an equitable way for us to share work no matter the location since it's via internet," says Washington. "But it's not just a live stream, it's actually like an art piece meant to be viewed that way, and it's not meant to replace live shows, because you can't replace them."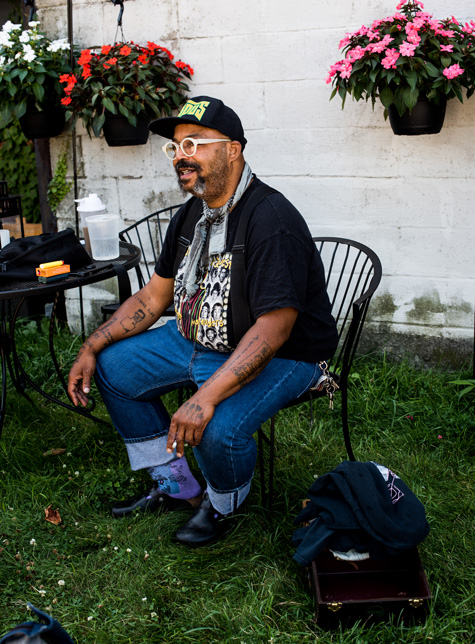 Washington, who will turn 46 in February, has had 36 books published since he was 17, including Citi and Black Eunuch, but he's also at home and challenged by the idea of making and performing music.
"All the production comes from the same place of wanting to make, so I feel like it's a similar muscle," he says. "I'm not a trained musician, and I think there's a certain amount of freedom in that, that I don't get as a writer."
We talked to Washington about how he expresses himself through clothes, how his style has grown over the years and some of his go-to accessories.
Be Yourself
When getting dressed, Washington's first thought is what will make him step into the world authentically, so while he follows Marie Kondo's golden rule of only keeping his favorite things that bring him joy, his style is anything but minimalist. For him, this comes in the form of a collection of baseball caps he has on rotation, countless band tees, a pair of suspenders and a collection of unique glasses frames. "Increasingly, as I've aged, my personal style has really just become an extension of stuff I like, and that makes me feel nice," Washington says.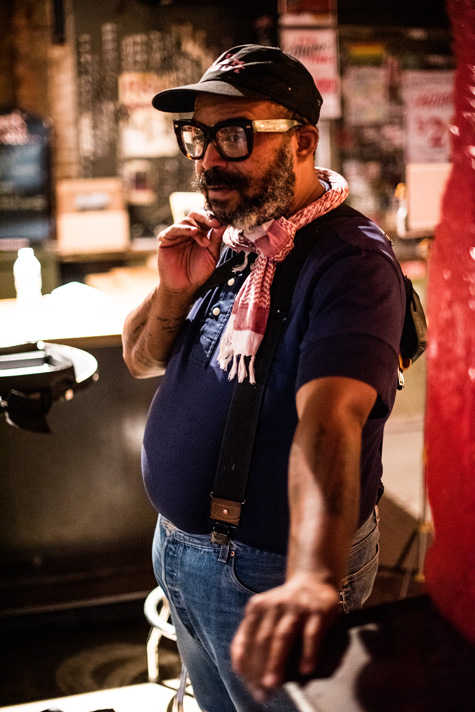 Casual Fridays
As an artist of many mediums, Washington isn't too concerned with traditional professional clothing. Instead of a classic suit and tie, opting for a T-shirt with a story, a pair of jeans or overalls, and a trusty cap are all he needs to feel put together for the workday ahead. "I'm a hip-hop head, I just keep myself looking like skaters, I keep myself looking like a kid," he says. "Rather than trying to put my body in those things, especially when I don't need to because my industry doesn't require that, I can dress like my mom just dropped me off in first grade."
Music Gear
Unsurprisingly, a common theme in Washington's closet is music. And when it comes to his rotation of band T-shirts, he remembers where he got most of them, whether it's a Tribe Called Quest tee from the group's Midnight Marauder's tour, a John Coltrane sweatshirt his friend screen printed for him or a Steely Dan raglan shirt he picked up from a thrift store back in 1996. "Stuff like that I'll never ever lose," he says.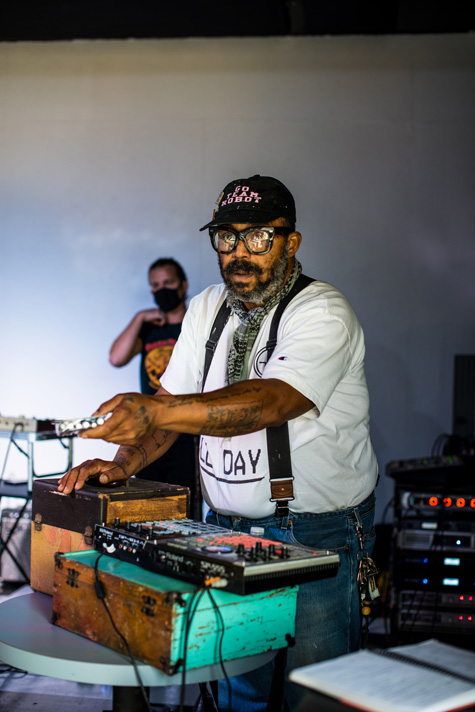 Greatest Hit
Washington finds himself continually going to one baseball cap in particular: a simple black cap with the words "Go Team Robot." You'll see him wearing it for everything from performances to Instagram selfies, along with embellishing it with different pins reflective of his favorite things such as a Notorious B.I.G. pin or an enamel pin in the shape of a SP-404 sampler from Valley Cruise Press. "[It's] from this place in Brooklyn called Secret Project Robot where Blkstar played a few times back when we were actually allowed to tour," he says. "And I've been wearing it pretty much the entire pandemic. It just reminds me of the tour."
Local Love
Ever the graphic T-shirt lover, Washington finds himself buying different threads from Time Change Generator, an artist studio in Cleveland that collaborates with different local artists to screen print different designs on clothing and accessories such as hoodies, t-shirts, and of course, masks. "I love everything they make," he says. "A lot of artists are making shirts and clothing and stuff like that, so I rock anything that somebody has."