For the last 10 years, Megan Kuhar has been giving sage advice to creatives. Whether they're musicians, bloggers or podcasters getting their start in Cleveland or beyond, Kuhar's goal is to help bring out their authentic and imaginative voice through the lens of social media. Her brand coaching business focuses on how to stay authentic online while being business-savvy, and how social media is a tool as much as a form of expression.
"You don't have to become a different person in order to build an audience, and building your brand is really about discovering who you are," says Kuhar. "A lot of what I do is help people to brainstorm and meditate on what it is that makes them aligned as a creative."
For Kuhar, who has a 2-year-old son and teaches as an assistant professor of music technology at Baldwin Wallace University, her style has to fit a lot of situations, while also making her feel like herself. Between recording her podcast, Creative Brand Sessions, scheduling a newsletter and planning out her own Instagram feed, she's learned that convenience is key.
"Being a mom and having a business, I just really like to not have to make a lot of choices," Kuhar says. "I really go for very specific categories of clothes."
We talked to Kuhar about finding colors that work for her, following her own advice and her new favorite shop.
Color Palette
Kuhar has found a lot of her personal style to be reflected through colors. Neutrals and simple patterns currently fill her closet. "I would describe my personal style as minimalist. I like earthy tones, but also, leopard print is a neutral to me," she says. "I cannot resist anything leopard print. That's almost the only print that I have." Over time, her wardrobe has also started reflecting more of a '70s inspiration — think trendy mustard hues and rusty burgundies that go seamlessly with any outfit.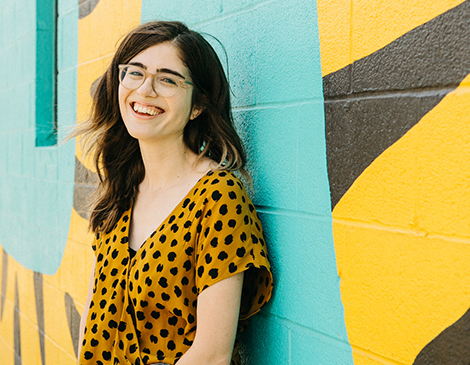 Closet Clarity
For the longest time Kuhar remembers struggling to find a solid, dependable wardrobe. But in the last few years, she's managed to find a good formula for creating her outfits, while still being creative with it. "I really have decided to simplify over the past couple years because I used to be the kind of person that would panic on the way to an event, like go to Target and buy something and wear it immediately," Kuhar says. As a way to avoid last-minute shopping runs, Kuhar has simply rewired the way she thinks about shopping for her clothes — if the jacket she sees on the rack isn't perfect, she passes on it, and she always prioritizes getting the basics down before going for statement pieces.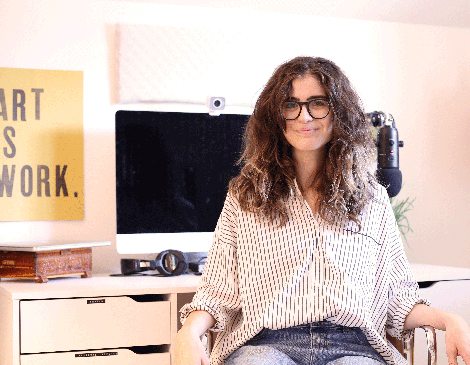 Wardrobe Wisdom
Kuhar gives her clients smart advice, but she also listens to herself when it comes to being more relaxed about her everyday fits and going with her gut. If her instinct says a shirt can be used in multiple ways, there's no reason to overthink it. "I also don't care if I'm repeating outfits," Kuhar says. "I used to have such a problem with that, but I just don't care anymore. I have a wardrobe and I like what I like, and I'm really confident in that, I feel like that's what my 30s has kind of brought for me is that I'm just confident to be the me that I want to be."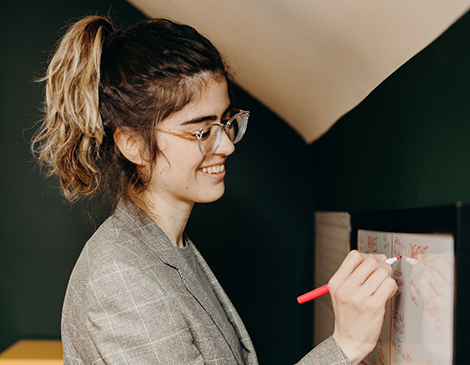 Power Suit
For Kuhar, the most dependable item of clothing that can also make a statement is the blazer. She gravitates towards a combo featuring a turtleneck that is easily paired with pants or jeans and a grid-patterned jacket for a workday. Or she'll opt for a blazer with a bit of color that adds a pop to her look. "I have a leopard print blazer that I love. It's actually a suit from J. Crew and has shorts with it," she says. "I try to wear it on the first day of school, because I just want to be that teacher that has a really crazy blazer and I love it."
Kuhar's Favorite Local Shop
Kuhar's recent favorite shop is Dina's Days Shop in Akron — a small, but highly curated secondhand shop that has everything from embroidered statement dresses to simple everyday sweaters. "I just bought a super cute blazer and scarf from her," she says. "I also love following her too because she has a lot of inspiration."