After a few weeks of putting on sweats and T-shirts and pushing those blazers and suits to the back of our closet, we're turning to our fave Cleveland pieces. Whether it's a gold earring to liven up our daily Zoom meetings or a well-worn T-shirt to pay tribute to our beloved library during a weekly writing binge, we're still rocking all the wonderful items from local artisans and makers during our stay-at home days. Here's some styling tips from our editors and art directors, or just some ways to help support local boutiques and makers. So while you can't shop in person, it's just as fun to scroll through your phone and get a delivery on your doorstep a few days later.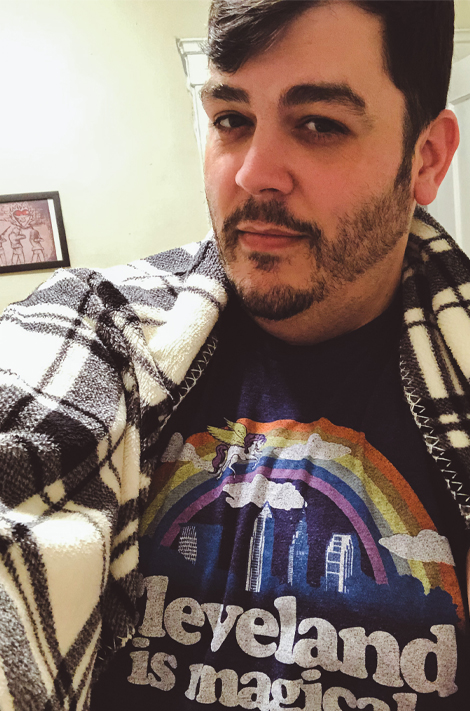 James Bigley II, features editor
It's been three weeks, and I'm trying to maximize my comfort. I'm rarely separated from any one of a number of blankets in my home, and while I've still put on pants every day to establish some form of routine, I've been rocking T-shirts left and right. This CLE Clothing Co. "Cleveland is Magical" T-shirt is my favorite. I picked it up last year when our office rallied together for Cleveland Indians Opening Day. I love it because it's simple and comfy, but also whimsical — and we could use a lot of that right now.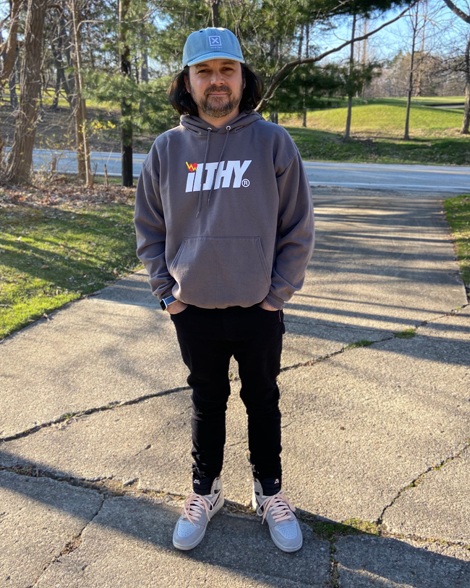 Jason Brill, managing editor
I like this outfit because each piece sort of pops on its own — from the heart logo on the hoodie, to the hat and the peach laces on the shoes. This Ilthy hoodie is probably one of the first actually cool items of clothing I bought around six years ago (get a similar version here), and eventually got me interested in streetwear and sneakers. I love the simple gray color and block letters of the logo. It's a touch baggy, which is code for extra cozy. The denim Xhibition logo hat is a more recent pickup. I have a handful of items from the store (including this pair Jordan 1s), and the stuff they carry is usually so on-trend.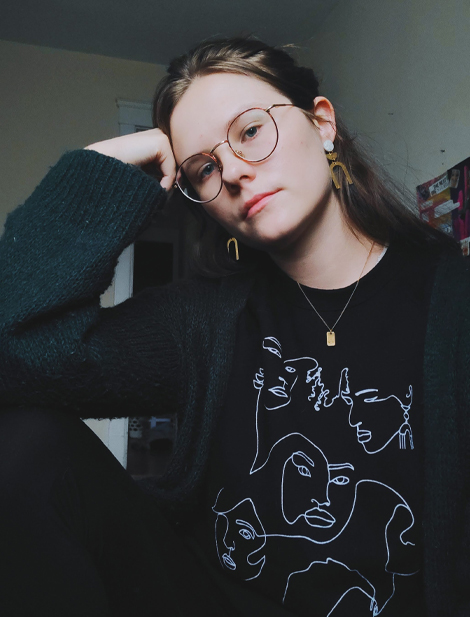 Arbela Capas, editorial assistant
A good work-from-home outfit formula needs to have a couple important parts — one of them being a good, comfy sweatshirt. My favorite one in my closet by far is my black Empowered Women sweatshirt from Oceanne that I've been rotating on repeat while working from home. The beautiful line drawing makes me feel like I'm still expressing my style whether I'm in the house or not. The boutique has a bunch of different colors, but I had to go with the black because it goes with everything (including my leggings that I've been pretending are dress pants the last couple weeks). I usually like to pair it with a long sweater or blazer, depending on how "dressed up" I want to feel while migrating from my home office to the kitchen. Also, I sometimes throw on some jewelry just for fun — such as these beautiful and light arch earrings made by Stephanie Paynter and my go-to rainbow charm necklace from Oceanne.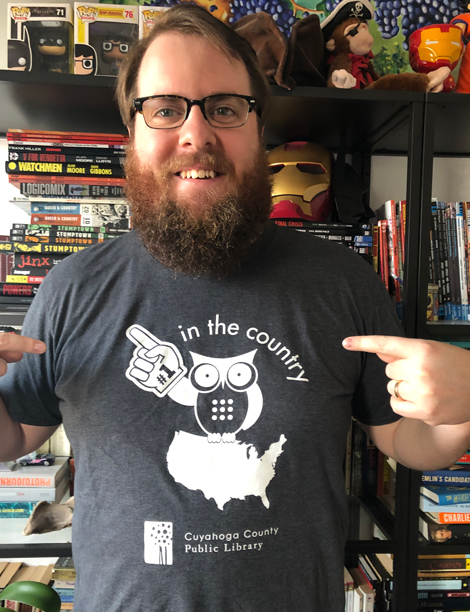 Sheehan Hannan, associate editor
You'll never find me in a "Cleveland Against the World" shirt. I find the Cleveland-branded T-shirt craze ridiculous. I also have less-than-zero fashion sense and tend to thrift most of my clothes. So, cretin that I am, I don't really own much Cleveland spirit wear, other than a few Browns and Indians hats. This free promotional Cuyahoga County Public Library shirt is the closest thing in my closet. I don't even remember how I got it. It just appeared in my life one day, like magic, probably scrounged by me or my wife at an event somewhere. I like the not-at-all-lowkey brag on CCPL's ranking as a top library in the country (woot woot! owl noises!), and how the logo is mischievously off-center. It's comfortable, too, which is an important quality in pandemic loungewear. Though in less viral times my usual biblio-destination is the Cleveland Public Library (shoutout to my CPL folks), I wear this whenever I want to spread the library love around. Have you heard that CCPL and CPL offer free e-books, audio-books, e-magazines, music and movies with just a library card?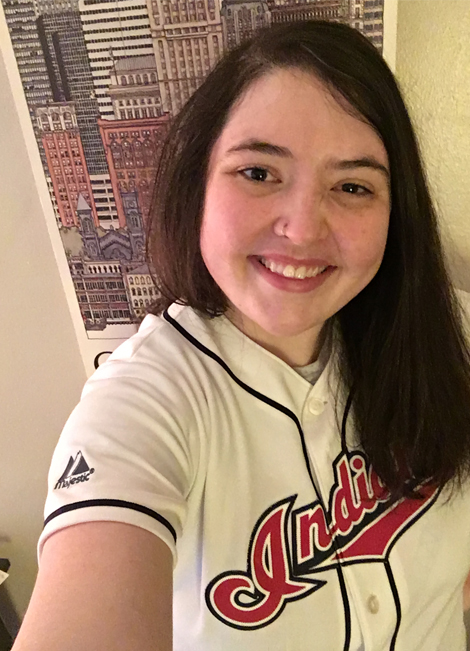 Lee McKinstry, associate editor
On what would have been Cleveland Indians Opening Day, I whipped out my Cliff Lee jersey for a little at-home spirit — paired with my quarantine-staple black leggings, of course. I swear allegiance to this jersey not just because it means I can sport one with my own name across the back, but in a further twist of fate, Lee's number, 31, matches up with my birthday, March 1. There's no better time to personalize your own jersey as we count down the days until America's pastime starts.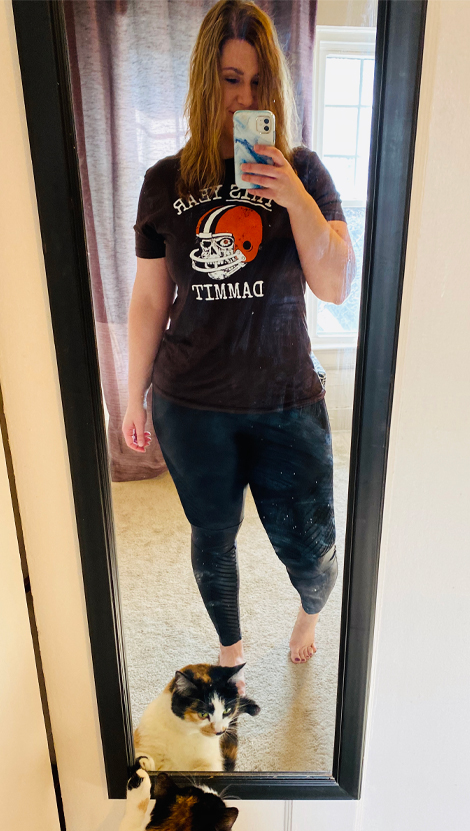 Jessa Moser, art director
I found this shirt from Scott at Night Market last summer. Back then, we had hope for a winning season from the Browns. I love wearing it out around Cleveland. It brings out the camaraderie that we all have for Cleveland sports — the good and the bad.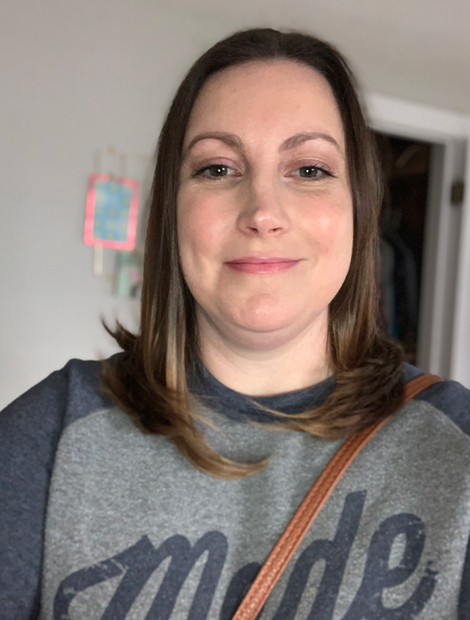 Kim Schneider, editor
I've been slowly amassing my collection of leisure wear over years, so I've been pretty excited to give up that dreaded feeling of putting on restricting dress pants every day. But I'm even hitting up my archives of sweatshirts to find some comfortable and cozy for the many hours I'm logging in my makeshift home office. My recent go-to has been this old-school "Made in Cleveland" CLE Clothing Co. sweatshirt. While you can't purchase it today, I've been eyeing its "Work Hard and Be Nice, The Cleveland Way" one. And instead of lugging a massive work tote into "the office" I am using my small wallet crossbody purse from Banyan Tree. It's great for holding my cellphone, cellphone charger and whatever else I want to take from upstairs to downstairs.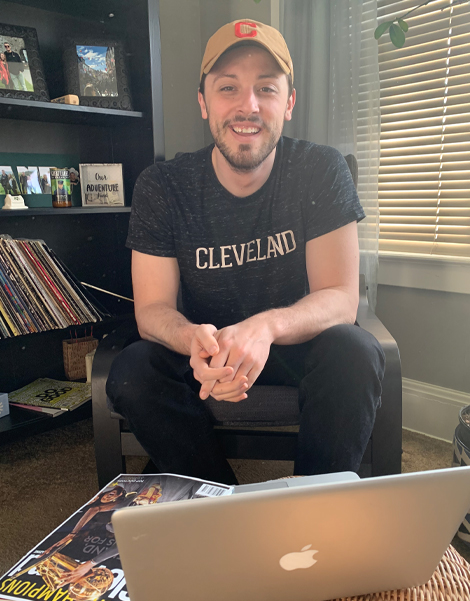 Dillon Stewart, associate editor
I've been dreaming of having a post-work craic at Parnell's Irish Pub since St. Patrick's Day. The Cleveland Magazine offices are in Playhouse Square, so the Euclid Avenue bar is my go-to happy hour spot. Sporting this T-shirt, which matches my minimalist sensibilities and has a big Parnell's logo on the back, while drinking Guinness (after work, of course) and watching owner Declan Synott's new Instagram video series Perfectly Poured Pints & Rants is as close as I'm going to get for a while. Oh, and home or away, you'll rarely see me without my Carhartt Cleveland Indians hat.


Erin Stinard, associate art director
I know you're supposed to get up and dress like you are going into the office, but that lasted about a day. I've been rotating between the same five (OK, two) oversized sweatshirts. I don't think I've bought a sweatshirt true to my size since 2015. I like them larger because yes, they are comfy, but you can also roll up the sleeves or tuck it in at the waist for more structure. I got this OSU sweatshirt at Highland Throwbacks a few years ago. They have a great selection of vintage sports tees and sweatshirts that can be worn casually or dressed up. You can easily wear an oversized top with leggings and then throw on some earrings or other accessories for that Zoom meeting. Nora is wearing a T-shirt from GV Art & Design. Her shirt is oversized as well, although I'm not sure that's by choice.