The self-proclaimed "roller coaster capital of the world" opens its gates Saturday, May 6, and thrill-seekers could not be more excited.
Cedar Point's Opening Day is made more special by the announcement of a new roller coaster and a brand new area of the park.
Hours for the big day are 10 a.m. to 8 p.m. The same operating hours are set for Sunday, Monday, Thursday and Friday.
The park will be closed on Tuesday and Wednesday for opening week, as well as the week following, but will keep to the 10 a.m. to 8 p.m. hours of operation, starting the week of May 21.
Within that time frame, park patrons are encouraged to check out all of the new sights, including The Boardwalk, a modern-day revamping that harkens back to Cedar Point's 19th-century lakeside history. This area will welcome its new Grand Pavilion bar and eatery to the park and its 18th roller coaster, the Wild Mouse, a family ride that shares The Boardwalk's nostalgic beginnings as an homage to the original Wild Mouse and Wildcat coasters of old.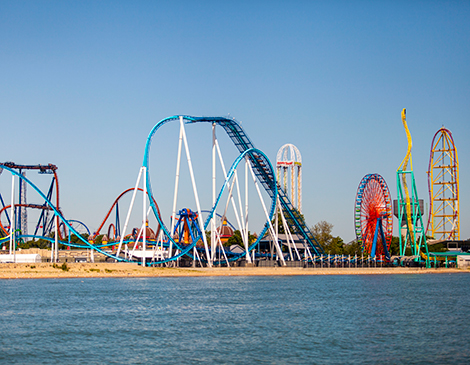 The mischievous coaster is described by the park as "a twisting family thrill for coaster lovers young and young-at-heart," and it comes with hills, bends, and quick turns to keep riders pleasantly on their toes, mimicking the familiar patterns of a hungry mouse on its journey to capture cheese.
Six carts are designed as mice, and one as a cheese wheel, but all carry the same capacity for up to four passengers. The ride's measurements include a hill of 52 feet and an orange track of 1,312 feet. With a speed of 35 mph and a duration of just more than a minute, riders (of at least 48 inches tall to ride alone, or 42 inches tall if accompanied by a chaperone) can influence the individual rate as they spin through the cart's free-form nature.
When sharing the joys of opening day, Director of Communications Tony Clark could not be prouder. "Opening Day is like Christmas for our team. We spend the long winter months refurbishing rides, attending countless meetings, discussing new and exciting offerings for our guests, enhancing our skillsets and even resting a bit. But nothing can match that special feeling when guests are in the park, rides are running, shows are happening and the sights and sounds of Cedar Point are back."
Get ahead of the weekend by signing up for our free weekly "In the CLE" newsletter — your guide to fun throughout The Land. Arriving in your inbox every Wednesday, this weekend to-do list fills you in on everything from concerts to museum exhibits — and more. Click here to subscribe.