For the last 30 years, Wade Oval in University Circle has exploded with color and sound in June. The streets surrounding the Cleveland Museum of Art transform into a true spectacle of craft, music and community as the artists, performers and musicians of Parade the Circle fill the pavement. Even though the festival has been canceled this year due to COVID-19, its goal of turning everyone into an alchemist — making something out of nothing — is one that you can accomplish in your own home. "Many people who are in the parade are not professional artists or have even studied art," says Stefanie Lima Taub, the museum's associate director of community arts. "It's really about just finding the creative spirit within yourself, finding materials and creating something." Here are some tips on how to bring the parade's spirit into your own life.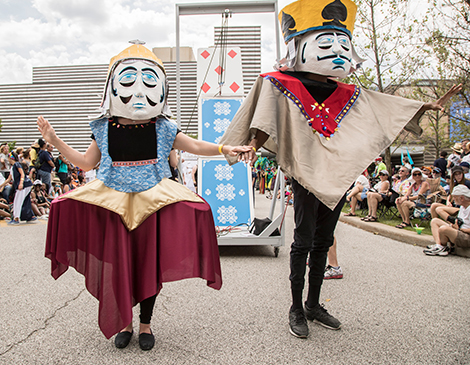 Costume Ball: Part of what makes Parade the Circle so vibrant is the elaborate outfits. Make your own costume at home with these tips.

Hit Up The Recycling Bin
Use recyclable items to make something new, such as plastic cups or old magazines you can use to cut out pictures and make a collage. "It really starts with seeing things that are around you in everyday life in a new way," says Robin Heinrich, the museum's director of community arts.

Find Hidden Treasures
Look for items in your home that can be used to tell a story through a costume or decoration. "I remember, a friend of our staff, who doesn't consider herself an artist or anything, she made this chicken costume and instead of thinking of feathers in the way of feathers, she just started cutting up pool noodles," he says. "And it made that costume look so cool and unique."

Play Up Your Face
If the idea of creating a whole costume seems daunting, just focus on a mask. For materials, Heinrich suggests going with paper-mache or even just laying out colorful paper and connecting the pieces with some glue to create something easy to wear. "There's something very mysterious about a mask and also something very uplifting," he says. "A lot of times, you have it with kids especially, if they put a mask on, they lose their fears of performing."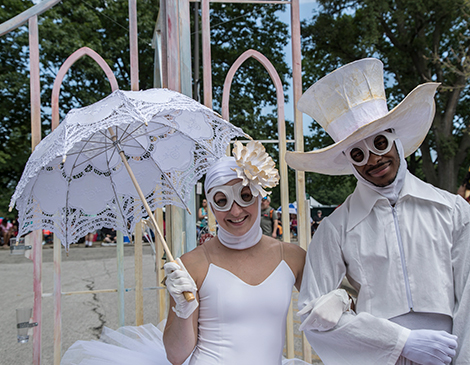 Block Party: Get your neighbors involved in your Parade the Circle activities.
Host A Virtual Craft Party
Connect with your neighbors to make a craft, mask or decoration for the big at-home event. "Just come prepared with some ideas so you can say, 'This time we're all going to make an animal mask,' " says Taub. "So then you're making it together, you're hanging out and then you put them on and everybody gets to see."

Create A Theme
Parade the Circle always has a theme — usually some broad concept that is meant to spark ideas. Use that approach for your at-home version to inspire neighbors to create costumes, decorations and sidewalk messages. "The theme is something to give inspiration," Taub says. "It's not something that people have to follow exactly."

Pass It On
Get a banner or blank canvas and pass it on to neighbors who can add their own design or message — it's a socially distant way to collaborate. "You could make a painting or something, and each person adds something to that, maybe pass it down to the next house," says Jesse "Marlon" Hatcher, a band member of Panic Steel Ensemble.


Sound Of Music: You don't need a 10-piece band to feel the rhythm. Make some magic with these simple tips.

Hit up your kitchen: Look to your kitchen drawer. "First, you could take some kind of ring and wrap it with saran wrap and duct tape," says Hatcher. "Then, take a wooden spoon — now you have a drum."
Add some flair: Add some flair to your DIY instrument. "You can beautify it by adding color, by painting it or adding stickers," he says.
Get in the groove: Believe in the power of music. It can bring you out of your shell, fuel inspiration and help manage stress. "If you feel that you want to lash out or strike out, make one of those toys that I was talking about and just bang it," he says. "You'd be surprised.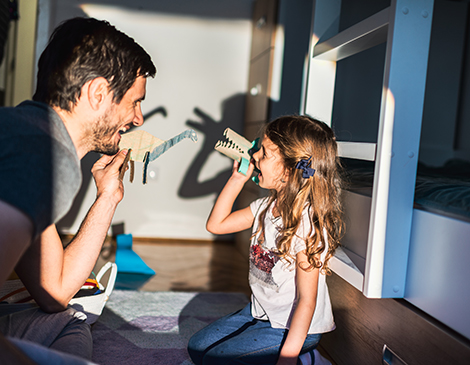 Performance Art: While dance numbers and storytelling are a draw of the annual event, an at-home puppet show is sure to appeal to kids of all ages.
Whether you host your performance inside, in your backyard or in the middle of the street for all to see, the materials needed for your puppet theater are probably already in your kid's bedroom. Spread a large sheet across two chairs or anything that is tall enough to hide your puppeteers.

Then find a desk light and shine it in a dark room or outside after the sun goes down. Have your kids use craft materials or their own hands to create shapes of different creatures — like a butterfly made out of spread hands or a more intricate animal cut out of paper. In the meantime, have the writers and storytellers of the family dream up a tale to go with each character.

Maybe play some music too for extra drama. "At home, you have certain possibilities that you wouldn't have in the street during a parade, especially since the sunshine prevents it," says Heinrich.