With a lengthy list of Cleveland festivals and events prepared for this summer, it may be hard to narrow down which gatherings you can squeeze into your schedule. Our advice? Prioritize the official launch of City Goods' seasonal City Market.
Beginning May 13 and running until Sept. 23, this recurring summer affair is set to take place every second and fourth Saturday from 11 a.m. to 4 p.m.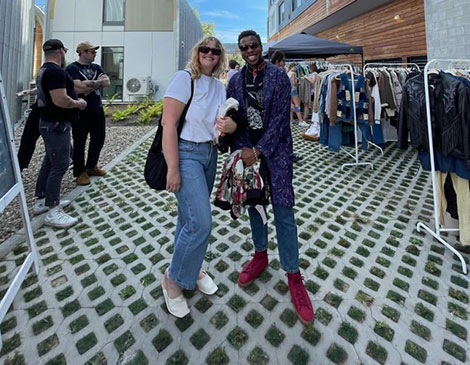 Hosted by City Goods in Ohio City, the venue hopes to extend its mission, further bolstering the passion for shopping local by showcasing a revolving cast of small businesses — many, if not all, operating without storefronts of their own.
City Goods, which came on the scene in 2022, was the result of a collaboration between co-founders Sam Friedman and Liz Painter, who sought to carve out a stepping stone for small businesses within the community.
"It's the step between a pop-up and them owning their very own storefront. We provide accessible retail opportunities for small business owners by sharing the cost between 25 different brands that we have on-site. We provide staffing so they don't have to stand behind a desk all day, and we manage on-site operations so they can continue to grow and scale their brand," says Painter.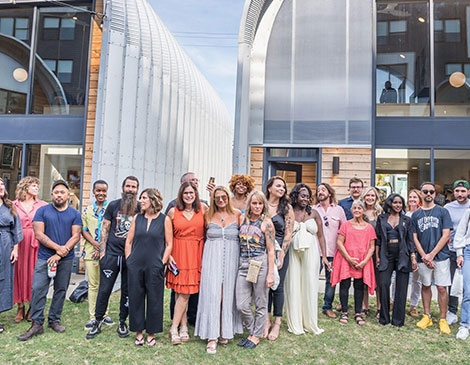 "[This year] we will be providing City Market, which is going to offer people who don't have permanence on-site the opportunity to be a part of City Goods and in what we're working towards. From the market, we'll be able to have up to another 16 vendors stationed along the driveway of City Goods."
Last September, the local business hub soft-launched the idea of a fair-style marketplace, allowing it to run for the month. However, this year will come equipped with all of the bells and whistles a top-tier event thrives off of. Food. Drinks. Live music. The City Market will have it all.
"People will be able to bring their dogs and their kids. They'll be able to try locally sourced snacks. We're also working with local distillers to bring in tastings, and collaborating with local musicians to provide music on-site," says Painter. "We're also doing a wide variety of other events throughout the summer collaborating with local organizations, trying to make a place within the city. It's kind of a one-stop shop creating density and joining forces so that everyone can be successful."
Apart from its walkable Hingetown location, the City Goods space has revamped its outer decor to match the star quality it offers within. With the launch of their new patio for The Hangar, their beloved corner cocktail bar, as well as string lights for their bistro tables, it will be hard to keep visitors away.
"What's unique, too, is that we have our liquor license, so people can relax, sit, and shop in between the buildings as well as outside in the market. People are able to check a lot of boxes all at once. They're able to shop with 25 retail brands, as well as all of the market brands, eat snacks, and be able to have locally sourced drinks on-site," says Painter.
So, what brands have been confirmed to make an appearance so far? Painter says you will have to keep your ears and eyes open for that announcement. "We're releasing [the list of vendors] for the day right before every event to keep it exciting," she shares, maintaining its top-secret nature to build up the suspense in light of the approaching launch date, a mere three days away.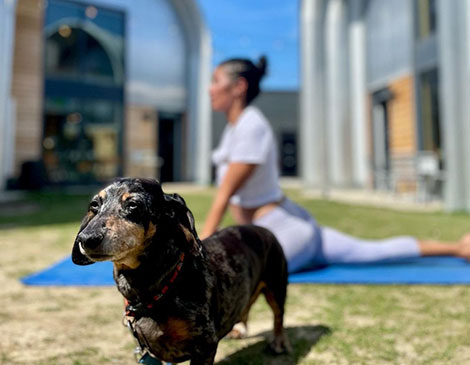 "But, we are doing a wide variety of events this summer along with the market," Painter exclaims. "We're having dog yoga, Storytime with the Cleveland Public Library, collaborating with Poetry Unplugged to do a poetry slam, Beat Freaks in the bar with Brittany's Record Shop. We're doing Wellness Sundays with one of our brands on-site."
The events presented could not be more vibrantly diverse for the small business haven, catering to an audience that is equally diverse in interests, but that's exactly how City Goods likes it.
Get ahead of the weekend by signing up for our free weekly "In the CLE" newsletter — your guide to fun throughout The Land. Arriving in your inbox every Wednesday, this weekend to-do list fills you in on everything from concerts to museum exhibits — and more. Click here to subscribe.