Cleveland Curiosities looks like a scene from Howl's Moving Castle. Shelves and cabinets are stuffed with odd treasures. You get lost in the tarnished glint of vintage jewelry, the hollowed sockets of human skulls and the glassy stare of a stuffed armadillo guzzling a Labatt Blue.
Owners Clement Kunkle and Hallie Wallace, who opened the Lakewood shop in 2018, suggest at least four laps around the 800-square-foot space to take it all in. The married couple, now in their mid 20s, has been building the collection of guts, carcasses and bones since 2014.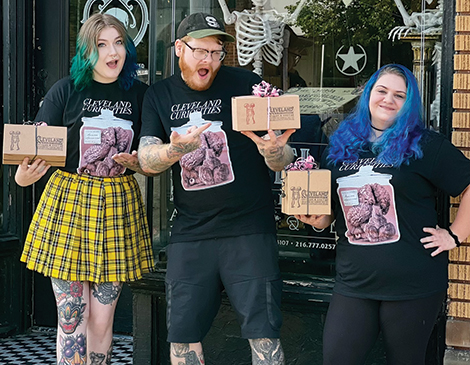 "I graduated high school," Wallace says, "and by the end of the year, we had
already signed to rent this place."
Death never bothered Kunkle. Encouraged by his father, he started pinning bugs and cleaning bones by 13. In high school, he and Wallace, his then-girlfriend, used Etsy to sell early pieces from his collection and handmade crafts, like the delicately pinned bugs still sold in the store.
"Everything lives and dies," Kunkle says. "Whether or not you choose to appreciate it in its final form is up to you."
By the end of high school, selling online limited the couple's creativity and capacity to collect new pieces. So, Wallace and Kunkle confronted the daunting task of establishing a proper storefront.
"We ended up in Lakewood because there is such a supportive community around here," Wallace says. "A lot of our friends live out here, so we know that the people out here are very similar to us."
For the most part, the shop has cornered the market for oddities in Northeast Ohio. The sector doesn't have many official avenues — aside from the national Oddities & Curiosities Expo, a roving trade show of horror — for bolstering business. Operating within such a cottage industry meant getting creative to source their collection.
In the beginning, they worked with museums and contacted medical schools, dentists and defunct practices hoping to expand their collection. From there, the couple established industry connections, such as Cory G, an artist who fashions "tooth fairies" out of human teeth and insect's wings. They even built relationships with local farms on the rare chance that something interesting came their way.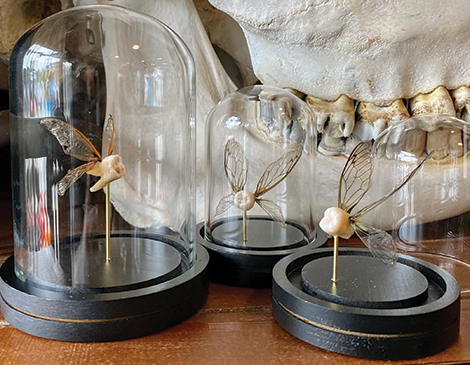 Wallace points to one such something named "Eyeris." The adorably small lamb has hooves the size of quarters and perfect white fur that's still soft, as well as one eye, no snout and ears that seem misplaced.
Shafer Farms in Glenford delivered the cycloptic young animal as a stillborn. She's one of the many pieces at Cleveland Curiosities that can't be sold or even transported over state lines. Human remains are legal to purchase across the United States — excluding Louisiana, Georgia and Tennessee — but animal remains often carry more restrictions. The Ohio Department of Natural Resources Division of Wildlife keeps track of animals from within state lines. Even the stuffed ones.
As Wallace walks away from the cute, malformed lamb, she and Kunkle talk about community.
They recount the moments when people have visited the store and left in awe, the enlightening conversations about death and grief they've had with customers and, most important, the chances they've had to educate.
"Kids and their parents can come in and remember seeing this stuff … like a cool anatomy-biology class," Kunkle says. "We're kind of like a museum that you can buy from. We just want everyone to appreciate and learn something new."