Alyssa Hearty is not necessarily an interior decorator. But she is a collector.

Her and her husband's home, a 100-year-old two-story house in the heart of Cleveland Heights, comes alive with the many trinkets, vintage antiques and family heirlooms Hearty has acquired over the years. Brass accents, chocolate brown wooden furniture, dried flowers and weathered posters and photographs create a style of decor that all comes from hand-me-downs and her love for vintage.

"It's definitely like a collected vintage style," says Hearty, who has also been archiving her home's evolution on her Instagram, @HomeSweetHearty. "When I was younger, even in high school, my family would take us antiquing and stuff so it became this thing where we slowly were just accumulating little knick knacks."

Hearty, who works as a social media specialist for a local retail company, doesn't have to go far to find the otherworldly heirlooms that make up her home. Many of the decorative antiques lining the walls and shelves come from her many hours of scouring local shops, flea markets and antique stores, including Helm Collective, All Things For U, VNTG Home and many others.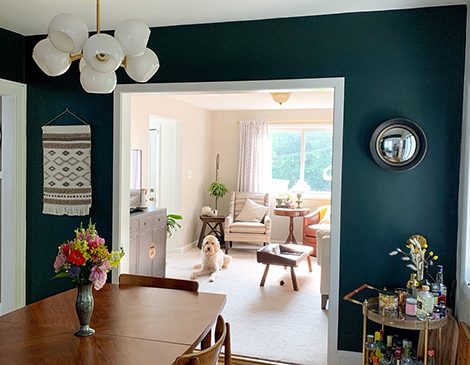 Each piece she finds — whether it's an antique mirror, an old Victorian print or a set of crystal glasses — might not find a forever spot right away, but Hearty has utilized her best decorating philosophy to cultivate her space: patience. And after she and her husband moved into their home in March of 2020, a lot of the pieces did finally get their time to shine.

"As soon as we moved, things just kind of fell into place and we were able to find homes for a lot of the things that traveled with us," she says.

Hearty's home is a bursting storybook — and the items with the most history are actually those passed down from her grandparents, parents and family friends. With that, her philosophy around building a space is not around perfection, but rather about making a true home.

"I don't want it to feel like a museum. There's definitely little knick knack pieces that I will add as just layers of textures on shelves and that kind of thing. But for the most part, I tried to find pieces that are functional versus just pieces that you're like, 'Oh, this is really cool.'"

Despite the many delicate details, Hearty's home doesn't feel like an encapsulated gallery that can't be touched. Instead, the cozy vintage decor invites a lived-in aesthetic that welcomes you in.

"And at the same time, I have a bucket of rolling pins sitting over there, so not everything is functional," she laughs.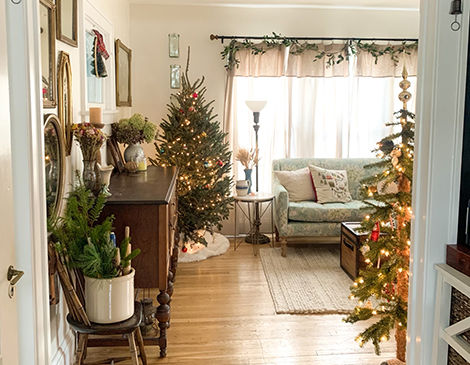 Lost and Found
Hearty's love for collecting isn't a new one. One of her earliest pieces includes a green glass light fixture that hangs in the corner of her opening room. Even though she acquired it before she had a home of her own, she decided to hold onto it, knowing it would find a place one day.

"I got it from a family friend of ours who knew somebody who had this whole barn where he liked to work on these lights. I was like maybe 15 and walked in — I'm 29 now — I walked into this barn and I was like, 'I need that.' So I had it for years until finally last year when we moved, I was like 'That would be perfect up there.' I just carried it around with me for so long."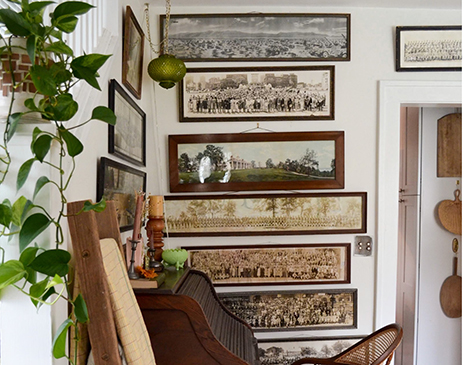 Home Gallery
For Hearty, the walls of her house are the prefect canvas to showcase the story of her home. Not only are her wall hangings hand-me-downs or found treasures, they also match up with different themes on her wall. "I can't handle empty walls," says Hearty. "So as soon as there's an empty one, I try to figure out like, Okay, what do I want this corner to function as?"

Her mini wall of mirrors is a stand out; featuring different shapes and sizes that add more depth to the room. While her wall of vintage photos that greets you right as you enter the front door includes a collage of rectangular group photos dating back as far as the 1920s (a shot of her grandmother's graduation). Meanwhile, her dining room, which gets a feel of dark academia with a splash of dark green from Sherwin-Williams, has a wall of Victorian-style silhouettes, giving the ambiance of an elegant library.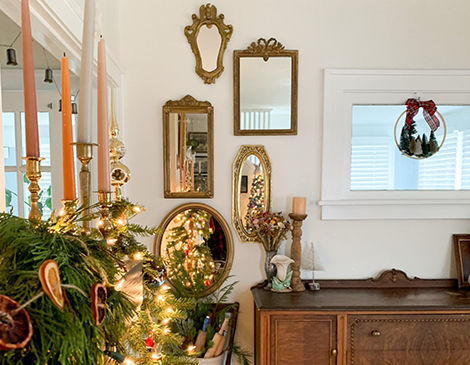 Old World
Hearty's home spans a range of eras. While elements of it harken back to Victorian styles and the 1800s — with her oldest piece being an antique cobbler bench which she uses as a decorative coffee table — you can't put a definite date on the home as a whole.

Even contemporary pieces, such as the shelving in her living room that she bought new from a company that uses antique metal molds, still have echoes of the past and can match the many heirlooms around the home.

"For me, I have so many pieces that belonged to people or that mean a lot to me and my husband that we want to figure out how to incorporate them in a way that still feels somewhat cohesive," she says.