Laura Mineff always wanted to live in a converted industrial building — "to have that loft-y experience," as the owner of Array Design Studio in Cleveland puts it. Renting a two-bedroom unit on the second floor of The Shoreway, the repurposed home of the Globe Machine & Stamping Co. in the city's Gordon Square arts district, provided it with exposed brick walls, banks of factory windows and polished concrete floors. But the space, particularly the open kitchen/living area, came with interior design challenges. "The building [owner] said to me, 'Go ahead and do whatever you would like to the unit,'" she says says. "So that's what I did."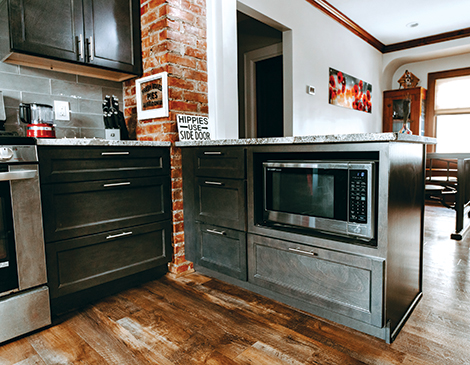 (Photo courtesy Array Design Studio)

The Kitchen
Before: Mineff inherited an updated but nonetheless pedestrian wall of wood-look laminate cabinetry with the requisite solid-surface countertops, stainless-steel appliances and an island separating it from the rest of the room.
After: Mineff's first step was to paint the baby-blue walls a brick red to inject vibrant color. She outfitted the island with a pair of white-leather hydraulic stools that adjust to each user's preferred height and swivel, allowing them to join conversation in the living space and a metal bench with a reverse-
leather-hide cushion at the end. The latter does more than provide extra island seating — it provides a spot to slip shoes on and off near the unit's entrance. A copper resin lamp on the top and an arrangement of reeds in a blue glass vase, along with a plant, on the floor at one corner make the island read more like a table. Displaying works of art on shelves, on top of the cabinets, even on top of the refrigerator, reinforces it.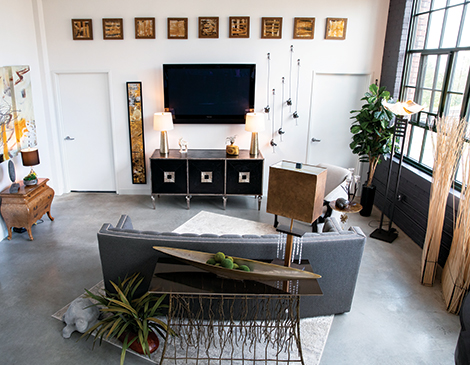 (Photo courtesy Array Design Studio)

The Living Area
Before: The space, furnished in a combination of transitional and contemporary pieces in grays and blacks, looks finished.
After: Mineff filled the room with art, hanging a three-piece abstract giclee print in yellows, grays and white over the Italian bombe chest and spacing nine custom-made geometric designs she created, executed by a manufacturer in seven layers of media, over the television. The new coffee table, distinguished by a top covered in velvet with orange-and-gray cotton-thread accents, is a work of art. But Mineff ditched the sofa table, replacing it with a cylindrical lamp she had custom-made in Morocco and two cylindrical shell-covered side tables that create depth and dimension.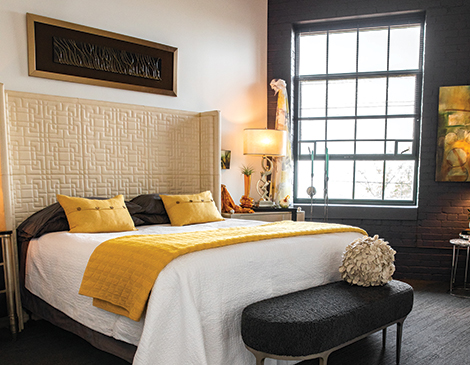 (Photo courtesy Array Design Studio)

The Primary Bedroom
Before: Mineff moved into the unit with a bed frame, mattress and cream-leather headboard, a dramatic 6-foot-high feature quilted in a geometric pattern — and, in contrast, not much else worth noting. Color, pattern and texture were lacking.
After: Mineff punched up her white linens by folding a sunny yellow coverlet at the end of the bed and placing a couple of matching accent pillows against full-size ones in existing black shams. She drew the eye even higher by adding a linear porcelain-metal-and-gold artwork over the headboard. A corner of the room was enlivened by tossing a white throw and another yellow accent pillow on a chair, swapping a table for two round marble-topped stacking tables — pieces that add dimension, different shapes and materials — and hanging a vibrant dimensional piece on the wall.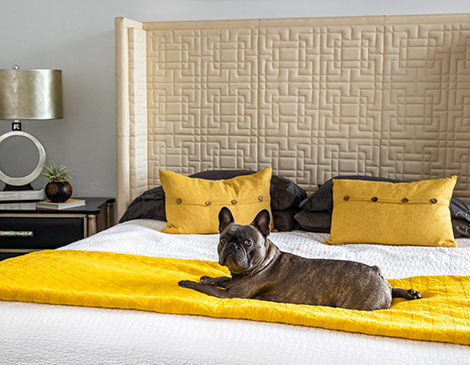 (Photo courtesy Array Design Studio)

The Spare Bedroom
Before: Mineff needed a guest room to comfortably accommodate visiting parents and adult children. "But at the same time, I ran my business out of my home," she says. The traditional bed-and-nightstand setup simply didn't work for her in a space that had to pull double duty.
After: Mineff installed a Murphy bed she designed and built. The bed lifts into a plywood cabinet finished in a wood-look laminate that looks like a storage casement piece when the double doors are closed. The star of the room is a smoked-glass-topped desk with curving metal legs — a piece light enough for Mineff to move to a corner of the room when guests are in town. Unobtrusive shelving units supply additional storage, while a white faux-fur rug provides "a comfort space for [her] feet" on the building owner's dark-gray modular carpeting.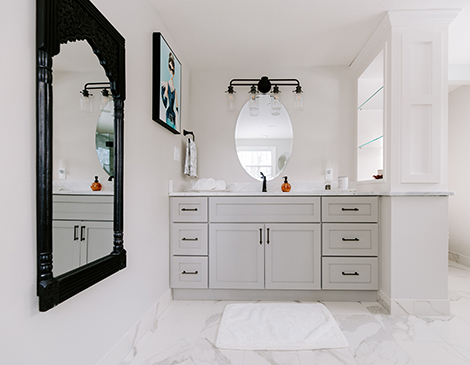 (Photo courtesy Array Design Studio)

Start your day the best way by signing up for our free daily newsletter. Arriving in your inbox every morning to keep you in-the-loop on the best guides, home and style tips, and news briefs for all things Cleveland. Click here to subscribe.