The day Al Roker arrived in Cleveland the city defaulted on its loans. It was December of 1978, and Dennis Kucinich was mayor. Earlier that year in January, Cleveland was hit with a blizzard that killed 21 people. Roker, who had worked for smaller stations in Syracuse and Washington, D.C., couldn't have expected much more than a career bump when he went to work as a weather forecaster for WKYC.

"It was a city that was on the decline," Roker says. "From an economic standpoint, manufacturing was fleeing. There was racial discord. After my 6 p.m. newscast, it was a ghost town. The only restaurant open was Pat Joyce's. You could fire a cannonball down Euclid and not hit anything."

But Roker, a New York native, fell in love with Northeast Ohio, which he now calls his second home. From May 10-15, Roker's Today show is joining forces with his employer WKYC to document how Cleveland is weathering a new storm: safely reopening after a pandemic that devastated a city's businesses at the height of the urban center's renaissance.

"I think it's one of the great underrated cities in the country," says Roker. "It has one of the great medical centers, a rich history, a beautiful lakefront, some of the legendary sports franchises and they've reinvented downtown."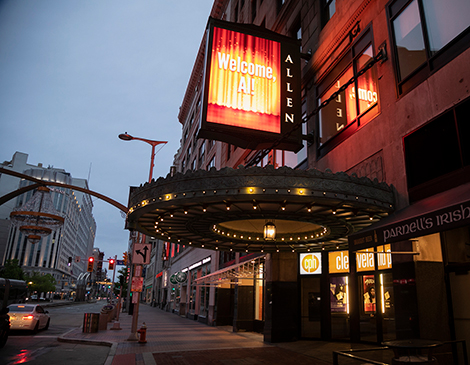 Reopening America, a weeklong series which previously featured Philadelphia, will set out to discover how our Midwest City is safely returning to business after a year and a half of lockdowns and regulations. Joined by local notables such as Cleveland Cavaliers star Kevin Love and NASA Glenn Research Center Director Marla Perez-Davis, one of Cleveland Magazine's 2021 Most Interesting People, the show sets out to highlight the wide swath of tourist attractions and the soaring medical and technology industries in Northeast Ohio.

"The great thing that Cleveland has going for it is that there's so many different things to bring people downtown," says Roker. "I think Cleveland is better suited than most to bounce back stronger than ever."

During his stay, Roker and WKYC plan to shoot from the Rock & Roll Hall of Fame, which recently launched an exhibit featuring props from the Super Bowl Halftime Shows, and Playhouse Square's GE Chandelier, among others. He's also likely to shout out some of his longtime favorite restaurants, such as Tommy's on Coventry Road, and join WKYC anchor Betsy Kling for a weather broadcast.

In addition to Playhouse Square, Roker plans to highlight Cleveland's Karamu House. The nation's oldest African American theater, which was built in its current form in 1941 and has roots more than 100 years old, premiered and developed many of Langston Hughes' plays.

"Cleveland was part of the great migration of people coming up out of the South and being able to get manufacturing jobs, the Black middle class," says Roker. "Being able to see people who looked like themselves in theater was very, very important."

In fact, it was in Cleveland where Roker saw firsthand the importance of representation. Leon Bibb, who joined WKYC in 1979, became Ohio's first African American primetime newscaster during Roker's time in Cleveland. Bibb, who will appear live with Roker during the series, was a role model to not only the budding newsman but also the Black community in Cleveland, Roker says. He taught Roker to "be yourself and be true to the story."

"Somebody like Leon Bibb is, in a sense, living history," he says. "There's a whole group of journalists looking at and watching Leon Bibb and saying, 'I can do that.'"
While Cleveland is famous for its tough winters, the former Northeast Ohio weatherman knows just how great summers on the lakefront can be.
"The city is always vibrant, but it just comes alive in the summertime," he says. "In a sense, a city like Cleveland is built for coming back from a pandemic because you can be outside and socially distanced, but still enjoy everything Cleveland's got to offer."
In addition to highlighting the city's industrial prowess, he hopes the series can highlight Cleveland, and cities like it, as potential vacation destinations for those looking for something more off-the-beaten-path than New York, Boston or Los Angeles.
"America is back and opening up again, and there are a lot of spots to look at," says Roker. "Think outside the box, and you can have a really great time."

How To Watch: Al Roker's series Reopening America airs live from Cleveland May 10-15 on Today, the third hour of Today, on WKYC and across Today's digital properties.