When you think of steakhouses, it's no surprise if your mind immediately turns to a dark, moody space made for sipping scotch over rib-eye and mashed potatoes. But let's get this out of the way up front: Jaja is not that kind of place.
"Steakhouses always have a masculine, old-school feel to them," says restaurant director Dan Whalen. "We really wanted to not do that."
Whalen is president of Harbor Bay Hospitality, the developer behind Ohio City's dazzling, multi-use Intro building. Jaja, which opened in mid-October, was the final piece of the building's suite of hospitality concepts, following Edda, an ethereal coffee shop, and Pioneer, a camping-themed sports bar. As an upscale, special-occasion spot, Jaja rounds out the vibe — but the steakhouse label is a bit of a misnomer.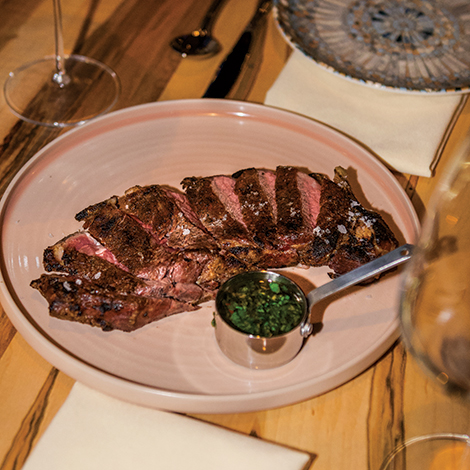 "If you're reading through our menu and wondering, 'What side do I order with my steak?' then you've missed the point altogether," says executive chef Brian Whalen, Dan's younger brother. The Whalens have created a hip, buzzy spin on those stuffy steakhouses of yore. In other words, this is not your grandfather's restaurant. (No offense, Grandpa.)
Before you even look at the menu, it's clear that Jaja isn't just a restaurant; it's an experience. The main entrance is unassuming, practically hidden across from the West 25th Street RTA entrance, but as soon as you open the door, you enter a sort of otherworldly waiting area, where the hostess greets you from beneath climbing vines, brightly colored flowers and taxidermic birds. When your table is ready, you're ushered into a jungle-inspired elevator that delivers you to the second floor of the 115-foot building — and as the doors open, you step into a tropical Narnia.
"Everywhere you look, there's a small surprise waiting," Dan says.
Indeed, Jaja's 75-seat dining room is awash in colors, patterns and prints, from the lush flora that adorns the vaulted glass ceiling to shimmery pinned butterflies on the walls and animal-shaped brass lamps that provide soft, sultry lighting. The least subtle but perhaps most stunning surprise is floor-to-ceiling windows, which provide an unparalleled view of the skyline and allow light to stream in during brunch.
"The exotic nature of the room is reflective of the idea of being transported somewhere else — really being in a different place," Dan says. "We wanted to mix cultures to create something you just can't find anywhere else, especially locally."
That vision extends to Jaja's cuisine, which is as eclectic and enchanting as its ambiance, heavy on Latin flavors with glimpses of Italian and Mediterranean influence. The menu is built around the kitchen's pièce de resistance, a
20-foot, Argentinian-style wood-fired grill, shared with Pioneer downstairs. Diners are encouraged to share each dish (yes, even the steak) so that everyone can try a bit of everything.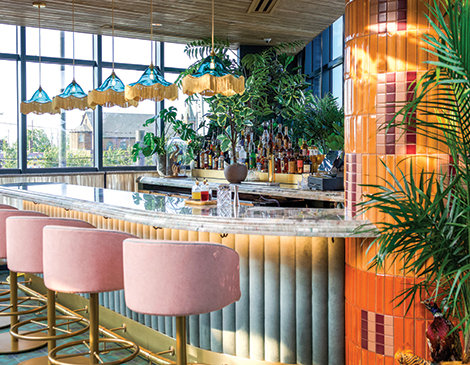 "We've combined the ideas of small, shared plates in a social setting with a celebration of this amazing wood-fired grill that cooks meats in an authentic, Argentinian manner," Dan says.
Sourced from farms in Kansas and Colorado, Jaja's eight cuts of steak range from $45 for a 10-ounce prime hanger steak to $185 for a 44-ounce dry-aged Tomahawk rib-eye. They're only lightly salted, the Argentinian way, and served pre-sliced with a side of house chimichurri. But unlike the traditional, cilantro-based condiment popular in Latin America, Brian's version incorporates burnt scallions, charred mint, shallots and other unexpected flavors.
Where other steakhouses tend only to offer vegetables in the context of accompaniments to the main event, Jaja's non-steak dishes are so compellingly unusual that even the staunchest of carnivores may feel inclined to skip old standbys in favor of something new.
"We put out high-quality meat, but there are also 20 to 25 other dishes that we want you to pass around the table," Dan says. To that end, Brian, who has worked at local favorites like Fahrenheit, Chinato and Parallax, has re-imagined classic steakhouse sides for interpretations you won't find anywhere else.
Instead of creamed spinach, there's sformato Toscano ($14), a light-as-air, melt-in-your-mouth savory spinach flan drenched in a delicate but decadent Parmesan sauce. And instead of steamed broccoli or mashed potatoes is a
turmeric-spiced riced cauliflower dish ($13), just as tasty eaten by the spoonful as it is spread over charred bread.
The menu is also surprisingly heavy on seafood, with just as many fish dishes as steaks.
"I put a lot of focus on the seafood because I love that you can cook it in so many different ways — the color and texture you get by searing or braising it, all of that," says Brian.
High-end of-the-sea options include a tender, grilled octopus served suckers-on and all over a Salvadoran cabbage slaw and paper-thin potato "dominoes" ($20), and jumbo seared scallops ($30) caramelized with a brown citrus butter and paired with cauliflower gnocchi. One of Brian's finest and most extraordinary creations is the grouper crudo naranja ($19), in which candied blood orange slices serve as tiny tostadas for thin slices of raw fish, topped with heirloom tomatoes and bulbs of juicy "caviar" from finger limes. The result is feather-light and delightfully citrusy.
Throughout the menu, in fact, citrus makes a play for the spotlight, showing up in an homage to one of Argentina's most prominent and profitable exports.
"I love that hint of acid in my food, but I don't always want it to be vinegar," Brian says. "Plus, it's fun to manipulate the same ingredient in so many different ways."
His pork belly ($16), cooked sous vide and wood-fired, comes with a lime aioli, while the truffle pasta ($22) and warm olives ($8) are both enhanced with preserved lemon. And the burrata ($18) is practically a work of art alongside candied, sugar-encrusted lemon slices that lend a wonderfully unexpected chewiness.
No less critical or creative is the drink menu, intentionally short on beer but big on colorful cocktails with playful names like She Only Wears Green ($15) and Expat in Peru ($14).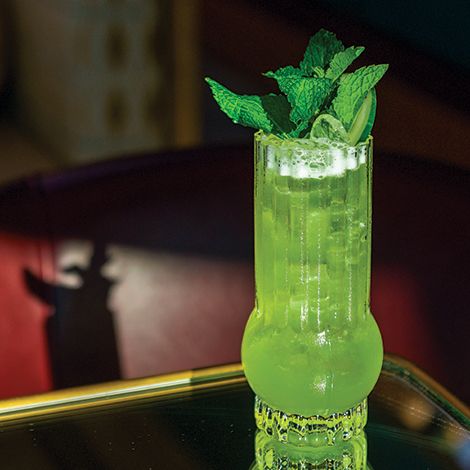 Instead of the Napa cabernets typical of steakhouses, beverage director and sommelier Nora O'Malley has carefully curated a regional wine list featuring unexpected locales like Uruguay and Slovenia.
"She's put together a really cool, precise, eclectic wine list that goes with the vibe of the room and the menu Brian has created," Dan says. "It's not trying to do too much, but it also has a lot of things that you can only get here."
That, as it turns out, is a perfect summary of Jaja overall: It's not trying to do too much, but somehow, it's still doing a lot. Under lesser leadership, so many moving parts could've devolved into a mismatched mess. But under the Whalen brothers' vision and direction, it feels nothing short of magical.
In Portuguese, já já means "already" or "soon," a translation that is, in this case, worth heeding as instruction: You're going to want to nab a reservation at this exquisite, unusual restaurant right away — if you can get one.
Bite into the Cleveland dining scene by signing up for our free weekly CLE Food & Drink newsletter — your guide to food and drink throughout The Land. Arriving in your inbox every week, this coverage fills you in on everything from mocktails to shareable plates — and more. Click here to subscribe.