It was only a matter of time before Jill Vedaa and Jessica Parkison built upon their culinary empire. After all, Cleveland is a city clearly divided by east and west — and ever since Salt opened in Lakewood in 2016, East Siders have been shuttling across the Downtown divide for a taste of the restaurant that earned Vedaa three James Beard Award nominations. Lucky for East Siders weary of the schlep, restaurant number two opened in March. Poppy is located on Larchmere Boulevard in the historic old house-turned-eatery that was home to Felice Urban Cafe for 14 years. Another West Side spot, Evelyn, is coming soon.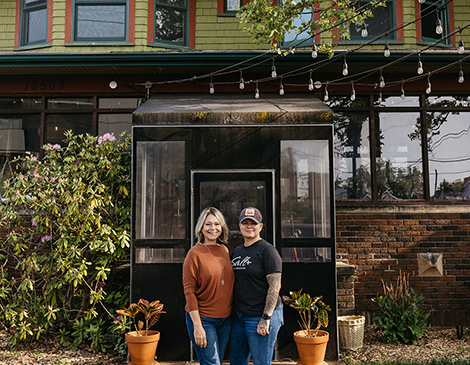 (Photo by Lizzie Schlafer)

Let's get something out of the way up front: Formally branded as "Poppy, a Salt+ Restaurant," the new spot is meant to be Salt's sister but certainly not its twin. If you're expecting a duplicate of Vedaa and Parkison's original venture, expect to be disappointed. It's not a Saltified redux of Felice, either. Poppy is its own place, distinctly different from both of the beloved spots that precede it — and if you visit with an open mind and an empty stomach, you'll find it comforting, spirited and pretty darn delicious.
READ MORE: Lakewood's Salt Serves Up Bold Flavors in Tiny Packages
Instead of the teeny-tiny, high-end tapas that have made Salt so successful, Poppy takes a decidedly more standard approach to food — shareable plates of fresh, colorful veggies and substantial enough entrees that you might even have leftovers for tomorrow.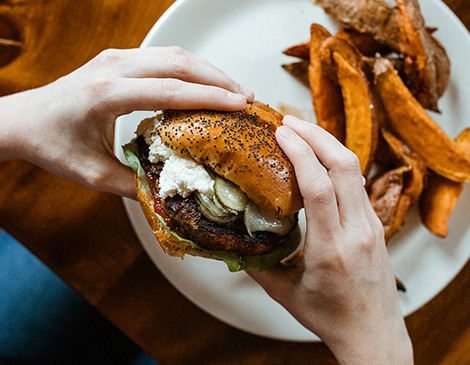 (Photo by Lizzie Schlafer)

If the food tastes a little bit like home, then it's doing its job. Poppy is named for Parkison's maternal grandmother, a doting matriarch and skilled cook who served dinner every night at 5 p.m. sharp. The pear-green, Craftsman-style house on Larchmere is the ideal setting for this, nearly as cozy as if it were inhabited by family. You enter the restaurant through a breezy, screened-in porch, which leads into dining areas divided up the same way any living space would be — with much more seating, of course, and a bar in place of couch and a TV.

"Being in a house sets the tone for the kind of food we do," Vedaa says. "It's a lot more approachable, though there are a couple of things where we push the envelope a bit."

Like Salt, Poppy's menu is broken down into three categories: vegetables, fish and meat, plus a fourth: sweets. While a couple of items appear on both (like Vedaa's renowned white bean puree), there's little overlap between the two.

Unlike Salt's avant-garde approach, Poppy's food is classic with modern twists. On a summer visit, the concept of a down-home clambake got an upgrade with bone marrow broth and roasted leeks ($16). Walleye, a perpetual Lake Erie favorite, was grilled instead of fried and served with braised greens and crispy hush puppies ($28). And while there's no place for handhelds at Salt, Vedaa says Poppy's lamb burger ($18) with whipped feta and tomato jam, served with jojos, is one of just a few permanent staples on the menu. Since our visit, Poppy has transitioned to its fall menu.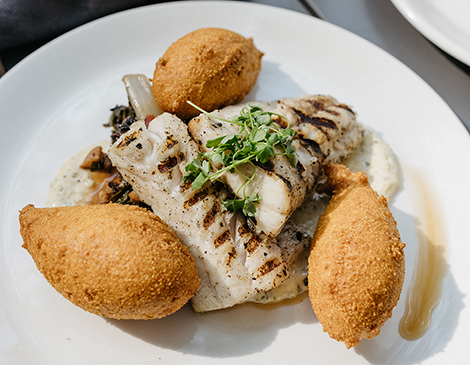 (Photo by Lizzie Schlafer)

"The vegetables are the runaway hits," she says, "and because I can be so seasonal and play around with them, they're really fun for me to experiment."

One standout is the charred eggplant ($16), which is firm and hearty on the outside while remaining velvety soft inside. It's served with a triangle of spongy tofu and drenched in a silky black garlic sauce that infuses the dish with an earthy sweetness. A rainbow of other veggie options rounds out the menu by season: Think heirloom tomatoes, lush greens and vibrant citrus in spring and summer, while jewel-toned beets and hardy broccolini take the stage in colder months. But where Salt's hyper-seasonal menu rotates every 10 weeks or so, Poppy, again, takes a more traditional approach, changing just three times a year.

That more straightforward approach aligns with Poppy's overall dining experience. At Salt, you're likely to spend the entire meal breaking down every unique component of each dish, seizing the chance to role-play as a New York Times food reviewer. At Poppy, you're less likely to delve deep into the specifics, instead digging mindlessly into your meal as you revel in the laid-back-but-still-upscale atmosphere.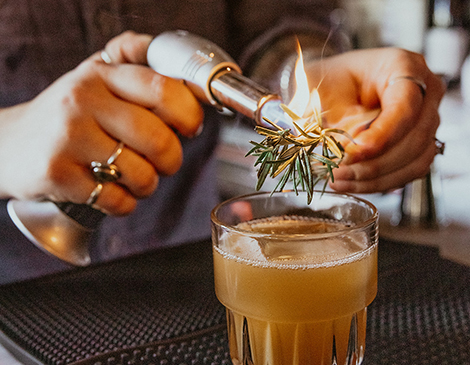 (Photo by Lizzie Schlafer)

"We've always pushed the envelope as far as food, service and drinks," says Parkison, who manages day-to-day operation at Poppy, while Vedaa spends most of her time at Salt. "To us, Poppy has a more homey, comfortable feel."

That's not an indictment on the food, which is tasty and immaculately plated — truly, the stuff Instagram foodie dreams are made of. But you don't go to Poppy for the mind-blowing, unusual, best-of-your life meal. You go to Poppy for a reliable, high-quality meal, while soaking up the sun on the giant outdoor patio or cuddling close to your date on a cold winter night. Eating at Poppy just isn't the all-consuming, high-impact culinary experience that Salt is. And that's kind of the point.

"Salt is its own entity," Parkison says. "With Poppy, you're getting a similar experience but in a much more casual atmosphere."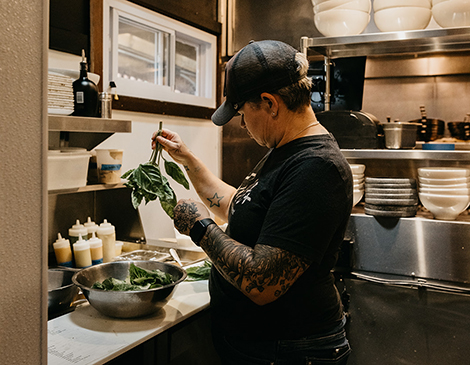 (Photo by Lizzie Schlafer)

It's impossible not to compare the two restaurants, especially when you've seen (and tasted!) everything Vedaa and Parkison are capable of. So it's understandable, especially in Poppy's first year, that it's constantly being measured up against such an adored older sibling. Like any sibling pair, though, each restaurant has its own identity — and Poppy deserves time to emerge from Salt's shadow and come into itself. If anyone is equipped to give it the attention and care that Poppy needs in order to reach its peak, it's Vedaa and Parkison. After all, they've done it before.