There are four Olsen sisters: Mary-Kate, Ashley, Elizabeth, and Courtney. Leann Benich, owner of the vintage clothing brand Clash, wants to put her hat in the running to be the fifth; a long-lost triplet to the twin founders of The Row.
"I honestly have become so unapologetic about it," Benich says with a laugh. "People are like, 'You literally look like them, and you dress like them,' and I'm proud of it. I'm like, 'Yes, I am because I love them that much.'"

For 78th Street Studios' new, ultra-chic resident, this is peak mental health. "We should all be finding something that we love, and it's fun to want to draw such deep inspiration from that found source," she says.
Speaking from across a metal coffee table just outside of her store's first physical station — a partially sectioned-off room within Antonym Collective, the design workspace of Whitney Anderson Rooney and Courtney Phillips — it's clear that this passion for the founders of The Row is more of an appreciation to the twins' commitment to a refined minimalist aesthetic. It's a fashion style Benich has long championed herself.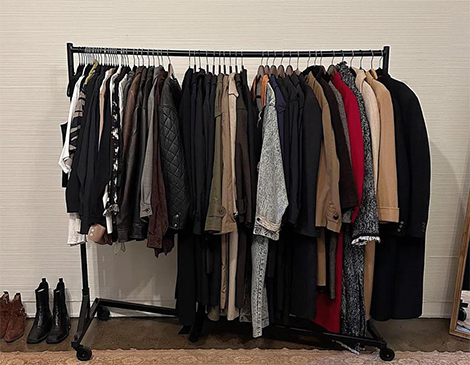 (Photo by Clash via Leann Benich)
As she details her clothing shop's origin story, from the meaning behind the radical name to the process of researching and acquiring pre-loved pieces, it's clear that her brand — both personal and professional — isn't an impersonation of the world-renowned fashion moguls; it's just Benich.
"I'm still myself — I'm very much myself," she says light-heartedly. "I just use them as a main source for style inspiration because it resonates with me so much. I hope that Clash can be a beacon for those that feel that similar pull to subtle timeless looks, but don't know where to find the clothes to make that vision come to life. I want people to think of Clash as that go-to vintage shop for that style."
That style, Benich shares, ranges from understated 80s and 90s to modern-day simplicity.
READ MORE: Clash Finds A (More) Permanent Home In Antonym Collective
"[Clash] is so centered around the modern woman. Because of this, you're going to see a lot of really fine quality materials like silks, cashmeres and Merino wools," she says. But that's not all. Since the start of the brand in 2022, Benich admits that she's opened up offered selections to house the occasional statement piece for those special events. To her, those easter eggs help to keep her collection fresh and exciting.
(Photo by Clash via Leann Benich)
"Although there's a similar vibe to the clothes, I still want guests to be able to explore some new ideas that they've been having about how they want to dress themselves. I get that mindset because that's where I occasionally find myself, too; playing around with avant-garde pieces, things that are a little bit more 'out there' and a little bit more statement-y that can easily be incorporated with wardrobe staples."
Although amassing such a carefully filtered collection might seem an impossible task to some, especially for someone set in the midwest, for Benich, it's second nature.
"I've been vintage shopping since I was a kid. Back then it was thrifting, but now as I've matured, it's become 'vintage shopping,' she says, "and it's actually not that hard, really. To me, clothing is everywhere. And if you love to shop like I do, I'm pretty much out there every day just Googling the latest and greatest new consignment shops that are going out of business or having 50% off sales. I don't mind going to places that are a bit more out of reach for people that are working nine-to-five in Cleveland."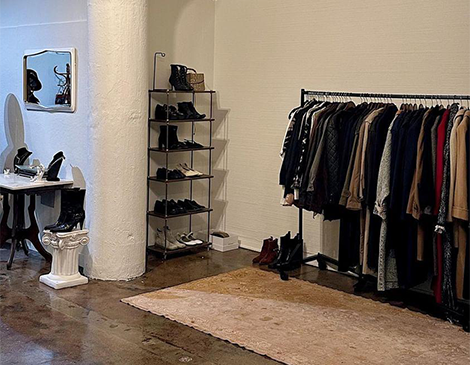 (Photo by Clash via Leann Benich)



Cleveland is a touching point for the store owner. A city girl by heart, Benich shares that the roots of The Land can be found at the very core of Clash — literally. "The name 'Clash' actually came from the two cities that were nearest and dearest to me: Cleveland and Nashville. I just put the two names together," she says.

"When Clash started, I had a bit more of a connection to the cuts and the styles that Nashville is known for, I mean the vibrancy of that city really encouraged me to put this all into motion, but my brand has evolved since then. I still carry some of those pieces, though, if you're ever in the market for fringe."

READ MORE: Whitney Anderson Rooney and Courtney Phillips Welcome Antonym Collective To Gordon Square

Although her brand has matured into more grounded and muted themes since the days when the coastal cowgirl aesthetic dominated our media feeds, Benich believes that the brand name fits more now than it ever has. "Clash has evolved since inception a year ago, but it's really a reflection of the transformation in myself. I've grown as a person, and so has my personal style, but funny enough, I like the name even more now. Clash is fitting for how I, as a person, have evolved, as I'm sure we all do with our fashion. There's usually a lot of clashing with the old and the new in terms of what we like to wear. Clash is very honest to that experience; mixing vintage wear with modern wear."


Start your day the best way by signing up for our free daily newsletter. Arriving in your inbox every morning to keep you in the loop on the best guides, home and style tips, and news briefs for all things Cleveland. Click hereto subscribe.