Birria Tacos Are the Best
There is maybe no greater joy than beef juices running down your arm as you take a gooey bite of meat and cheese in a birria taco (with the au jus-style consome dipping broth on the side of course). The Mexican staple is best found at Cilantro Taqueria and Hola Tacos, among others.
Breweries Get Basic and Fruity
If you've had enough overly bitter IPAs for a lifetime, don't worry. Respite is coming by way of saisons, lagers and fruity ales. Even the traditional-leaning Great Lakes Brewing Co. has branched out with the lower-calorie Crushworthy Citrus Wheat and a ranch water hard seltzer called Agave Twist. We also love Market Garden Brewery's Shandy, any sour from Noble Beast and Immigrant Son's Farmhouse Saison. If you've gotta go IPA, try BrewDog's Elvis Juice for something different.
Classic Bars Revitalized
Nothing beats your neighborhood watering hole, which is why we loved seeing the revitalization of a few favorites. In Lakewood, both Iggy's Bar and O'Toole's saw resurgences from new ownership. Finally, the Velvet Tango Room was saved by a patron who couldn't see his beloved bar die.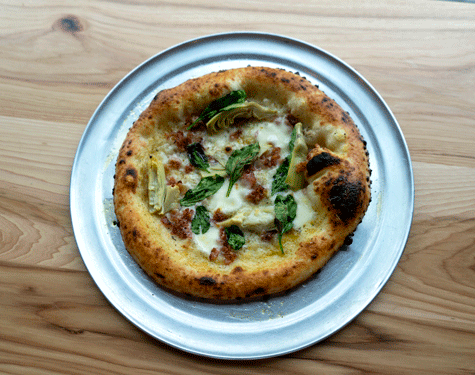 Cleveland's Emergence as the Pizza Capital of the Midwest
Northeast Ohio has planted a red, sauce-covered flag. We're officially a pizza destination. This year brought even more impressive pies, including Eddie Tancredi's Etalian in Chagrin Falls and Vincent Morelli's Cents Pizza on Lorain Avenue in Cleveland.
The Comeback of Dining Destinations
The groundwork laid in 2021 should lead to a resurgence of locations such as East Fourth Street and Chagrin Falls. Downtown, the beloved dining destination has already seen the opening of Goma with Indie on the way and a Lola Bistro replacement likely coming soon. Meanwhile in Chagrin Falls, JoJo Bar, Pub Frato, 17 River Grille and Sushi Junki are now open with M Bevy on the way.
The Death of Beloved Favorites
One trend we're hoping does not continue (but assume it might) is the death of so many beloved restaurants. It wasn't as bad as 2020, but this year did take The Plum, Minh Anh, Zocalo, The Big Egg, Sweet Moses, The Black Pig and many more.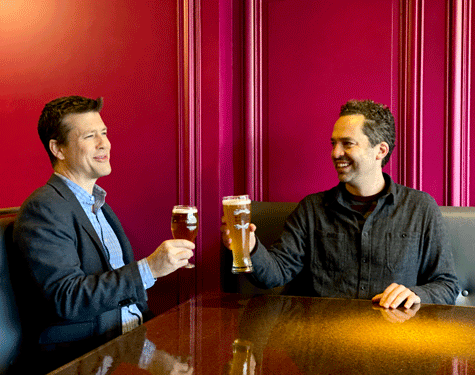 Empires Taking New Steps
Another surprise this year has been the expansions and pivots of longtime players on the dining scene. Cru Uncorked launched a massive 2.7-acre project with a new patio and wine cellar, and Pub Frato and Batuqui opened second locations in Chagrin Falls. Bier Markt/Bar Cento announced it would close in 2022 and transform into a new concept, and La Plaza has huge plans to expand to downtown and further east and west.
Good Food in Funky Locations
Gas stations, dive bars, breweries, music venues — it doesn't matter. These days, great food is hiding in all of Cleveland's nooks and crannies. Some of our favorite (and most surprising) bites of the year included the Green Kitchen at Little Rose Tavern's vegan dive bar menu and Taco Burrito Express (by way of La Plaza) inside the Speedy Gas Station in Wickliffe. And while The Haunted House Restaurant was far from our favorite meal of the year, the experiential restaurant certainly created a buzz when it opened in July.
On-the-Go Dining
Nothing beats the restaurant experience. But if you have to eat at home, Cleveland has finally become a takeout town. Just check the website of your favorite restaurant, and most likely, they're offering it. To-go service has not only been a lifeline for local spots, but it's even created an entire cottage industry of ghost kitchens such as Sora Sushi and Good Meal Jane.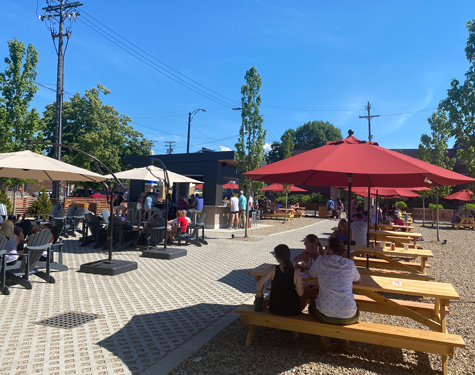 Outdoor Dining
The pandemic has revealed a lot, and one of those things is that we love eating outside (at least for the three short months the weather allows it). Patios are officially the hottest reservation of the summer. Here are five we love.
Pop-Ups and Progress
One of the many devastating closings of this year was The Plum, named our Best New Restaurant in 2017. Replacing it was Heart of Gold, a more-casual burger-and-sandwich joint that pushed boundaries on and off the plate. Using a skeleton crew and a serve-yourself model, chef Adam Baeur has found a way to carry on that legacy amidst a labor shortage and pandemic. But elsewhere, pop-ups have introduced us to other "fine-casual" concepts such as FatBoy Sammies, which offers burgers, fried chicken and unique sandwiches such as the bodega chopped cheese. There's also Martha on the Fly, a brunch concept that started as a pop-up at Good Co. and is now graduating to a brick-and-mortar space in Tremont. Not everyone loves the approach, but here, we're big fans of the ingenuity and democratic spirit that these new, lower-overhead spots bring to the dining scene.
Smash Burgers
Once a dive bar favorite, it's nearly impossible to find a menu without a smash burger in Cleveland right now. Chefs tell us off the record that they're simply a necessary evil to keep profit margins up. Whatever. We don't mind. Keep 'em coming. Here are three we love.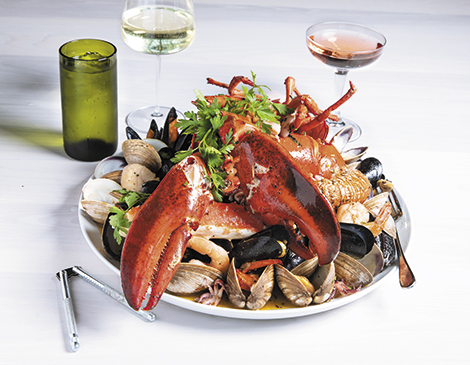 Throwing It Back
On the flip side, we love seeing the defiant attitude of Goma, Aqua di Luca and Cut151 Supper Club. These spaces are proving that sexy, decadent fine dining lives on in Cleveland. Look out for the downtown steakhouse coming from Dante Boccuzzi (of Goma) in 2022.
The Year of the Katz
We already knew Zhug, which had been operating as a ghost kitchen for nearly a year, was good. But the brick-and-mortar experience opening in April solidified chef Douglas Katz as one of Cleveland's great tastemakers. Educational and elegant, the Cleveland Heights spot, which is unfortunately closed due to COVID-19 until Feb. 1, has worked its way into every foodie conversation I've had as of late. And the hype, shared only by the forthcoming opening of Katz's Indian-leaning Amba in Hingetown, is real.
Vegan Delight
Plant-based meals aren't just growing in popularity. They're also growing in deliciousness. Likely, none garnered as much (deserved) buzz as Cloak and Dagger, a cocktail and small plates bar with a literary-inspired menu that opened in January and has already earned national acclaim.
Check out the rest of our year-end lists here:

Cleveland Magazine's Top-Read Stories of 2021
Cleveland Magazine Editors Share Their Favorite Reads of 2021
10 of the Most Important Entertainment Stories of the Year