Pots and pans clatter across the kitchen. A burned-out cook with bags under her eyes cowers under a thundering, cuss-laden rant of a militant head chef. At 3 a.m., she slinks off to a studio apartment with an eviction notice on the door, only to wake up at 8 a.m. the next day to do it all again.
This stereotypical scene brings chef movies to life and gave Gordon Ramsay a media career, but it's also one that's
becoming rarer since the pandemic.
"I was reading Anthony Bourdain's Kitchen Confidential the other day, and it took me back 20 years," Luca's Lola Sema says of the memoir that describes the often-problematic culture in kitchens. "I was like Wow, this is really how it used to be. Thank God it's not like that any more."
Coming up in kitchens like that inspired chef Adam Bauer to do things a little differently with Heart of Gold.
The 31-year-old started as a dishwasher in high school before skyrocketing to the top of Red, the Steakhouse, Trentina and Greenhouse Tavern. Bauer thanks those 80-hour weeks, sometimes in multiple kitchens each day, for helping him hone his craft and build his resume. In fact, by choice, he still works like that as the
executive chef of his Ohio City joint.
But he's come to understand that a system is broken when a large restaurant might do $5 million a year and its skilled line chef is making $11 an hour.
"These are highly trained, tactical chefs — you have to know what you're doing to be on the line at a restaurant like that," says Bauer. "For so long, the industry was propped up on cheap labor, incentivizing cooks to get a high-profile restaurant on their resume. That's a bunch of shit."
Now, Bauer operates a tight crew of just four employees at a time — two in the kitchen, a bartender and a hostess — each making at least $17 an hour. The experience is a bit augmented, with no waiters and altered offerings, such as drumsticks instead of whole wings, which are soaring in price, to keep food costs down. The chef even washes dishes during his shift.
"We reduced the restaurant experience down to the lowest common denominator," says Bauer. "But I go home happy knowing that everybody is making a living wage."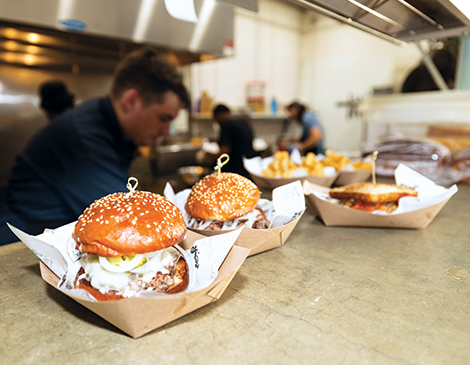 Other chefs, such as Eugene's Mike Schoen and The Spot on Lakeshore's Zachary Bond, pivoted to create more meaningful lives for themselves and their families.
Schoen previously worked in high-profile and high-stress kitchens in Chicago and downtown Willoughby before launching Eugene in 2019. The pop-up is open for only a few hours a day, six days a week, and it's a venture run with his wife. A staff of five part-time and full-time employees helps the burger chef get home on time, and since the pop-up doesn't have servers, the cooks, who bus food, can even make tips — a rarity.
"I'm glad that finally we're seeing the shift," says Schoen. "People are taking better care of themselves, being more honest and speaking up about work conditions. Nobody deserves to be treated like that. Cooking is a very special art form that means a lot to me, and it means a lot to these young chefs."
After years of working fine-dining jobs such as at L'albatros and Table 45, Bond had a similar epiphany during the pandemic shutdowns of 2020. Burned-out and sick of missing his son growing up, he moved from Cleveland's dining destinations to his hometown of Mentor and brought his fine-dining approach to brunch with the Spot on Lakeshore. There, he hopes to create a space where young chefs can get the same level of training without enduring the grueling atmosphere. He's even pulling people back to the industry.
"We lost a lot of really talented people, so I kind of felt that responsibility to find a better way of doing things and make this look like a real career and maybe get out while the sun's still out," says Bond. "Mostly, I just want to watch my kids grow up. This is a chance to look at things differently."