Best New Restaurant: Home Bistro
As the chef and owner of a restaurant in Little Italy, you'd expect Victor Morenz to go all in on pasta dishes laden in thick red sauce. But inside the 85-seat space on Mayfield Road, you'll find tributes to what Morenz finds comfort in cooking: American, Asian, Dutch and, yes, even a little Italian.
His New American restaurant skirts around the edges of defining itself as one thing, allowing the flexibility to offer layered, complex dishes that appeal to a wide range of customers. While having to navigate some changes since opening in August, Morenz has settled into an ever-changing dinner menu (there's now a carryout version of sandwiches and entrees that travel well and a brunch menu that lets him experiment even more) that has started to feel more grounded. Weekly specials abound, such as a recent scallops dish with a white bean and garlic puree, smoked eggplant caponata and basil oil, that are reminiscent of Morenz's days in Chicago, where him and his wife Emily owned and operated a restaurant, also called Home Bistro.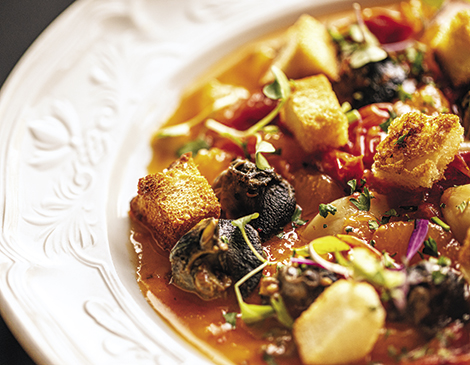 But don't overlook current entrees such as the bulgogi & spaetzle ($27), where Korean-marinated steak mingles with house-made egg dumplings in a fusion of cultures. House-made kimchi and mushrooms provide umami and earthiness while diced green apples give the dish brightness and tang. We'd be remiss if we didn't sing the praises of the ricotta gnocchi ($24). In the hands of Morenz, this dish blew our minds with large, pillowy bites of gnocchi that were like eating clouds — albeit clouds full of creamy cheese that counteract the spicy arrabiata sauce made with pickled cherry peppers and house-made Italian sausage. With a place like this, in an iconic neighborhood like Little Italy, it's easy to return home and be comforted and surprised all at the same time. 12022 Mayfield Road, Cleveland, 216-795-5582, homebistrocle.com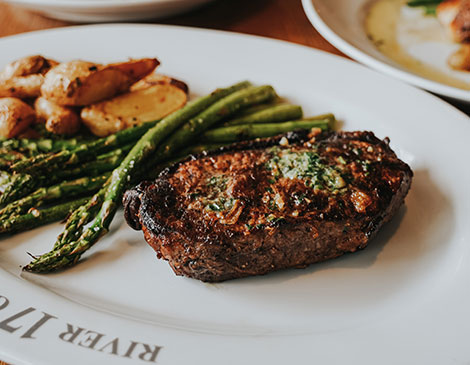 17 River Grille
It's so refreshing to see a restaurant brimming with excitement on a Wednesday evening. The wait to get into Rick Doody's 17 River Grille on a weekday is worth every minute: from leather-lined booths, a wall of floor-to-ceiling windows and three outdoor patios that overlook the rushing waters of the Chagrin River, 17 River Grille is as welcoming as it is stunning in its eye-catching detail. Take the firecracker shrimp ($11) for instance: lightly dusted in tempura and fried with a kickin' sweet chili aioli, scallions and sesame seeds, it's a mouthwatering starter for a seafood-heavy menu. Even the 8-ounce center cut filet ($38), with decadent whipped potatoes, steamed broccoli and an ever-so-sweet bearnaise sauce, is cooked to perfection. But don't miss out on this hot tip: before they sell out, order the heavenly biscuits ($5), a scene-stealer smothered in honey butter. 17 River St., Chagrin Falls, 440-893-0797, 17rivergrille.com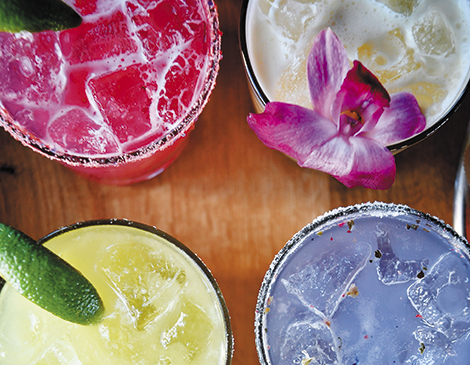 Avo Modern Mexican
Don't be fooled by the tiny tacos (3 for $13) at this Ohio City spot. They pack a wallop with Cleveland restaurateurs Gabriel Zeller and Julie Mesenburg's take on the classic dish. Avo Modern Mexican lets you choose from shrimp, chorizo, shredded chicken fried avocado, barbacoa or ground beef, while the toppings overflow from a handmade corn tortilla. With red cabbage, radish slaw, chipotle-garlic aioli, heirloom pico de gallo, cilantro and queso fresco on top, the combination of spicy and sweet is pulled together seamlessly. The restaurant boasts a parade of ingredients which appear in everything from unique appetizers such as a house-made guacamole mixed with honeycomb, hot honey and candied pecans ($8), to heartier entrees such as the Burrito Colorado ($17), filled with flank steak and rice broiled in chili sauce and sprinkled with cilantro and fundido, a Mexican-style queso. 2058 W. 25th St., Cleveland, 419-202-0610,
avo-ohiocity.com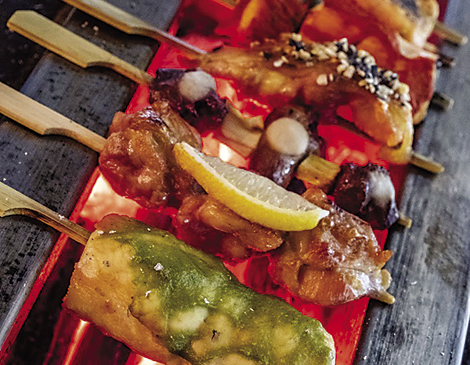 Bar Oni
In August, Matthew Spinner rid himself of the upscale ever-evolving Ushabu and replaced it with Bar Oni. By opening the Japanese sports bar, Spinner doubled down on the fast-casual trend but with the same flair, flavor and presentation that made its predecessor so great. With a focus on yakitori — or grilled chicken skewers — and sandwiches, Spinner offers up a slew of simply cooked ingredients — from a hefty chicken meatball ($3) covered in a sweet soy sauce and served with egg yolk for dipping, to the pork and beef burger ($9) smothered in a cold house-made spicy chili that pairs well with a bright and spicy wasabi mustard. Even the crisp and warm takoyaki fried octopus fritters ($8) comes smothered in a sweet and tangy kewpie mayo, pickled ginger, scallion and shaved katsuobushi, or smoked fish flakes, for an enigmatic layered snack that shines in late-night hangouts. 2173 Professor Ave., Cleveland, 216-713-1741, bar-oni.com
Chatty's Pizzeria
With just a few small tables and a childlike mural of storybook animals, Chatty's Pizzeria feels like a home away from home just mere steps from Huntington Beach. Since Matthew Harlan opened his debut restaurant out of the former Vento la Trattoria Italian space with the goal of churning out a variety of pies — thin and crispy New York style, thick and buttery "Grandma" style and a delectable cauliflower crust — there's been an hourslong wait just to get inside. Luckily, they've mastered takeout. The sausage and rapini pizza ($14), a holdover from Lolita, is just as simply made and delicious as it ever was. But new favorites such as the clam pizza ($15) with herby chunks of clam, snappy bright green arugula and a creamy oil and garlic sauce, make for a perfect lakeside snack. 28611 Lake Road, Bay Village, 440-471-4485, chattyspizzeria.com
Chimi
We didn't know if it would be possible to recreate a fine dining experience in the middle of our own dining room. But Douglas Katz makes it easy. As one of two ghost kitchens that the prolific chef opened in 2020, Chimi introduces us to South American cuisine in subtle and familiar ways. Available for curbside pickup in Cleveland Heights, it's worth the drive from wherever you're at. Katz has thought of the packaging and presentation so all you have to do is open the compostable boxes and dig in. The elevated small plates menu is sizeable, but that allows you to explore. For an unexpected surprise, try the chayote squash ($7), which bursts with flavor thanks to burnt orange segments and coconut. The grilled Peruvian chicken ($14) arrives tender and with a side of aji sauce that's refreshing and cool on your tongue. But if you're looking for a little punch, you can't go wrong with the short rib barbacoa ($17) that falls apart with the touch of your fork. 1975 Lee Road, Cleveland Heights, 216-932-3333, chimicle.com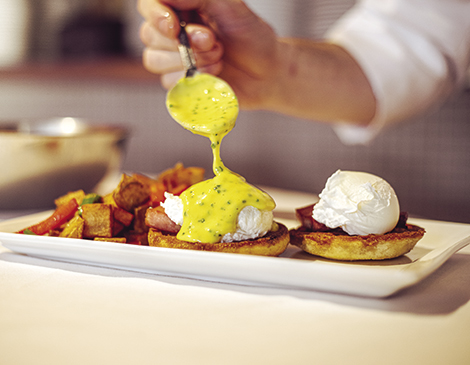 Edwins Too
The death of the white tablecloth has been greatly exaggerated. In fact, fine dining — especially chef, founder and CEO Brandon Chrostowski's ethical brand of it — is exactly what we need now. By the time our waiter finished explaining the ever-changing five-course tasting menu ($75) (three- and seven-courses are also available), he felt like the first new friend we'd made in months. A New Zealand sauvignon blanc finally gave two red wine drinkers answers to "What's new?" The pan-seared grouper on a bed of New England clam chowder elevated familiar but long-missed bites, while a smoked yogurt sauce on a roasted beet salad had us falling for new flavors. Finally, the cause — job training for formerly incarcerated individuals — made us smile while signing the check. Closures like Douglas Katz's Fire Food & Drink, which operated in the Shaker Square space Edwins Too now occupies, are certainly a loss. But that local fried chicken joint, as much as we love it, is never going to replace what Edwins Too can offer. 13220 Shaker Square, Cleveland, 216-400-6091,
edwinsrestaurant.org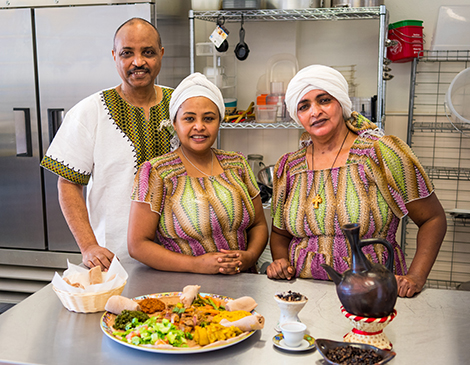 Habesha Ethiopian & Eritrean
Opened in December, the first Ethiopian restaurant on the West Side brings with it a multiude of experiences to try in West Park. Although you could request utensils, every meal is designed to be eaten with a handheld piece of injera, a spongy, crepe-like flatbread that finishes slightly sour due to fermentation. On a plate-sized bed of injera, the doro wot and veggie combination ($18) is a platter centered around a stewed chicken drumstick. The doro wot is reminiscent of many Eastern European slow-cooked, tomato-based meat dishes but spiced with the fiery Ethiopian spice berbere. Next to a mild split pea stew called kik alitcha, the fosolia, a stewed and turmeric-seasoned cabbage, potato and carrot dish, is remarkably nostalgic for anyone of Polish or Croatian heritage. Even the traditional tableside after-dinner coffee ritual ($15), complete with burning incense and a traditional Jebena kettle, was a worthwhile experience for those yearning for the comforts of a home-cooked meal. 16860 Lorain Ave., Cleveland, 216-400-6539, habeshacle.com
Hako
Owner Jackie Kim and her chef have a long history in the sushi scene in Cleveland. After both explored sushi and Japanese cuisine with past projects such as Ohashi in North Olmsted and Sapporo on East Sixth Street, Hako is a perfect fusion. With the chef's quiet and determined focus on using the best and freshest ingredients in every roll and Kim's passion for always experimenting with new treats and recipes, the Lakewood-based spot has an expansive menu thanks to this duo's combination of experience. Each flavor of every roll is held together perfectly, whether it's a classic California Roll ($5.95) made with crab and avocado or the heftier Super Jackie Roll ($12), which explodes with sweet and sour flavors thanks to the flamed crab, cream cheese and salmon topped with sweet and spicy sauce. Don't overlook other menu items such as the Hako ramen ($10) or a simple nigiri where the protein of choice — a thin slab of salmon, shrimp, white tuna or octopus — is laid over a slab of vinegary rice. 13603 Madison Ave., Lakewood, 216-273-7110, sushihako.com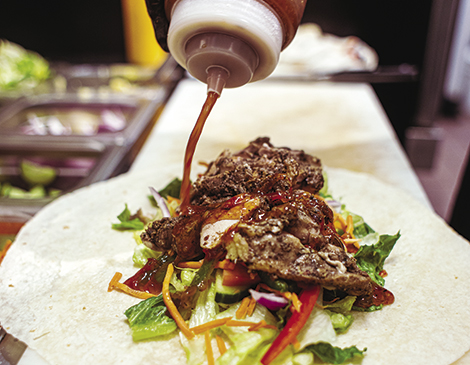 UJerk
This new fast-casual restaurant in the City Club Building offers a good toe dip into Caribbean-flavored cuisine with oxtail and beef burgers and fresh, unexpected surprises. Opened in July, the restaurant's namesake jerk chicken, our preferred protein, is flavored with a secret house-made seasoning that also appears on salmon, falafel, shrimp and crab options. Quelch your thirst with a number of Jamaican sodas as you double down on truly delicious side sauces, such as super spicy Hot Jamaica and the sweet and spicy Irie Chili. There's even variety in presentation as proteins are presented as platters, salads, wraps, sandwiches or sliders, all of which are $12-$14. The sides such as fries ($4) can even be tossed in your favorite sauce. When the weekend rolls around, UJerk lurches further into fusion territory with its Rasta Pasta ($14), a best-selling Alfredo-style penne pasta topped with coconut cream, chicken and jerk seasoning. 850 Euclid Ave., Cleveland, 216-675-0022, ujerknation.com
If you enjoyed this story, dig in to the rest of May's Best Restaurants issue below.
How Cleveland Is Eating Now
From fried chicken, casual pop-up options and new local chefs to watch, the Cleveland food scene is finding new ways to thrive. Plus, the up-and-coming chefs we're most excited about. Read More >>
An Ode To 5 Restaurants We'll Miss
From iconic downtown spots to a trailblazing New American joint to family favorites, these restaurants lost during our pandemic year have forever left a more. Read More >>
How 5 Dining Spots Expertly Pivoted During The Pandemic
By creating more diverse menus that travel well, doubling down on their communities and rebranding all together, these Northeast Ohio restaurants found new ways to do what they do best. Read More >>
How Cleveland Restaurants Have Adapted To The Demand For Casual Dining
Gusto's Seafood & Chicken, Cilantro Taqueria, Domo Yakitori & Sushi and Citizen Pie Roman Cafe are elevating quick, comfortable eats. Read More >>
Ghost Kitchens' Small Footprints And Huge Ambitions Take Cleveland By Storm
The COVID-19 pandemic jumpstarts the ghost kitchen trend in Cleveland with options such as Good Meal Jane and Amba. Read More >>
Local Restaurants Expand And Experiment With Vegan Offerings
From GoBuddhaMeals' walnut taco bowls to The Vegan Club's fettucine Alfredo, we highlight four unique vegan dishes created by local kitchens. Read More >>
Pop-Up Eateries Thrive In The COVID-19 Era
The Roaming Biscuit and FatBoy Sammies are among area pop-ups finding success. Read More >>
Cleveland's Fried Chicken Craze Is Here To Stay
White House Chicken, Angie's Soul Cafe and others offer up unique fried chicken options that comfort and inspire. Read More >>
Chefs To Watch
Laura Jerina-Potts Takes A Detailed Approach To Desserts
Thyme Table's pastry chef has been serving up intricate delicacies and sweets for the last three years. Read More >>
Jarrett Mines Eager To Leave His Mark With Cleveland's Filter
With the opening of the new Warehouse District restaurant, the former personal chef is ready to wow the city with his interactive dishes. Read More >>
Vinnie Cimino's New Immigrant Son Brewery Menu Pays Homage To His Ancestors
The 'quasi-nomadic' chef is settling down with a new Lakewood brewery menu inspired by light, communal, immigrant-inspired fare. Read More >>
Tiwanna Scott-Williams' Homemade-Style Comfort Food Shines At Pearl's Kitchen
A former nurse, chef Tiwanna Scott-Williams tells us why she's ready to take Cleveland by storm with her homecooked, comfort-food style. Read More >>
Jose Melendez's Twisted Taino Expertly Blends Caribbean And Latin Flavors
A Sauce the City Food Hall staple, Twisted Taino is expanding to a second location in Parma that will house catering, carryout and delivery services. Read More >>